Jessica Mulroney Said She Deleted That Meghan Markle Photo Due to "Bullying and Hatred"
Jessica Mulroney addressed the Meghan Markle wedding photo she posted then quickly deleted last month, blaming the deletion on "bullying and hatred."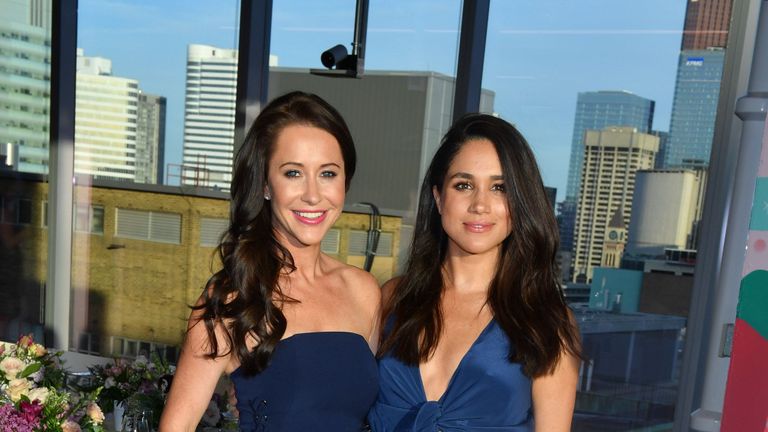 (Image credit: George Pimentel)
---
Jessica Mulroney just addressed the photo from Meghan Markle and Prince Harry's wedding that she posted then deleted last month, blaming the deletion on "bullying and hatred." In August, Mulroney posted a photo of one of her sons walking behind Meghan (her twins, Brian and John, served as pageboys at the wedding), with the caption, "I see this and pure joy." Shortly afterwards, the photo disappeared.
As Vanity Fair reports, Mulroney took to her Instagram Story Tuesday to discuss the post. "People often ask why I delete certain posts. The amount of bullying and hatred I've had to put up with for 3 years….I'm tired of looking at it," she wrote. "Be kind. Be gracious. We are grown ups…stop acting like teenagers. Real women don't put down other women."
Mulroney faced criticism in June after Canadian influencer Sasha Exeter called her out for weaponizing her "textbook white privilege" against her. After Exeter called on influencers to use their platform to challenge racism, Mulroney contacted brands to discourage them from working with her, and subsequently threatened Exeter with legal action after she spoke out online. "She is very well aware of her wealth, her perceived power, and privilege because of the color of her skin. And that, my friend, gave her the momentary confidence to come for my livelihood in writing," Exeter shared in an Instagram video.
Mulroney was later fired as a contributor to Good Morning America, while her CTV show, I Do Redo, was canceled.
RELATED STORIES