Hark! The Herald Dolly Sings
Dolly Parton, literal angel (in life and on our TV screens this holiday season), talks about her spiritual practice, her wig collection, and bringing joy to others with the heavenly RuPaul.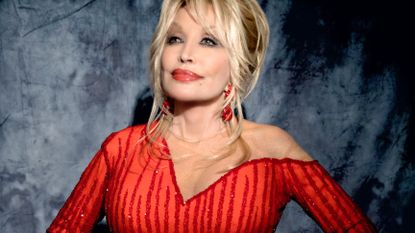 (Image credit: Stacie Huckeba courtesy of Butterfly Records LLC)
Let's get one thing out of the way: Dolly Parton is exactly how you'd hope for her to be—frankly, even better. Dolly Parton is so very Dolly Parton, even watching her get set up for an interview is a kind of magic.
"Can anybody hear me?" Dolly asks about a minute after her Zoom feed turns on, revealing the country legend dressed in a black turtleneck and black leather pants, seated next to a Christmas tree and a fireplace emitting a festive glow, a wreath laden with baubles and pine cones hanging above. It's October 30. "Can you hear me out there?" she sings. "Can you hear me, can you see me, can you hear me out there? Can you hear me, can you see me? I see somebody."
That somebody is RuPaul—TV star, singer, songwriter, and drag icon—who can, in fact, see her and hear her.
"I don't have my earpieces on," Dolly explains to the camera as someone from her team enters the screen. "I had to go pee and I didn't put them back on. Anyway, I'll be with you in a minute."
RuPaul is on from London, where it's already evening, and his background is dark and seasonally appropriate. Dolly is joining from Nashville, where she's been doing press for her many winter projects, including a Christmas album, A Holly Dolly Christmas, and a Netflix film, Christmas on the Square. "I'm really pretty much an open book," Dolly says, earpieces in and ready to talk. "But everybody has to save a little piece of themselves, I think, for their own sanity and for their own little personal spiritual place. But I don't mind talking. People have followed me for all of these years. I pretty much have no real secrets."
While she might have few secrets, the patently jolly, perennially busy Dolly has a lot to say. Here, she and RuPaul discuss her new projects, their wig collections, and how someone who brings joy to so many people finds her own happiness. —Sally Holmes
---
RuPaul: When you are writing songs, you're obviously channeling something. What is that thing you're channeling?
Dolly Parton: Well, I channel what I feel, what my mind is saying, what my heart is saying, what my emotions are saying. Certainly, if it's things that I'm going through. But I'm also—because I am a writer and can rhyme and am able to do it musically—I can write for other people and how they feel, because I do feel for people. I really, truly love people. I try to find the good in everybody. I try to find the God light in everybody. I'm so happy that I'm touched and moved by so much that goes on in this world that I can actually write about it. It gives me great subject matter as a songwriter. Everything is a song to me. Everybody is a song to me.

RP: Do you have a spiritual practice?
DP: Oh, yes. I'm a very spiritual person. Every single day, before I do anything, I wake up and I thank God for the night and ask him to bless the day and to bring all the right things...all the wrong people out of my life, and bring all the right stuff in. And just to guide me, lead me. And I always pray that he'll let me uplift mankind and glorify Him.
I have my little meditations I do, my little scriptures that I read, and all that. And that's how I start my day. And I also can draw on that throughout the day. If things get chaotic and crazy around me, I can just go into that little spot of my own. It's why I say you need to keep a little spot for yourself and your spiritual self and for God. I gain strength and courage and hope and light and love from that little spot.
RP: How early in the morning do you get up?
DP: Well, that depends. I'm a very, very, very early riser. I go to bed pretty early, but I'm up and down. If I wake up and I'm pretty well awake, I think, I've got so much to do, I'll get up and I'll work a little while, write a little while, and I'll lay back down.
But I'm always, almost always up for good around 3 a.m. So I do some of my best spiritual work, some of my best writing, and some of my business work—call-ins and letters that I'm writing or whatever—between 3 a.m. and 7 a.m. I get more work done during that little period of time when the world is calm, energies are down, and I just feel like a farmer. I think God is a farmer. He's getting out and he's throwing down all these little nuggets of corn. Corn mostly, in my place. They say the early bird gets the worm. Well, they also get a lot of good ideas too.
RP: Oh, I agree. It's when the world is calm. I get up at 4 a.m. every morning. How many hours of sleep do you get?
DP: I don't require a lot of sleep. Three to five hours I can work on. Five hours I like to get. But usually I'm between three and five. But usually, if I'm on the job, I'll take a little power nap.
RP: What did you have for breakfast this morning?
DP: Well, this morning I made breakfast for my husband and me. I made some sausage patties, and I baked some biscuits, and I made some milk gravy. He likes that once in a while. Now, I can't eat like that all the time, but I enjoy eating it when I do.

RP: When you were cooking, were you wearing your high heels?
DP: I always wear my high heels. Don't you?
RP: No. That's the thing: There are similarities in what we do, but I take all that stuff off.
DP: Well, I don't. I have to always stay ready—street ready, I always say. I have to keep my makeup on and keep my hair done. Like, when I'm in L.A.—I've told you about it—if it's going to earthquake, if we get an earthquake, I'm not running out in the street looking like you look now. I have to be ambulance-ready at all times, if I get sick or something. But I actually do wear high heels most of the time. They're not always as high as the ones I wear for show. But I'm little. I'm short. And I have to wear heels in order to reach my cabinets. But I always enjoy wearing the shoes too, and I just feel more like me. But I can come down, though. I'm comfortable in my own skin; I'm comfortable with my image. I dress for myself more than I do for somebody else.

RP: Now, I've never seen you in the same outfit twice. What happens to all the old costumes and clothes?
DP: Well, it's not true that I don't wear a lot of my clothes twice. If I love something, I wear it. If I'm on tour, I have stage outfits that I wear. But if it's for a real special occasion, then I will put that in my museum, or I will allow other people to put certain costumes in their museums, or we auction off pieces for charity. So nothing ever goes to waste.
RP: The museum is at Dollywood, right?
DP: Yes. It's called Chasing Rainbows, and it's got a lot of my clothes. Things from movies. We do them in sections: all the different movies I've done, and all the awards that I've won through the years. Because I don't like having that stuff in my house. I just like my house to be my house.
RP: People always ask me about how many wigs I have, and I name each of them different names. But my oldest wigs...I have wigs that I still wear that are about 23 years old. Do you have wigs that are that old?
DP: I do, but most of them are more museum-type pieces too. I don't think I have any that I wear that are that old now, but I know what you mean. See, you're a drag queen. Those are like costumes to you. This is my living self. I am a living drag queen. You dress up just now and then, but for me, though, I like the wigs and I wear them almost every day. So, people ask me how many wigs I have, I say, "Well, I must have at least 365," because I wear one almost every day. But I actually keep my own hair the same color and I just kind of pull it up in little scrunchies around the house. But I still like to put on makeup and have my hair fluffed.
RP: So you've got all these projects going on. Let's talk first about this Christmas album, which is just beautiful. Do you have a favorite song on the new Christmas album?
DP: [The album's title is] based on the old Burl Ives hit of "Have a Holly Jolly Christmas," and I just wanted to record that song, and so Holly Dolly just seemed to be a cute title for the album. But I really like all the songs on there. One of my real favorites that I really get a blessing out of singing is a little song called "Mary, Did You Know?" And that's one I think that's really a special song.
But I got a chance to sing with all these wonderful duet singers, like Jimmy Fallon, Willie Nelson, and Michael Bublé, and—
RP: Miley Cyrus.
DP: Miley. My little goddaughter. That's one of my favorite songs too. It's a song I wrote called "Christmas Is." But, yeah, we've just had such a wonderful array of stars and such a good time working on it. We weren't able to get in the studio all at the same time. We had to do it like everybody's doing it now anyway, recording music. You just put your part down, send all the files to somebody else. But it worked out really well, and I really like all the songs. There's a song on there that I especially am drawn to. It's called "Circle of Love," and—
RP: That's the one that I love the most.
DP: Oh, you like it?
RP: Oh my goodness.
DP: Oh, good.
RP: Have you seen Miley's video for "Midnight Sky"?
DP: No, I have not. I've been so busy working, but I love Miley. I think she's great. She's out there, and I love that she takes her chances. I love that she's true to herself and that she's willing to try new things and do whatever. What's it about? What is it?
RP: Well, more than ever before, it is so clear that this girl is such a superstar.
DP: No doubt about that.
RP: When did you first notice that this kid had it?
DP: When she was on Hannah Montana. I've always loved her, since she was little, and I knew she was special. She just had a light about her. Her sparkle, and her smile, and her eyes were always full of wonder. So, when she was on that little show, I saw what great timing she had, what a great little comedian she was. But I'd always known her to write her little songs on her little left-handed guitar. I guess Billy Ray is the lefty. And so she just kind of grew up with us. With Billy and me—Billy Ray, her dad, we were friends and we worked a lot together, doing shows together, traveling some. But I just knew she was just going to make it. I just knew she was a star.
RP: Now, when you watch her, as her own woman, do you kind of envy that she's been able to do some of the wild things that she's done? Do you ever envy that you never had a chance to be that wild?
DP: No, I never needed to be that wild. But I think it's fine for her. I'm kind of wild in my own way. I have my own little things, and I'm an individual, and I think that's what that's about too. We all need to be true to ourselves, and I think that's what she's doing. I think that's the key to everybody's success as a human being and as an entertainer. You have to know what your talents are, what your limits are. But I think you have to be brave enough to try.
One of my favorite sayings that I say about myself, that I made up, is that my desire to do something has always been greater than my fear of it. So I think that Miley often gets out there. She will get out there and get on that tightrope without a net underneath her. But how else are you going to know? She'll take those chances. And I take chances too. We just do it in a different way. But I do think she's a pro. I just think she's so talented, and she's beautiful.
RP: Oh my goodness, she is amazing. Right, so let's talk about Christmas on the Square and your Netflix collaboration. It seems like a match made in heaven.
DP: Well, Christmas on the Square is about a town. It's about this Scrooge-type woman, played by Christine Baranski. She's going to sell the whole town, and this whole community is trying to save it and all that. It's a musical, and I wrote 14 original pieces. And it's choreographed and directed by Debbie Allen. And, of course, Jenifer Lewis is in it. She's incredible.
I play this angel trying to keep Christine Baranski in check, her character. But it's really a wonderful show, and it's got a lot of dancing. It's really Broadway-style. And you can imagine with Debbie Allen how great the dancing and the choreography are. It's really a wonderful, fun show to watch.
I think it's perfect for this Christmas, for sure. I think a lot of people are not going to be able to get out and do Christmas like they normally would. It's really about this whole town and all the fun stuff that we always get to do at Christmas when things are normal, but this year is not, and so I think it's going to give people a chance to actually feel like they're still getting out in their community, doing the kinds of things that we're doing in this movie.
RP: The Netflix collaboration—you guys are doing some great stuff over there. Is there any talk of doing the Dolly story in increments?
DP: Well, yes, everybody wants me to do that. Different networks and Netflix have offered that up. But I'm still working on my life story as a musical, and so I'm not sure if I want to do it as a feature-film musical or if I do want to go ahead and do it on Broadway. But I do think that would make a good series.
RP: Kristin Chenoweth would be a great Dolly for just the period of you deciding to leave The Porter Wagoner Show and branch out on your own. Just that little bitty chapter there would make a great Netflix film.
DP: Yeah, it would. There's a lot of parts of my life that would make good—just like the little "Coat of Many Colors" in my early days, and then all the little pockets. And I love Kristin Chenoweth. She's just absolutely fantastic.
Years and years ago, when I was going to do the Broadway musical—I never can get it to how I want it, but I'm still working on it. But I thought she'd be an ideal person to do that. But we're all getting older now, so if we tell the parts...we may be able to have different Dollys. We'd probably have to have—as long as my career has been—like a little Dolly, and a middle Dolly, and then the older one. And she'd still be great for that.

RP: Now, let's talk about the Imagination Library, because that is such a beautiful concept. Tell me about that.
DP: Well, that is one of the things I am proudest of, of all the things that I've done since I've been in the business. And I'm sure you've heard the story that it came from a sincere place in my life and in my heart, because my dad—and a lot of my relatives, and a lot of people in that part of the country [where I'm from], but especially my dad—couldn't read and write. And he was kind of embarrassed by that, and he thought it was too hard of a thing to learn to do after he was grown. And I just remember feeling bad for my dad because he was so smart. And I thought, Lord, if he'd had an education, no telling what all he could have been.
But I remember, out of my heart, just thinking, I'm going to do something. I'm going to start a program. I'm going to get my dad to help me with it. So we just started the little program in our home county there, in Sevier County in East Tennessee. And so I said, "Dad, I'm going to start this program. I want you to help me with this. It's where we give books to children. From the time they're born, they get a book once a month in the mail with their little name on it, until they start school."
And so we started the little program, and it really did well. And I'd hoped that it would there, in the county, maybe just a few counties over. But then the governor at the time was a man named Phil Bredesen, wonderful man, and he got wind of the program, and he said, "Well, this is a great program. Let's take this all over Tennessee." So we did. And the next thing you know, we went into Canada, and now we're all over the world, different parts. And so we've given away like 150 million books. And my dad got to live long enough to see it doing well.
RP: Oh, wow.
DP: I'm just really proud that we're able to get books in the hands of that many children. Hopefully that'll just go on forever. And I'll always think of my dad, and I always feel proud that I got to share that with him.
RP: You bring so many people joy, and you have for so many years. I always wonder, how are you able to recharge your own battery?
DP: Well, I'm energized by just what I do. It's like, work begets work, energy begets energy. I just really stay alive because I just live on creative and spiritual energy. I'm like the little Energizer Bunny. I'm just recharged by the excitement of being able to still be active and to still be able to create stuff and to be still in demand. That's exciting to me, that I have all these fans that care about me, and I love us sharing that kind of love and that kind of energy. You know how that feels. People love you. And that's a great feeling to know that people care about you, and so it kind of generates its own kind of energy.
---
In case you haven't gotten enough, our favorite drag queens (and Drag Race stars—season 13 will premiere Friday, January 1, at 8 p.m. on VH1) took to Twitter to gather their fans' burning questions for Dolly. Here, the country queen answers those that made the cut.
Are you really tatted up?
Ha! The rumors are true...kind of. I do have some tattoos that are small and tasteful, and I just got them to cover up some scars. Things like butterflies and bows in pretty pastels, but not all over like everyone likes to say.
Which country song did you first hear and think, I wish I wrote that?
Kenny Rogers and I had a big hit with "Islands in the Stream," but a lot of people don't know (or forget) that we actually didn't write that song. It was written by the Bee Gees! But Kenny and I had so much fun performing that song, and it really solidified our musical relationship together and opened so many doors, I wish it had been one I thought of!
What is one piece of wisdom or hope you would offer to the youth of 2020?
Well, this is a big question, isn't it? I think the most important thing is to stay true to yourself. Only you know who you are, what you need, and how you feel. Never lose yourself in something or someone. What are you passionate about? What do you love? Who do you want to be? Be and do those things, always and unapologetically.
Outside of your incredible music career, what accomplishment are you most proud of?
The Imagination Library is the project I am most proud of. The whole thing was inspired by my own daddy. He inspired me to help kids learn to read and love to read! We send kids books once a month. A lot of them just know me as the Book Lady, and I'm proud of that!
Which song was the hardest to write?
"I Will Always Love You" is such a deeply personal song from a very [transitional time] in my personal life and career. I wrote this song when I was ready to leave The Porter Wagoner Show and go out and start my solo career.
Writing it was the only way I could think to express how I was feeling at that time and make him understand how much I loved and appreciated him and everything he had done for me. Some of the greatest songs come out of the most painful feelings.
How many wigs do you own, and how are you so beautiful?
I don't know if I can count that high, ha!
How do you deal with misogyny in your industry, and how do you handle moments when you aren't being treated the way you should be?
You have to be proud of who you are, proud to be a woman, and proud of all of the hard work you have put into being where you are. Unfortunately, there are going to be some people in the room who don't think you deserve to be there, but you know that you do, and be confident in that. And don't be afraid to walk away from a deal or a job or an offer where you don't feel you're being respected just because you are a woman. You deserve better than that.
What puts you in the absolute Christmas spirit?
Music! Nothing can cheer a girl up and put her in the holiday spirit quite like a great Christmas song! That's why it was so important to me to release A Holly Dolly Christmas this year. If I can do one thing to bring some light to this year, I will!
Favorite candle scent?
I love to cook and bake and just be in the kitchen, so any kind of candle that can make a space feel like Mama's got fresh cookies in the oven is a good one in my book!
The Ultimate Dolly Parton Gift Guide
Cover photo by Stacie Huckeba courtesy of Butterfly Records LLC
---
Click here to read more from our Holiday issue.
---
Dolly timeline images, chronologically: Michael Ochs Archive/Getty Images, Michael Ochs Archives/Getty Images, Monument Records, Michael Ochs Archives/Getty Images, RCA, Bettmann/Getty Images, Courtesy Everett Collection, Ron Galella/Ron Galella Collection via Getty Images, 20th Century Fox/Kobal/Shutterstock, Jerry Fitzgerald/Walt Disney Television via Getty Images, Ron Davis/Getty Images, Scott Suchman/WireImage/Getty Images, Shirlaine Forrest/WireImage/Getty Images, Michael Loccisano/Getty Images, Kevin Winter/Getty Images for The Recording Academy, CMT, Chronicle Books, Netflix, NBC News
Drag queen images, in order of appearance: John Lamparski/WireImage/Getty Images, Amy Sussman/Getty Images, Tristan Fewings/Getty Images for World Of Wonder Productions, Jim Spellman/Getty Images, Noam Galai/WireImage/Getty Images
Marie Claire email subscribers get intel on fashion and beauty trends, hot-off-the-press celebrity news, and more. Sign up here.
RuPaul Andre Charles is an American actor, model, singer, songwriter, television personality, and author. Since 2009, he has executive produced and hosted the reality competition series RuPaul's Drag Race, for which he has received five Primetime Emmy Awards, every year from 2016 on. RuPaul has appeared in over 50 films and television shows, both in and out of drag. Most recently, he has teamed up with Michael Patrick King to produce the Netflix original comedy series AJ & The Queen, in which he also stars. RuPaul has published three books: GuRu (Harper Collins, 2018), Workin' It! RuPaul's Guide to Life, Liberty, and the Pursuit of Style (Harper Collins, 2010), and Lettin' It All Hang Out (Hyperion Books, 1995). He splits his time between New York, California, and Wyoming. He is married to Australian rancher Georges LeBar, who he met on the dance floor in 1994 at Limelight Disco in New York City.