Gwen Stefani and Blake Shelton Just Trolled Their Own Relationship in a Super Bowl Ad
Yes, even they know they're an unexpected couple.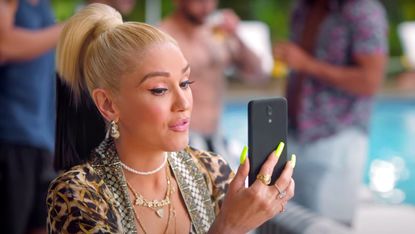 (Image credit: T-Mobile)
Ever think about Gwen Stefani and Blake Shelton's relationship and wonder, "Huh, how'd that happen?" Them too, apparently. The couple teamed up with their Voice co-star Adam Levine for a Super Bowl LV ad for T-Mobile that poked fun at the unexpected nature of their relationship.
In the hilarious clip, Stefani can be seen FaceTiming with Levine telling him she'd ready to meet a guy. But due to a spotty connection, her relationship requirements get a bit muddled, leading to Levine setting up the No Doubt singer with the country star.
The ad even shows fans a glimpse of their "first date"—spurs and all. It's proof that while opposites might attract, it's not always at first sight. Watch the spot for yourself.
The commercial was one of the big game's most memorable ads, with Twitter lighting up over the couple's willingness to troll themselves. Others though found the premise a bit confusing: was the ad claiming the couple had broken up (or never been together to begin with)? Or that if you wanted to find love, you shouldn't use T-Mobile?
But wait, I'm confused.....if I use a spotty network, I could end up in a solid relationship like Gwen and Blake....or I could use tmobile? pic.twitter.com/orLvXVHE2qFebruary 8, 2021
See more
Gwen Stefani and Blake Shelton are truly the love story I never knew I needed #SuperBowlLV #TMobileFebruary 8, 2021
See more
Finally a clear explanation of how the Gwen-Blake relationship began. @TMobile #Super BowlFebruary 8, 2021
See more
Yup that Gwen Stefani/Blake Shelton @tmobile commercial is winning the night so far. #SuperBowlLVFebruary 8, 2021
See more
We need a sequel for this commercial @gwenstefani @blakeshelton @TMobile !😍🤩😂 pic.twitter.com/BPfzIrXTebFebruary 8, 2021
See more
As far as I'm concerned that is exactly how Gwen Stefani and Blake Shelton got together.February 8, 2021
See more
I meeeannnn I get what T-Mobile is trying to say in these ads but of the ones I've seen so far, the miscommunication actually worked very well for Gwen and Gronk. She's engaged to Blake and Gronk is in the Super Bowl with Brady#SuperBowlFebruary 8, 2021
See more
I was confused for a second because I thought @TMobile was announcing the break up of Gwen Stefani and Blake Shelton. #SuperBowlFebruary 8, 2021
See more
The only thing that Gwen Stefani/Blake Shelton/T-Mobile Super Bowl ad did was make me NOT upgrade to 5G because it could prevent me from meeting the love of my life.. 😗February 8, 2021
See more
For anyone concerned, the couple apprears to still be happily engaged. They began dating in 2015, and have since released several songs together and spent most of the pandemic quarantining with each other.
RELATED STORIES
As Marie Claire's Entertainment Director, Neha oversees and executes strategy for all editorial talent bookings and culture coverage across the brand's print and digital entities, including covers, celebrity profiles and features, social takeovers, and video franchises as well as handles talent relations for MC's flagship summit, Power Trip. She's passionate about elevating diverse voices and stories, loves a hot-take, and generally hates reboots. She's worked in media for more than 10 years and her bylines about pop culture, film & tv, and fashion have appeared on Glamour, Vanity Fair, GQ, Allure, Teen Vogue, Brides, and Architectural Digest. She is a graduate of the Columbia School of Journalism.