Gwen Stefani and Blake Shelton's Relationship: An Obsessive Timeline
Gwen may have been Just a Girl, but she's now a woman in an insanely adorable relationship.
Ah, Hollywood couples! We can't get enough of them—maybe it's something about them being ridiculously good-looking and wealthy and charming that makes us obsess over their every move. From Brad and Jen (forever R.I.P.) to Ciara and Russell Wilson, there's a celebrity pair to take an interest in for every day of the week. Yet, forever in our hearts here at Marie Claire live the one and only Blake Shelton and Gwen Stefani, who may have recently (and secretly) tied the knot.
It's no secret how cute Blake and Gwen are together. Have you seen their banter on social media? It's borderline rivaling Blake Lively and Ryan Reynolds' little loved-up jabs at each other. From co-workers as judges on The Voice to the adorable couple we see today, we can't get enough of the duo. So how did the O.C. girl looking for a "Simple Kind of Life" end up in a fairytale romance with an Oklahoma country boy? We're glad you asked! It's a long but super sweet story we can't wait to dive into. Ahead, take a look back at Gwen and Blake's love from the very beginning.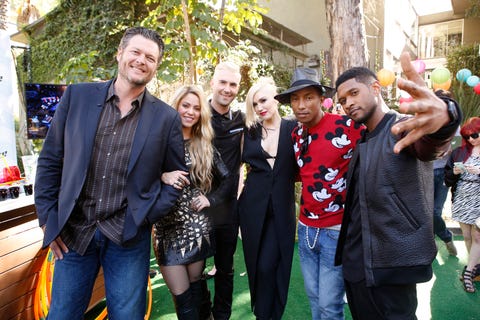 This was the first public live-taping appearance on The Voice for Gwen, and the first photo of Gwen and Blake together in any capacity.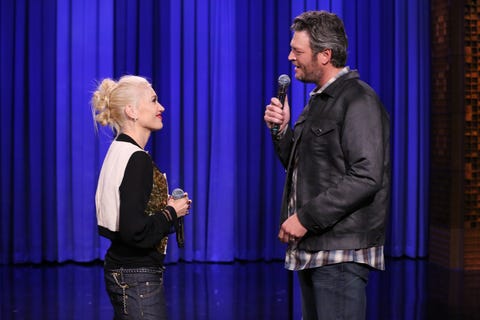 Gwen and Blake promote The Voice on The Tonight Show with Jimmy Fallon. The duo compete in a lip sync battle, and things get steamy. They sing a duet of 'Endless Love,' and it's super obvious the chemistry is already there for these two.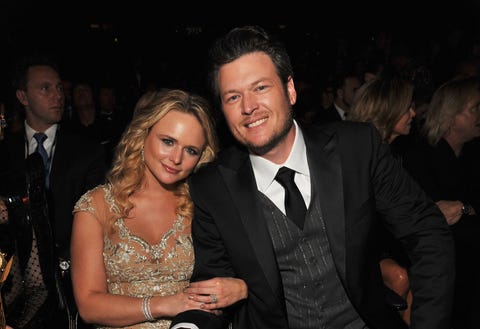 Blake Shelton files for divorce from fellow country singer Miranda Lambert. The pair were married for four years and dated for six years before that.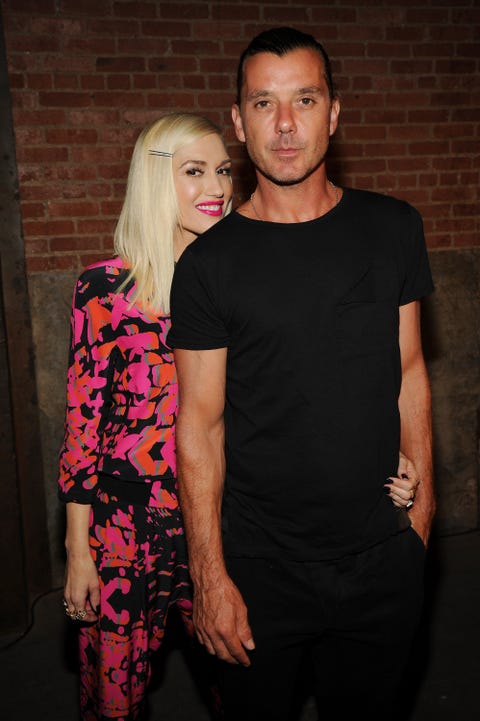 Gwen and husband Gavin Rossdale split after 20 years together (14 of them married). "While the two of us have come to the mutual decision that we will no longer be partners in marriage, we remain partners in parenthood and are committed to jointly raising our three sons in a happy and healthy environment."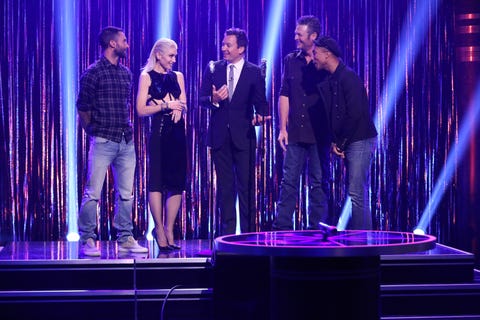 The judges from The Voice stop by The Late Show with Jimmy Fallon. Newly single Gwen and newly single Blake sing 'Hotline Bling' and the sparks between the pair literally pop out of our screens.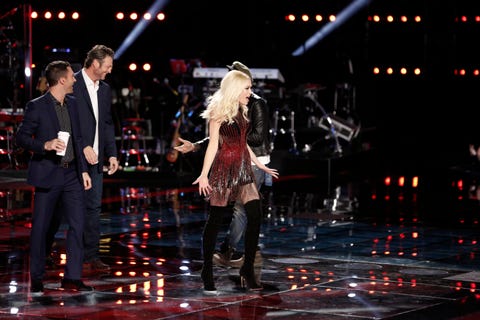 After months of speculation, E! News reveals Gwen and Blake are dating. Shelton's rep confirms the news to the network after it's revealed Gwen had traveled to Nashville to be with Blake. Blake attends the Country Music Awards solo the next day.
The news is shared exactly one year (to the day) after Gwen first shared a pic of Blake on her Instagram page. Coincidence or not?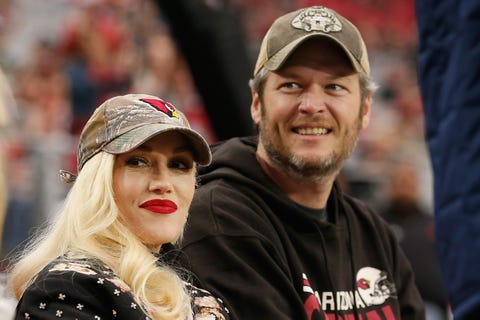 Christian Petersen/Getty Images
Gwen and Blake step out for their first big public event since announcing they are a couple—an NFL game in Arizona as the Cardinals played the Green Bay Packers. The pair is all smiles and participate in a little PDA, including plenty of hand holding.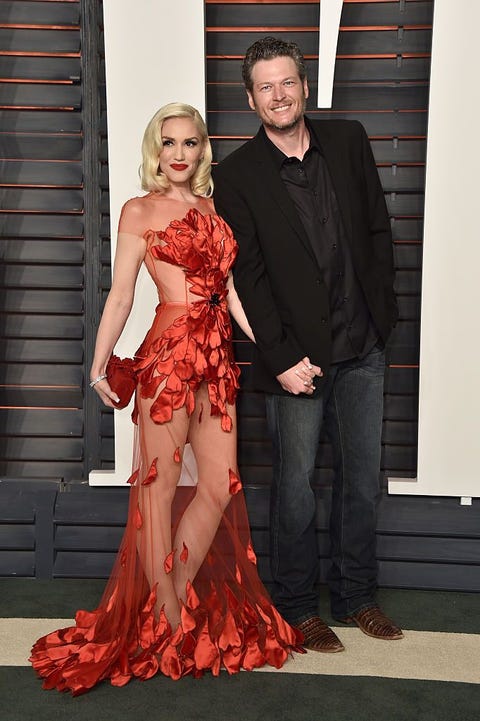 Pascal Le Segretain
Getty Images
Gwen and Blake finally go red carpet official! The two are photographed together for Vanity Fair at the Oscars after-party.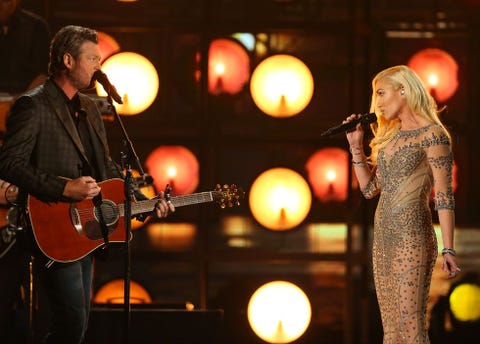 Gwen and Blake perform 'Go Ahead and Break My Heart' at the Billboard Awards. The song is a duet on Shelton's album If I'm Honest.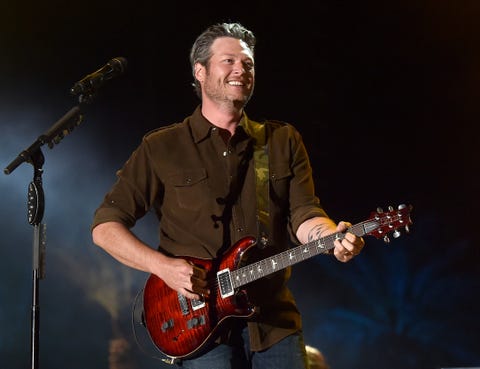 Kevin Winter/Getty Images
Blake gets candid in an interview, sharing that Gwen "saved his life" and "was all he could think about." He also tells Billboard their relationship started with Gwen extending a helping hand: "She didn't tell me much, because we didn't know each other at the time, but she said, 'I'm going through something very similar to what you're going through. I understand. And I hate it.'"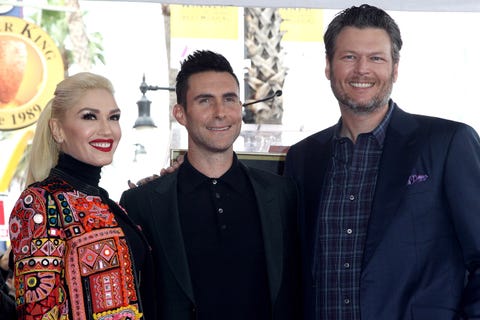 The Voice co-star Adam Levine opens up about Blake and Gwen's love on Howard Stern's radio show. "It's so funny. They found each other at really interesting times in their lives. It's really beautiful. Because it's in the public eye, a lot of people want to have their own bullshit opinions about it, but I'm, like, there. I see it every day. I have a pretty unique perspective on it, and it's real, man." He also told Howard Stern the couple was "so in love it's disgusting."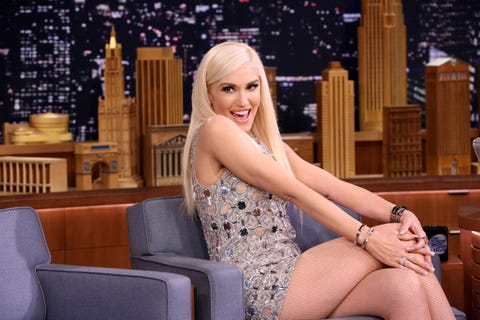 Gwen reveals to Heidi Klum in InStyle that her style has changed and is more girly than ever—thanks to Blake. "It's probably because I'm super in love and have a really manly man. I enjoy letting that part of me come out."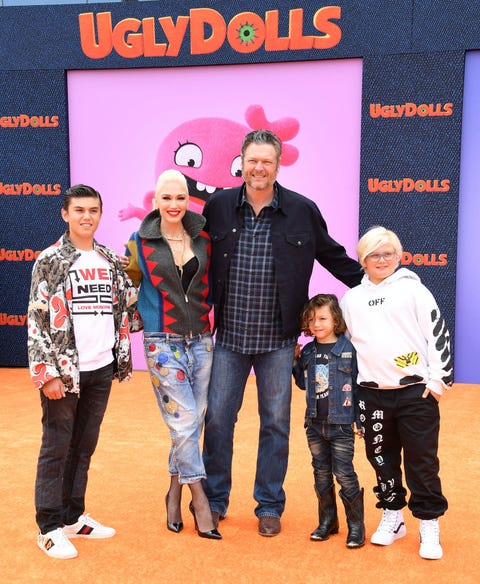 Steve Granitz
Getty Images
Things get way too cute at the Ugly Dolls premiere when Blake and Gwen make their first red carpet appearance with Gwen's three sons, Kingston, Zuma, and Apollo.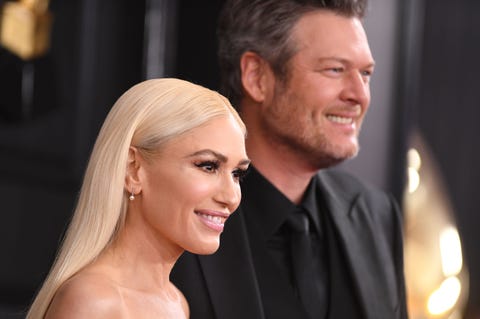 VALERIE MACON
Getty Images
Page Six snapped pics of Stefani wearing a suspicious new ring on that finger while out with Shelton in Santa Monica, Calif. The diamond sparkler accompanied her usual engagement band, making fans and media speculate the celeb couple had secretly wed on Friday. (The couple had previously teased a summer 2021 wedding...) Adding further fuel to the speculation? Stefani's parents also married on June 11 (of 1966) meaning if the pair wed on Friday they would share an anniversary with the No Doubt frontwoman's family.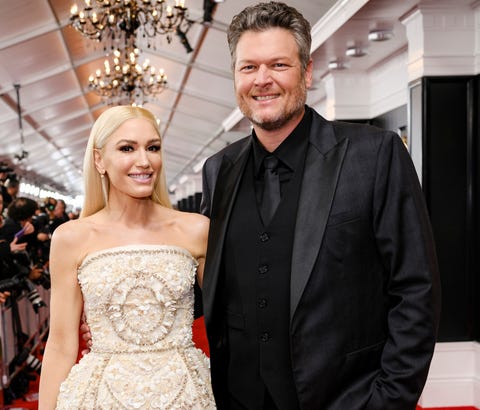 CBS Photo Archive
Getty Images
On Sunday, July 4, Page Six shared pictures that appeared to show the bustle of a wedding at Shelton's ranch in Tishomingo, Oklahoma. By Monday, July 5, People had confirmed that the pair did indeed tie the knot over the holiday weekend, about nine months after they announced their engagement in October 2020.
This content is created and maintained by a third party, and imported onto this page to help users provide their email addresses. You may be able to find more information about this and similar content at piano.io