Who Is Christina From 'Too Hot to Handle' 2021?
Get to know the model-slash-pilot.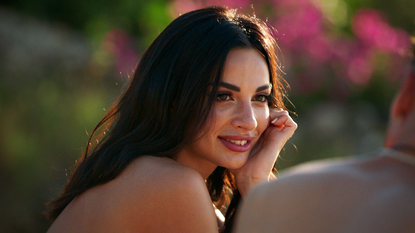 (Image credit: Netflix)
Christina Carmela sure knows how to turn heads. The beauty is introduced in the fourth episode of Too Hot to Handle season 2 and instantly makes waves, making many of the original 10 contestants wonder if they paired off too quickly (coughCamcough). But while Christina promises to shake things up and seriously test Lana's rules, she's also not OK with lying men. Here's everything we know about Christina from Too Hot to Handle.
Who is Christina?
The 30-year-old hails from Cape Town, South Africa, and she's half-Italian and half-Portuguese. "I'm definitely going to stir sh*t up," she says in her intro. "I go for whoever and whatever I want. They should be worried."
What does Christina do?
The reality star is a model and a pilot—a career inspired by her father. She's also a huge advocate for more women in the aviation industry after her experiences in the male-dominated field. "I always say I have to work double as hard for half the credit," she told blog HeyBoo. "It was a lot worse when I started flying over eight years ago but now it's better! It's way more common to have females in the cockpit now. It could be better, of course, that's why I'm trying to encourage and inspire as many girls and women to get into it."
Carmela most recently worked for Susi Air but lost her job in the pandemic. She recently renewed her pilot's license and, based on her Instagram, seems to be flying again.
How does Christina do on Too Hot to Handle?
Her early moments on the Netflix dating show has Carmela eyeing up Cam—and giving Emily cause for concern. But after learning Cam isn't being totally honest with her, Christina seems open to her options at the resort (and even makes a friend out of Emily). Girls supporting girls? We love to see it.
It's likely that Carmela will play a bigger role in the episodes that drop on June 30, if the men's attitude towards her on her first night in the villa is any indication. Just about every male contestant is seen practically drooling over Carmela, whether they're coupled up or otherwise.
On Instagram, she wrote of the next batch of episodes: "Who do you think I'm going to go for next in the villa?! it's a long time to be stuck in such a romantic setting with 11 other hotties!" Emily responded with the "women tipping hand" emoji, so they're clearly still on good terms, no matter what happens with Cam.
RELATED STORIES