Who Is Chase, the Pro Football Player From 'Too Hot to Handle?'
He has more than a million followers on TikTok.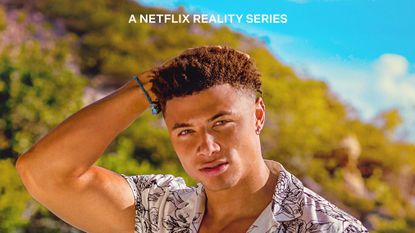 (Image credit: Netflix)
Marie Claire Newsletter
Celebrity news, beauty, fashion advice, and fascinating features, delivered straight to your inbox!
Thank you for signing up to Marie Claire. You will receive a verification email shortly.
There was a problem. Please refresh the page and try again.
"My sex drive is one hundred percent, through the roof, 100/10," is how we're introduced to Chase DeMoor. "I'm a pro football player," is how he introduces himself to the rest of the cast of Too Hot to Handle season two. One of the standout cast members of the season, 24-year-old Arizona native DeMoor describes himself as an "alpha male," but we're quick to see his softer side—especially when it comes to Carly Lawrence, the blonde bombshell who quickly makes a connection with him.
Like the rest of the Too Hot to Handle cast, DeMoor talks a big game. "I'm tall, dark, handsome, muscular, smart, plus being a professional football player does help," he laughs in his intro video. But there's plenty more to DeMoor—as evidenced by his 1.1 million followers on TikTok, who know and love him as King Chase. As the season progresses, we strip back the layers of DeMoor and get to know him more intimately (and not just in the way you're thinking of). So let's find out more, shall we?
What football team does Chase play for?
I know—this was the first thing I Googled, too. Chase isn't in the NFL, but he does play for a team called the Houston Linemen in the Spring League. The Spring League, if you wondered (and I did; I know about as much as Carly does when it comes to American football) self-describes as "the premier professional football development league in the United States and abroad." So I think it's...sort of a Plan B for players who don't quite make the NFL?
That doesn't mean he isn't an excellent player, though. DeMoor has a long and storied career when it comes to his football career: he's played for the College of Siskiyous and for Central Washington University; in college bowl games; and in the IFL (Indoor Football League) and CFL (Canadian Football League), which is why he tells Carly he "plays in Canada" in episode one. Also, his team won the NFL 2021 flag football championship. I did not know there were so many...football variants, personally, but he had the most blocked kicks in the NCAA in 2018, so he must be good!
What else do we know about Chase?
On the show, he's from Seattle, Washington, but Chase lives in Arizona. He's 6''5 and 250 pounds, according to his NFL draft stats. He also has extremely big hands and feet, a fact he points out to the rest of the cast in episode one. "Those feet don't lie, baby," laughs Emily.
He built up a large following on TikTok before he even walked into the resort. "I started doing catches and built a social media persona on there. I'm known as the 'best hands on TikTok,'" he told Arizona Central. "I can catch anything; I can do these acrobatic catches involving gymnastics and football. So I just went with that for a while and built a really strong fan base around it...It was more of a fun thing that I did during COVID that turned into something that really changed my life."
On a more serious note, Chase is all about family. He shared a moving story about his childhood with NFL Draft Diamonds: "I lost my dad when I was 10 years old and was raised with my mom and her abusive husband at the time; I was fortunate enough to choose to make this a blessing in my life as an understanding that This was not the way I wanted to live my life so I worked to make sure I left for college and pursued a college and athletic career. I feel as my dad watches over me and I will do whatever it takes to make him proud."
His biggest influence, he said in the same interview, is his grandfather. "I made a promise to do whatever it takes to succeed and take care of my family after he was gone. And I intend to keep that promise, I model myself after him because he is the man I hope to be one day."
Since the show began airing, DeMoor has been active on social media and responsive to fans. When asked about his favorite moment, he replied on Twitter: "My face when Cam was getting sent to the private suite." He also posted a video of that moment (it is very funny):
He's also been flirty over social media with Carly Lawrence, who he coupled up with during the retreat: "I'm on my way to pick you up for the next batch of episodes! You ready girl?" he wrote. Carly replied: "IM READYYYY."
And he's been very active on TikTok, of course, gaining more than 200,000 followers since the show began airing.
How does Chase do on Too Hot to Handle?
He was not happy to find out he was not, in fact, on Parties in Paradise, telling the Arizona Central: "I'm not going to lie. When I was on the show and I found out that I was tricked into this retreat, I was not the happiest. I'm pretty sure I walked around right after that...I was like, "Put me on the phone with [producer] Katie right now. I feel so lied to, so betrayed."
He says he truly benefited from it, however. "The person that went in that retreat and the person that left are two different people," he told the outlet. "I think the most valuable thing I honestly left there with was the ability to listen to other people. I think that was something that I lacked. Another workshop that we did was letting go of masculinity. I think that was also a pivotal point in my development there on the retreat."
He's still tight with his castmates, too. "Me and Marvin, we have such a great relationship. That's my best friend," he noted.
Spoilers ahead. Although Chase and Carly broke up halfway through the resort and coupled up with other people, Chase has dropped hints that he and Carly have gotten close again over the past six months (filming ended in December 2020). "Me and Carly, to this day, have a really great relationship. She calls me every day. We talk all the time. I think she's actually going to come out here to Arizona, and we're going to hang out," he told Arizona Central.
He added: "Going back, I feel like I would try once or twice again to see if I could make something work with Carly on the show rather than go for Tabitha...That's not to say there's nothing in the future for Carly and I, or Tabitha and I. As of right now, we're all on really great terms."
Fans learned more about Chase's status post-filming when the Too Hot to Handle reunion, Extra Hot, dropped on YouTube on July 5. First off, Melinda revealed that Chase and Marvin took a trip together to Mexico. It's a sweet note about the lasting friendship the two formed while on the show—until you learn that Chase only went with Marvin because Marvin had ghosted Melinda for the same trip.
We later find out that there's no bad blood between Chase and Joey, the guy Carly started dating on the show after Chase and Carly called it quits. Chase said that he, Joey, and Carly event spent New Year's together.
And what about Chase and Tabitha? There's apparently something going on there, though neither can really define what's happening. Tabitha revealed that post-filming Chase tried his hardest to woo her, sending her flowers, chocolate, and—wait for it—a bona fide love letter. But apparently he couldn't put his money where his mouth was. Tabitha claimed that Chase promised to book a flight for her to visit him, but he never followed through. She claims the distance fizzled things out between them, but, of course, Chase has his own version of events. The athlete says that Tabitha was supposed to join him for New Year's but instead of boarding the flight to see her maybe-beau, she wound up in Dubai. But the pair are still on good terms despite all the back and forth and remain in touch. Lana, what will we do with these two?
Celebrity news, beauty, fashion advice, and fascinating features, delivered straight to your inbox!