What's Inside Mary J. Blige's Purse
R&B powerhouse Mary J. Blige nixed the drama long ago. Here, she gives us the 411 on her purse.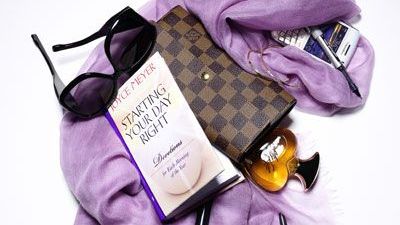 (Image credit: Richard Pierce)
Gum: "I always have sugarless Dentyne Ice with me or in the car."
Melodies by MJB sunglasses: "Sunglasses are a signature look of mine. If you go back to any of my older photos, or any pictures of me now, you'll see me in sunglasses — really good ones. It's my trademark. I wore these on American Idol this year."
Wallet: "I've been carrying a Louis Vuitton wallet for a very long time. I keep photos of my children and family in it."
Book: "I read Joyce Meyer's Starting Your Day Right each morning. It's a book of daily devotions that helps me in my everyday life."
Lip gloss: "I normally have either MAC Lipglass in Lust or Lustreglass in Love Nectar — I just love the color on my skin; it makes me look like I'm not wearing anything — and Lip Butter lip balm by Carol's Daughter."
Scarf: "I keep a Gucci scarf around my neck or in my bag."
Eyeliner: "MAC makes the eye pencil that I love. I like having a smoky eye."
My Life perfume: "Women were my inspiration for this scent. It has a softness to it because sometimes we feel soft, but there's also a fruitiness for when you're feeling edgy and want someone to want to, like, lick your arm. There's a toughness, too, which are the wood notes — it shows people that we're the full package."
Earrings: "I always have a pair of hoops with me just in case I need to throw on some jewelry."
A pen: "Of course a pen — I just pack whatever pen I can find. I'm cool."
BlackBerry Bold: "It's the 'new phone,' and I just love it because it's convenient. I don't want to have a big old cell phone in my bag, you know?"
The Bag: "My Gucci bag is a one-of-a-kind chocolate croc that has room for everything. But if I'm going to dinner, I'll use a clutch or a small Pucci purse with only my perfume, phone, a credit card, some money, and a lip gloss tucked in it."