Katie Holmes Takes Control
Whether producing her newest film, battling Tom in Scrabble, or making Suri do her chores, this style icon is a woman in charge.Plus: Go behind the scenes of her Marie Claire cover shoot and see all the exclusive photos from her sexy spread.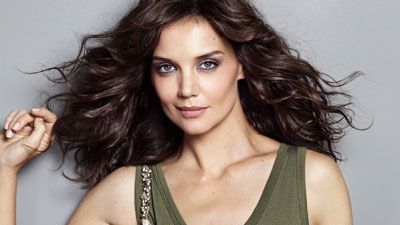 (Image credit: Charlotte Jenks Lewis/Studio D)
Katie Holmes doesn't really walk; she glides. Wearing blue jeans and a white V-neck T-shirt, she effortlessly navigates her way through the busy lobby of Hollywood's Sunset Tower Hotel, slides into a corner booth, and apologizes for being late — barely 10 minutes. "I drove myself and I'm a slow driver," she confesses. She is radiant — not a stitch of makeup, her famously bobbed brown hair now grown out with bangs she frequently brushes to the side. I find myself getting distracted by her cheekbones and her soft but determined voice. This is the face TV audiences fell in love with 12 years ago on Dawson's Creek and the same one that had Tom Cruise jumping on couches. After spending time with Holmes, I can't blame him. Honest, self-effacing, and funny, Holmes at 31 seems comfortable and confident in her role as an actress, wife, and mother.
Which is refreshing, because for those of us who loved Joey, her apple-cheeked, perky-but-vulnerable character on Dawson's Creek, there was a moment a few years ago when it seemed as though Holmes might have been swallowed up by the Hollywood media machine. But the Holmes we know and love is back — if not exactly the teen sweetheart who peered out from behind a tire swing on the cover of Rolling Stone in 1998, then a chic, grown-up version, in control of her life and at peace with her place in the Hollywood firmament. She not only stars in her new film, The Romantics, but also served as an executive producer, and according to producer Jennifer Todd, "She really was a producer. It wasn't just a credit given to her. She's been relentless in trying to help get this film out. She has a real love of cinema and a real passion for seeing a project through from start to finish."
Based on the novel of the same name by Galt Niederhoffer, who also wrote and directed the film, The Romantics takes place over the course of a weekend and centers around a close group of friends from college who have all gathered to celebrate the wedding of Lila (Anna Paquin) and Tom (Josh Duhamel), who was the college boyfriend of Laura (Holmes). "I just look for characters I can relate to. I loved this role because it felt like these are things that people go through," Holmes tells me. "It has friendship, it has heartbreak, it has the past coming back into your life. I also liked the friendship between Lila and Laura because it's tricky between women — you are either a friend to women or you are not." Holmes continues, "That stuff for me is very real. I have three sisters, I went to an all-girls academy. I feel like I know girls and know how we fight, and Galt really nailed it. I just thought the movie felt very true."
The film was something of a sensation at Sundance last January, and Holmes' performance was universally praised. "The enthusiasm that existed around this project was just awesome," she says. "We all get together now and do dinners. We really did become great friends, and that's rare — to continue those friendships." Niederhoffer agrees. "We very quickly decided we trusted and liked each other and proceeded to act like a family or group of dear friends," she says. "Katie was an essential part of this magical experience. Whether she was bringing coffee and cupcakes to the cast and crew or thanking the teamsters on her way home from set, she believes and behaves as though every interaction, every person in life, should be treated with importance and care."
Kind of amazing for an actress who was seemingly shot out of a cannon a few years ago — from being just a famous actress to One of the Biggest Celebrities in the World. So ... what's it like being Mrs. Cruise? Holmes laughs. "It's really exciting. Tom's as big at home as he is on the movie screen. He's so passionate about everything, whatever he's doing. When he's being a dad, he's right there; he's giving it his all. It's inspiring and it's fun. It's an amazing life, but we always remind ourselves of how incredibly lucky we are." They visit each other on set when they can — Holmes is currently working in Toronto — and they do manage to have date nights, usually screening a current movie in their Beverly Hills home, followed by "probably a two-hour discussion about what we thought." They also play a lot of Scrabble. Holmes, always the straight-A student, is a formidable opponent. "But Tom's really good at it," she admits. "It's all strategy. I think when I'm back in Toronto, I'm going to bring my dictionary and study."
Despite their hectic schedules, they've never spent more than a week-and-a-half without seeing each other. At this point they have no plans to have more children. "Maybe in a couple of years, but right now I want to make sure I'm really there for Suri. I'm the youngest in my family — my closest sister is five years older than me, and the next one is nine years ahead of me, so I was a bit of an only child, and I liked it! I liked having all of my mom's attention, and sometimes I think I still do."
Holmes grew up the youngest of five in a traditional Catholic household in Toledo, Ohio. Her father was an attorney, her mother a homemaker who was also an expert seamstress. (Katie made a lot of Suri's baby clothes, and in 2009 started a clothing line with stylist Jeanne Yang called Holmes & Yang.) I ask what part of her upbringing she hopes to pass along to Suri, who often comes to work with her mother and is homeschooled.
"We travel a lot, and so for me, it's keeping a daily schedule for Suri that never changes," Holmes tells me. "We wake up, and we do the same thing. She does her chores. I think it's very important. If she doesn't get her chores done, I notice she's not really herself. She has to make her bed, she has to take her dishes to the sink, she has to put her clothes in the laundry — you know, that basic stuff. I try to do what my mom did for me ... just spending time with her, making doll clothes and planting in the garden ... When Suri comes to the set, we have art projects, and I just try to keep her busy and inspired."
Read the rest of Marie Claire's exclusive interview with the star in our October 2010 issue, on newsstands September 14.
Want more? Check out Katie Holmes' hair evolution through the years (opens in new tab)!