Exclusive Q&A: Candace Bushnell on What's Next for Carrie Bradshaw
Details on Carrie Bradshaw's teen years and whether Blake Lively might be the next Carrie.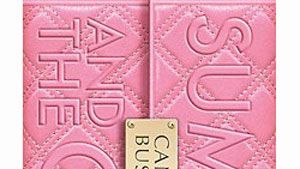 (Image credit: Archives)
Marie Claire Newsletter
Celebrity news, beauty, fashion advice, and fascinating features, delivered straight to your inbox!
Thank you for signing up to Marie Claire. You will receive a verification email shortly.
There was a problem. Please refresh the page and try again.
Every woman can find something relatable in Sex and the City. Remember those "I'm a Carrie" shirts from way back when? And with episodes rerunning on E and TBS, everyone is dying for more of the stiletto-strutting-sex-divulging-ultimate-girls'-night series. But after a novel, six seasons of the TV show and two movies, the franchise is left with an unstable future.
Enter Candace Bushnell, the woman who penned the novel behind the entire franchise. In fact, Carrie Bradshaw is her alter ego. Last year, she brought us The Carrie Diaries, giving us insight into Carrie's life in high school, how she found her calling with writing and how she came to meet Samantha Jones. In her newest young adult novel in The Carrie Diaries series — which, by the way, is not just for young adults — we get a glimpse of Carrie's first summer in Manhattan, which includes her first sexual encounter with an older man (cue memories of Aleksandr Petrovsky) and the fashion risks she takes in the 1980s. We spoke with Bushnell about what we can expect from the series, the feminism behind Ms. Bradshaw –remember how she never changed her last name? – and what she thinks of Blake Lively as the next Carrie.
You've written five novels for an older set of readers. How was it writing for a younger audience?
Well, you know, a novel is a novel and I think for me, the biggest difference was that it was first person, present tense, which is a little bit tricky and it's a lot harder than it looks. The character can only know what the character knows at that moment. Whenever I am writing a book, I have certain books that I turn to that are touchstone so when I was writing The Carrie Diaries, I was reading The Bell Jar and when I was writing Summer and the City I was very inspired by a little somewhat obscure literary movement of the sixties about young women who would go to the city and I was reading The Dud Avocado by Elaine Dundy.
Since Carrie is your alter ego, did you draw inspiration from your experiences in the eighties?
In terms of the time period, I'm 52 years old. Obviously, I was around in 1980. I drew a lot from real life experiences of myself and people I knew. You don't draw directly, though. You take that inspiration and in the process of writing and you come up with something that is new that has its own energy and its own truth. A lot of Carrie's clothes, I realized, those were my own clothes, and that's the one thing that I did take directly from my own life and I had the scrubs [she wears in the book].
Carrie wears everything from oversized robes to scrubs to latex (mind you, latex in the summer). How would you describe the fashion in the city during this time?
It wasn't label driven and the whole thing in the eighties is kind of a head scratcher. Young people, unless you came from a ridiculously wealthy family, would never wear Chanel or Gucci. Those labels were very, very, very exclusive and only wealthy people who lived on the Upper East Side wore them. People were very creative with their clothes. Everybody didn't copy everybody else and it was very individual. There weren't hundreds of fashion magazines and blogs.
The characters in Summer and the City divulge a lot of information about themselves that differs from the show and movies. For example, in the second film Carrie told Big she was always more Coco Chanel than coq au vin, but in this book, she's a whiz in the kitchen. Did you write the differences on purpose?
When movies and television shows write characters, the medium and the decision making process is so different. The TV show was never about the character's back stories and a lot of the decisions were made because the actor was available and we wanted to give the actor a part. I pursued the character's differently and I absolutely never thought it should be the same as the TV show. I wrote what I wanted to and what was right for the characters.
You recently signed on with HarperCollins for two more young adult books. What can we expect?
I haven't decided if there will be one or two more Carrie Diaries novels, there could be. To me, I think what's so great about the series is that the series is really the middle of those character's lives. They are very specifically from a time and a place out of seventies and eighties feminism. I really hope the audience can really understand where these characters come from and what the context is. I know there are some people who love to see the shoes and that's great and that's fun but the character's come out of a very specific time that's important for young women to know about.
Sarah Drew narrated the first book in the series for the audiobook. Did you ever think about wooing Sarah Jessica Parker to do it?
That would be a dream but it's incredibly time consuming. It supposedly takes two weeks and I think they pay only 20 dollars so I don't think she has the time.
What's the truth behind Blake Lively possibly playing Carrie in the TV version of The Carrie Diaries series?
I saw those rumors and I was like, really? No one told me. I love Blake Lively. I haven't met her but I saw her in The Private Lives of Pipa Lee. I turned on my computer and was, like, wow where did this come from? I know there's a lot of talk but there's nothing definitive and I just don't know. It's kind of not up to me, but I've written scripts and pilots adapting my books and other things. I can never speculate on Blake, I learned a long time ago just not to speculate the whole casting thing.
Celebrity news, beauty, fashion advice, and fascinating features, delivered straight to your inbox!