The Skinny on Kate & Ginny
Weddings! Babies! Boys! Something Borrowed costars Kate Hudson and Ginnifer Goodwin get down to some serious girl talk.Plus, check out the photos from their cover shoot and see both Kate and Ginny's most memorable red carpet moments.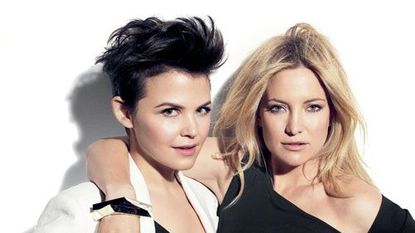 (Image credit: Tesh)
Two stone-faced waiters at the Beverly Hills Hotel, balancing trays atop their sturdy shoulders, pause mid-stride to oh-so-discreetly steal a glimpse of Kate Hudson's ass. Who can blame them, really? Tawny and tousled, Hudson, six months pregnant with her second child (the baby daddy is British rocker Matthew Bellamy), looks so trim, so bikini-ready in her no-name silk sundress and 5-inch-high wedge sandals, that were she to visit some far-flung village devoid of the Internet or Access Hollywood, the townsfolk might simply assume she'd overdone it on spit roast and poi the night before. It's less baby bump than who wants seconds?
"Your body is ridiculous," gushes Ginnifer Goodwin (Ginny to friends), Hudson's costar in the upcoming chick-lit turned rom-com Something Borrowed, about two longtime best friends whose relationship is tested when one sleeps with the other's fiancé, as the pair settle in for brunch. Hudson, 31, flashes that trademark sunny smile and brags, "I haven't bought one maternity thing yet."
Forgive Hudson her gloating: Eight years ago, she gained a staggering 70 pounds during her first pregnancy, with son Ryder. (His father is Hudson's ex-husband, Black Crowes front man Chris Robinson.) Her diet then consisted of two food groups: fried and battered. Hudson got so big, in fact, that ungainly photos of her were featured in several finger-wagging health articles warning pregnant women about the dangers of excess weight gain — career-killing press for any woman in Hollywood, never mind one as fond of her midriff as Kate Hudson. It took three months of relentless, gut-busting cardio — a three-hour-a-day routine that, let's face it, few moms can either afford or endure — to drop the weight.
Story continued below.
"Let me tell you something," she says, her giddy mien quickly dissipating. "It's an emotional roller coaster, having to lose weight. I gained so much — I was 185 pounds at the end. You actually experience how much energy is stored in that and how much emotion you actually hold in that mass. It is emotional, no matter how determined you are. It takes work to bounce back so quickly." Not this time around. Thanks to ferocious morning sickness, plus a decidedly figure-conscious mind-set, she's gained just 11 pounds so far. "I was so sick the first trimester that every time I tried to read, I couldn't concentrate. So I started brainlessly watching TV" — reality shows like Real Housewives, The Bachelor, and that paean to extreme weight loss, The Biggest Loser — "in the fetal position on my couch. It was brutal," she says, shaking her head. "I only just started getting a bigger appetite. I'm eating," she adds reassuringly, dismantling all those would-be Is Kate Starving Herself? headlines, "but I like healthy foods in this one."
Goodwin listens, wide-eyed and rapt. She's quite familiar with the woes of weight loss, having been a self-described chubby child who "thought vegetables came out of the ground deep-fried." It's hard to believe that this 32-year-old Memphis-born, moon-faced pixie, so slight you could practically slip her in your pocket, must mind her figure. But at 9 years old, she says she weighed only 10 pounds less than what she weighs now. "I am genetically predisposed to be a bigger girl than I am. If I didn't live in Hollywood, I would be. I have very real hips and a real Southern woman's ass," she says, munching on the slivers of turkey bacon that accompany her egg-white omelet. Her parents enrolled her in Weight Watchers, which meant she ran laps around the local mall and counted point values for everything she ate. Goodwin is still a devotee of the program, and with the help of her iPhone, she's "apping points all day."
Given her "awesome eating habits," she was stunned when a recent magazine profile of her — and her commitment to Weight Watchers — inspired criticism that she had serious body issues. "I could not believe the twisting of that story," she says, her thin voice rising. "I've never had body issues, and I've never had an eating disorder. Most of the people I know are on the program for health reasons. And yes, some of them are slim women who want to stay slim."
Though Goodwin stood out in otherwise forgettable fare like Mona Lisa Smile, it was her role in Walk the Line, as Johnny Cash's put-upon first wife, that clinched her status as one to watch in Hollywood. Soon after, she joined Big Love, HBO's gripping polygamy drama, in which she played Margene, the guileless third wife of a fundamentalist Mormon (Bill Paxton). The show wrapped its fifth and final season in March, just in time for Goodwin to start planning her wedding next fall to actor Joey Kern. (They were introduced by mutual friend Justin Long, aka the Mac Guy.) If all goes as planned, a baby will follow shortly after. "I'm so ready. I want a life full of little Joeys," she enthuses, oblivious to that heavy helping of schmaltz. (Hudson, on the other hand, playfully rolls her eyes as she hoovers through a bowl of berries.) "I'm only holding off until after my wedding for vanity purposes. I just want to be able to fit into whatever dress I pick out."
Read the rest of Marie Claire's exclusive interview with the two stars in our June 2011 issue, on newsstands May 24.
Celebrity news, beauty, fashion advice, and fascinating features, delivered straight to your inbox!