Olivia Wilde's New Fairy Tale
On the brink of megastardom and just-divorced from her Italian prince, the actress is writing her own happy ending.Plus, check out the photos from Olivia's cover shoot and see her most memorable red carpet moments.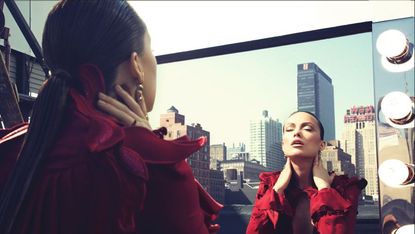 (Image credit: Tesh)
Marie Claire Newsletter
Celebrity news, beauty, fashion advice, and fascinating features, delivered straight to your inbox!
Thank you for signing up to Marie Claire. You will receive a verification email shortly.
There was a problem. Please refresh the page and try again.
A free spirit who grew up in an intellectual Irish-American clan renowned on both sides of the Atlantic, Wilde is the daughter of award-winning journalists who were equally celebrated for A-list dinner parties so raucous that Mick Jagger once told little Olivia to go to bed.
At 18, she eloped with an Italian prince from an even more glamorous family (his father, a famous playboy, reportedly inspired Federico Fellini's classic film La Dolce Vita), complete with a 1,000-year-old castle.
As for Wilde's career, after graduating from Phillips Academy, a prestigious prep school in Massachusetts, and begging her parents for a year to let her try her luck in Los Angeles before starting college, she succeeded so quickly that further schooling didn't stand a chance. And now, with six new movies on the way, the 27-year-old actress has graduated from up-and-coming status to full-fledged stardom.
Not that anyone cares about her history after they've been mesmerized by her almond-shaped green eyes and knife-blade cheekbones. We're supposed to have lunch at New York's Museum of Modern Art, but despite Wilde's arresting looks, I can't find her in the crowded lobby — until she suddenly materializes right in front of me. She's so tall (well, OK, she's wearing really high-heeled boots) and otherworldly that it's immediately apparent why she's the go-to sex symbol for smart geeks. "It was very odd to see people dressed up as me for Halloween," admits Wilde, whose Tron: Legacy bodysuit made an indelible impression on besotted sci-fi nerds.
Story continued below.
On TV's medical drama House, she plays Thirteen, an enigmatic bisexual doctor who has Huntington's disease and helps to kill her own brother, another victim of the incurable disorder. At the hospital, she's always spouting complex medical terminology and arcane diagnoses that would make a dumb actress seem utterly ridiculous. But Wilde looks and sounds unusually (if not extraterrestrially) intelligent, as well as unsettlingly different — the polar opposite of all those interchangeable blondes with empty eyes that Hollywood manufactures like so many plastic Barbies.
Wilde is different in every way — and right now, her whole life is new and different from everything she's known in the past. Last winter, she separated from her husband of eight years, Tao Ruspoli, and in March, she filed for divorce.
"The trauma of the whole thing has been humbling, and for the first time, I'm a little bit wobbly," she admits. "I'm a case of arrested development, in a way — from spending your 20s with someone who really loves to take care of you, as my husband did. But I think it's very healthy to spend time alone. You need to know how to be alone and not be defined by another person."
Emotional turmoil goes with the territory, however: "I kept saying, 'I failed!' Admitting that I'm not perfect was a wonderful thing that came out of this. There's this fear that everyone is going to be disappointed in you, but I'm human. I don't live up to any sort of ideal."
And facing that fact is character-building, Wilde says: "It makes you a more empathetic person, and I think it's made me a better actress. Weakness is something we don't like to admit we have. We hold it against people, until we experience it, and then we feel more compassion for it." She grins. "David Shore, who created House, said, 'You should get divorced every year; your acting's never been better!'"
Wilde seems at peace with the way her marriage ended. "Even though it didn't work, there's nothing I regret about any of it," she says. "We're friends; his family is my family. You always have a choice to feel angry and not be friends. But I can't handle the idea of walking into a room and seeing someone I have bad blood with. I can't keep any negative relationship with anyone. Our deal from the beginning was, 'We're crazy to do this, but we're doing it because we're in love and it makes us happy. The only reason to divorce is if one of us isn't happy. Life is too short.' After really trying to make the relationship evolve in the way our lives had, I realized it wasn't a natural evolution. When the relationship becomes about working to make it work, it's lost that beauty and that optimistic bohemian sense that brought us together. I don't think love should be work. My parents have been married for 35 years. They said, 'You have to work at it. That's what it takes.' But we tried, and it wasn't making us happy."
Wilde sighs. "In the end, maybe it's just that I'm a ridiculous romantic. I have very high standards for every part of life — my work, my relationships, food, love. I can't just pretend."
This complicates her social life now that she's single. "I'm trying to be adult, entering the shark pool of dating, but I'm hopeless at it," she admits. "I think of myself as being very cool and independent and not jealous, but I like clarity. I ask a lot of questions. A guy recently said to me, 'Maybe it's because you were raised by journalists, but you really want facts!'"
However intense her interrogation technique, Wilde — who was named the "hottest woman alive" by Maxim magazine in 2009 — doesn't lack for suitors. By June, the New York gossip column Page Six was breathlessly chronicling her dates, who represent quite a range of eligible bachelors, from Bradley Cooper and Justin Timberlake to the author and man-about-town Salman Rushdie, Padma Lakshmi's former husband.
Wilde says she's not involved with anyone, but her growing celebrity has become an issue. "It makes dating harder," she reports. "You go on one date and everyone thinks you're dating. It sort of puts pressure on this little sprout, and tramples it. If someone becomes involved with you, they know they will be photographed and written about and investigated in some way."
Read the rest of Marie Claire's exclusive interview with the star in our August 2011 issue, on newsstands July 19.
Celebrity news, beauty, fashion advice, and fascinating features, delivered straight to your inbox!