17 Celebrities With an Undeniable Romantic 'Type'
Everyone's got one.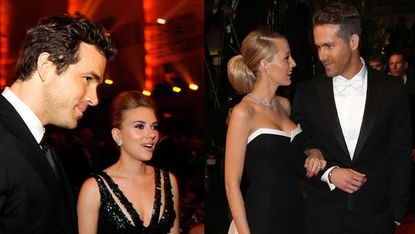 (Image credit: Archives)
Photo: Getty Images
Whether you daydream about a vintage leather jacket-sporting musician, a military man all trussed up in uniform, an Ivy League educated prepster clad in cable knit Ralph Lauren and khakis, or simply have a penchant for tanned, toned forearms, and icy blues eyes, when it comes to love (and lust) everyonehas a type, or at the least, a preference. And celebrities? Well, you know, they're just like us! Below, 17 Hollywood stars who all seem to stick to a very specific "type."
Who: Ryan Reynolds

Type: Blonde Bombshells

With such classic hunky looks, Ryan Reynolds (chiseled jaw, melt-worthy smile, etc.) obviously attracts some lovely Hollywood ladies. So it's no surprise that his marital history includes Scarlett Johansson and Blake Lively, (his current wife—and soon to be mother of his child) cementing the fact that Reynolds's type isn't just gorgeous actresses, but specifically, towheaded blondes equipped with figures to rival Marilyn Monroe's.
Photo: Getty Images
Who: Adam Levine

Type: Victoria's Secret Models

Maroon 5's Adam Levine apparently knows how to use his frontman status to his advantage. His dating life is seemingly governed by a Victoria's Secret model-only policy, with former flames including Nina Agdal, Anne Vyalitsyna, and Angela Bellotte. Of course, when he settled down and tied the knot, it was with Behati Prinsloo, who has strutted the runway at the Victoria's Secret Fashion Show for years. If ain't broke...
Related: 50 Celebrities Talk About Shooting Sex Scenes (opens in new tab)
Photo: Getty Images
Who: George Clooney

Type: Stunning Women (That You've Never Heard Of)

There's no denying the complete package that is Amal Clooney, the woman who finally got eternal bachelor George to say 'I do.' However, before she started snuggling up with him, Amal (Alamuddin before she took Clooney (opens in new tab)) was a relative unknown—outside of the field of human rights law, of course. This isn't the first time George has paired off with a non-celeb. Past girlfriends Stacy Keibler, Elisabetta Canalis, and Celine Balitran, to name a few, all lived life out of the public eye before they started seeing Clooney.
Photo: Getty Images
Who: Jennifer Lopez

Type: Back-Up Dancers

Excluding her ex-husband Marc Anthony, Jennifer Lopez tends to gravitate towards those who perform with her when looking for a partner (and to be fair, she's shared the stage with Anthony before, just not in the dance capacity). J.Lo has found love with her backup dancers multiple times, first with her short-lived marriage to Cris Judd, and second, with her recent boyfriend, Casper Smart.
Photo: Getty Images
Who: Kate Hudson

Type: Rockers

Sure, she's dated fellow actors IRL, but it's the rockers that inspire Kate Hudson to get serious. Both of her marriages have been to musicians: Her first husband was The Black Crowes' Chris Robinson, and she's now engaged to Muse frontman Matthew Bellamy.
Photo: Getty Images
Who: Jennifer Lawrence

Type: Blue-Eyed Brits

For the majority of her career, Jennifer Lawrence has been linked to Nicholas Hoult, a lanky Brit with ice blue eyes, and her X-Men costar. After their split, she rebounded with Coldplay frontman (and Gwyneth Paltrow's ex) Chris Martin, also a blue-eyed Brit. JLaw, we're starting to see a pattern here.
Photo: Getty Images
Who: Jessica Simpson

Type: Football Players

After her reality TV-documented marriage ended in divorce, Jessica Simpson started looking outside of the pop star realm to find a mate. Her most notable relationships that followed the Lachey/Simpson split were with professional football guys Tony Romo (of the Dallas Cowboys) and presently, Eric Johnson (formerly of the New Orleans Saints), to whom she is married and has two children with.
Photo: Getty Images
Who: Emma Stone

Type: Nerdy Cute

Emma Stone and boyfriend Andrew Garfield continue to be one of Hollywood's most rooted for couples. But Stone seems to have a penchant for the boyish, could-be-computer-programmer brunette (or does it just seem like that because of Garfield's turn in The Social Network?). The former men in her life, singer Teddy Geiger (opens in new tab) and Kieran Culkin (brother to Macaulay), fit the same description.
Related: 20 Celebrities Reveal Their Worst On-Screen Kisses (opens in new tab)
Photo: Getty Images
Who: Angelina Jolie

Type: Her Co-Stars

If it wasn't for the famous coupling that came out of Mr. and Mrs. Smith, the film might have merely become one of those titles that vaguely registers with you when you scroll through On Demand. Instead, it will forever be known as the movie that launched the love story that is Brangelina. The 2004 flick isn't the first time Angie found love on set. She met her second husband, Billy Bob Thornton, while filming 1999's Pushing Tin, and her first, Jonny Lee Miller, while co-starring in Hackers in 1996.
Photo: Getty Images
Who: Madonna

Type: Younger Men

Madonna has proved over and over that age is just a number. And this doesn't just influence her on-stage antics, but her choice in men as well. While she's had a slew of male companions over the years, a category she continually returns to is the younger man. She has multiple exes with an over 20-year age gap.
Photo: Getty Images
Who: Alex Rodriguez

Type: Blonde A-Listers

A-Rod has cozied up to gorgeous golden-haired girls such as Cameron Diaz, Kate Hudson, and Madonna, proving that to be on the baseball player's radar, a lady must be famous enough to merit an Academy Award's invitation—not to mention some serious paparazzi attention—and, of course, sport blonde locks.
Photo: Getty Images
Who: Leonardo DiCaprio

Type: Models

Leonardo DiCaprio, with his floppy golden mop and killer blue eyes, cemented his status as a Hollywood charmer way back in '90s. So, unsurprisingly, Leo's into dating some other people who are really, really, really ridiculously good looking. He's been linked to a string of models, including Bar Refaeli, Gisele Bündchen, and Alyce Crawford.
Photo: Getty Images
Who: Taylor Swift

Type: Cute Brunettes With Tousled Hair

Let's face it: T. Swift has made a career out of dishing on her love life—and we love her for it! But through the relationship ups and downs (and their accompanying songs, of course,) we've noticed a pattern developing. All of her past flames sport similarly hued brunette manes that have a tousled, swoopy look to them. Whether the ex is a pop sensation like Harry Styles (or once, Joe Jonas), actors like Jake Gyllenhaal or a member of American royalty such as Conor Kennedy, those begging-to-run-your-fingers-through-it 'dos are omnipresent.
Photo: Getty Images
Who: Kate Moss

Type: The Sensitive, Dark Artiste

Moss may have a decades-long reputation as a sought-after supermodel, but that doesn't mean she goes for guys who look like they stepped right off the runway. In fact, the men in her past tend to look more like they've just spent a sleepless night working on their next great novel, or composing a symphony. Lucky for men such as Pete Doherty, Jamie Hince, and Johnny Depp, Moss has long perfected the slightly-disheveled-but-could-still-stop-traffic look, so it's certain that she's taught these nearly identical flames a thing or two.
Photo: Getty Images
Who: Ben Affleck

Type: Women Named Jennifer

Jennifer Lopez and Jennifer Garner may not have much in common, but they do share a significant figure in both of their romantic pasts (or presents, in Garner's case.) Gone Girl actor Affleck went from a very high-profile, but ultimately failed engagement to Lopez in 2004, before settling down with Garner, with whom he now has three children. The pair continues to be one of the most adorable couples in Hollywood history (watch Ben's ice bucket challenge (opens in new tab) for further proof.)
Photo: Getty Images
Who: Katy Perry

Type: Guys Everyone Suspects Are Jerks

We don't want to call her a masochist, but Katy Perry's certainly got questionable choice in men. Perry's two most notable relationships have both been with males that are rumored to be, frankly, jerks. While what goes on in the inner workings of her romances is a mystery, rumors have swirled about both her ex-husband Russell Brand, and more current flame, John Mayer, painting a not-so-nice picture of their personalities.
Photo: Getty Images
Who: Ryan Phillippe

Type: Blonde Sweethearts

Cruel Intentions might have been Ryan Phillippe's biggest hit to date, but his romantic life has included numerous big names—Phillippe has dated a handful of ladies most men would be proud to take home to mom. The proof? His early-on marriage to the classic, sweet Southern girl, Reese Witherspoon, and later, relationships with Abbie Cornish and Amanda Seyfried.
Via
I'm an Associate Editor at the Business of Fashion, where I edit and write stories about the fashion and beauty industries. Previously, I was the brand editor at Adweek, where I was the lead editor for Adweek's brand and retail coverage. Before my switch to business journalism, I was a writer/reporter at PEOPLE.com, where I wrote news posts, galleries and articles for PEOPLE magazine's website. My work has been published on TheAtlantic.com, ELLE.com, MarieClaire.com, PEOPLE.com, GoodHousekeeping.com and in Every Day with Rachael Ray. It has been syndicated by Cosmopolitan.com, TIME.com, TravelandLeisure.com and GoodHousekeeping.com, among other publications. Previously, I've worked at VOGUE.com, ELLE.com, and MarieClaire.com.