Jessica Alba: View from the Top
The star has accomplished a mission impossible in Hollywood: transitioning from big-screen bikini babe to bona fide fashion icon. Don't forget to check out all the photos from our exclusive cover shoot with Jessica!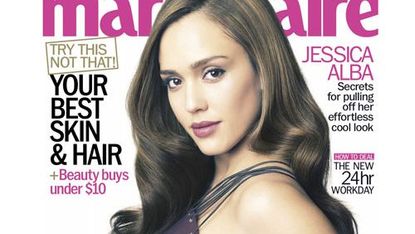 (Image credit: Archives)
When it comes to really famous people, the ones we identify in our brains as belonging to a special breed of superhumans—glossy, glam, and perpetually camera-ready—it's easy to forget that, to those in their inner orbit, they're actually just normal, regular people. Somebody somewhere sees George Clooney's number pop up on the caller ID and says, "Him again?" Or, as is the case today, when a visitor arrives at a small, modern Los Angeles building in an industrial part of town for a meeting with Jessica Alba, the guy she shares an office with shrugs indifferently and mumbles, "I think she's upstairs?" before returning to his feverish typing.
These nondescript offices are the headquarters of The Honest Company, a kind of Amazon for nontoxic, environmentally friendly baby products and household supplies that Alba launched earlier this year. Alba loves coming to work here, a paparazzi-free zone where she's absolved of having to preen and pose. It's obvious as she bounds down the stairs to meet me that she savors the regular-ness of having an office, replete with coffeemaker and a fridge filled with yesterday's lunches. To the cubicle jockeys who inhabit the space, she's "just Jessica," another clock-puncher who parks her SUV (outfitted with two car seats for daughters Honor, 4, and Haven, 9 months) alongside everyone else's, and who shares mommy war stories without feeling exposed or judged—like the time she and her husband, film producer Cash Warren, found Honor lying in her crib eating particles of her diaper, which had fallen apart. The event crystallized Alba's interest in safe, sustainable products, including disposable diapers, which The Honest Company delivers monthly to subscribers for upwards of $80 per month.
"I started working on this three and a half years ago," Alba tells me. "I took a year off from acting when I had Honor, and I was home with her, diapering her, cleaning up after her, and I had a real frustration that I couldn't find healthy, nontoxic, and affordable products that actually worked. So I decided I needed to do something about it while my family and friends have young children."
Yet despite Alba's best efforts to come across as just another mom, she is—let's face it—anything but. As she leads me to a conference room, I can't help but stare at her enviable form and wonder: Is that what jet-black J Brand skinny jeans are supposed to look like on a human body? Would those Margiela for Opening Ceremony black boots make my legs look that long? If I ran out and bought an identical rose-gold channel-set diamond ring that spans two fingers, would that technically make me a stalker or just an admirer?
Though Alba clearly relishes being a businesswoman, her latest role is as a fashion darling, a woman whose every ensemble, whether for a movie premiere or sandbox play-date, is photographed and quickly dispatched to celebrity magazines and blogs that feverishly monitor her unique sartorial choices. Despite what the tabloids suggest about the symbiotic relationship between celebrities and the fashion world, actresses like Alba—true trendsetters—are rare. It could be argued that the fashion flock are harder to impress than the Hollywood machine. But thanks to her infallible Cali-cool style and fluid transition from streetwear to couture, honed from years of red-carpet swanning, Alba is a favorite among the most rarefied of designers—Alber, Donatella, Narciso, to name just a few—who decide whom they dress (and not the other way around). She's managed to totally remake her image, trading her postpubescent-boy fan base for fashion's überchic style arbiters and the legions who follow them. "She is an extraordinary beauty," says Narciso Rodriguez. "Her style is her own, and it has made her someone to watch."
"She has a perfect body, sexy with curves," effuses Donatella Versace. "She is true to herself. She always looks fresh, never vulgar."
Alba, 31, has come a long way. Early in her career, she was often showcased in Maxim-ready looks, from jeans and halter tops to body-hugging dresses, that played up her lean yet impossibly curvy 5'7" frame to eye-popping effect. "I had a show [Fox's Dark Angel] that premiered when I was 19," Alba explains. "And right away, everyone formed a strong opinion about me because of the way I was marketed. I was supposed to be sexy, this tough action girl. That's what people expected."
Even when she dressed demurely, her killer body always took center stage. "I felt like I was being objectified, and it made me uncomfortable," she concedes. "I wanted to be chic and elegant!"
In recent years, owing to marriage, motherhood, and the maturity that comes from more than a decade in Hollywood, Alba has grown more assured of herself and how to work her figure in her own way. "Now that I'm older, I've learned how to own it, but I'm still not very overt," she says. "There are some women who dress for men. I dress for myself. It took me some time to get here. Being a mom and feeling grown-up have helped. Now if I'm going to wear something short, it has to have a high neck or a little sci-fi toughness to it, an edge."
Read Jessica's full interview when the June issue of Marie Claire hits newsstands on May 22.
Marie Claire email subscribers get intel on fashion and beauty trends, hot-off-the-press celebrity news, and more. Sign up here.