Jordana Brewster: The Natural
Starring in two of Hollywood's highly lucrative hits, Jordana Brewster proves she has staying power.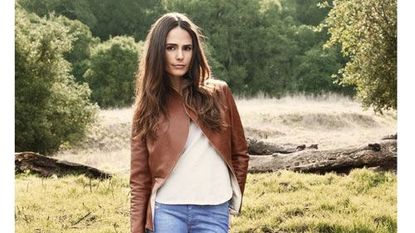 (Image credit: Hilary Walsh)
Marie Claire Newsletter
Celebrity news, beauty, fashion advice, and fascinating features, delivered straight to your inbox!
Thank you for signing up to Marie Claire. You will receive a verification email shortly.
There was a problem. Please refresh the page and try again.
There are certain Hollywood franchises — Star Wars, Spider-Man, James Bond — for which box-office spoils are a given. Then there's The Fast and the Furious: the little, albeit souped-up, engine that could. Indeed, the action-packed racing flicks have exceeded expectations not just financially but also critically — as reviewers have found themselves charmed by the movies' frenetic energy and guilty-pleasure appeal. Driving the series' success: Jordana Brewster. This month, 12 years after her first turn as leading lady Mia Toretto, Brewster reunites with Vin Diesel and Paul Walker to star in Fast & Furious 6 — that's right, 6, with a seventh installment careening around the corner. If 2011's Fast Five, which grossed $86 million its debut weekend (making it number one at the box office and Universal Pictures' best opening ever), was any indication, FF6 stands to smoke the competition.
A parallel can be drawn between Brewster's brand of fame and that of the Fast machine's. Both smolder quietly, avoiding the blaze followed inevitably by burnout. "I always knew I wanted to be either on TV or in movies," the 33-year-old says from her home in Los Angeles. "I just didn't know how." At 10, she moved with her family from her mother's native Rio de Janeiro to Manhattan, and the track became clear. "Everything's much more accessible in New York. I started taking classes to prove to myself that I could do it." By the time she was 15, she was a regular on As the World Turns. From '90s teen thriller The Faculty to The Texas Chainsaw Massacre: The Beginning (where she met her producer husband, Andrew Form), she's been working steadily ever since. Not that it's been a totally smooth ride. "Whenever I have a kid, if he or she says, 'I want to be an actor,' I'll say, 'Please don't do it!'" she says, laughing. "But no one in my family was in show business, so they didn't know better." Although Hollywood isn't in her blood, Brewster's pedigree is still impressive: Her mother is a former Sports Illustrated swimsuit model; her father, a successful investment banker; and her grandfather was once the president of Yale University (where the actress graduated with a BA in English in 2004).
Not only is she that girl — sexy, smart, successful — she also plays one on TV. As Elena Ramos, an energy resources expert on TNT's Dallas update, Brewster spouts engineer jargon so believably that her character's love triangle is almost sidelined. Ramos' subtle wardrobe—no shoulder pads or teased hair here — also allows Brewster to shine. "She's always on oil rigs in boots or flats and pants," Brewster notes on a rare weekend break from filming the drama's second season. "The challenge is to look contemporary but not like she's trying too hard. Looking good isn't her priority, but then, it is Dallas, so one must look good."
The same could be said about Hollywood, where Brewster's off-duty uniform consists of an easy sweater, AG jeans, and ballet flats. "I'm not rushing out to buy the latest trend," she says. "There's just no way to keep up!" Serving as a guest judge on Project Runway's 11th season was eye-opening. "Hearing Zac [Posen] talk about seams and cut—he has a whole language I was unaware of." The episode's challenge: Create a look for Brewster to wear in the pages of MC. Proving to be a thoughtful critic, she based her decision on what she would actually wear. As for the future of Fast, "Everyone asks, 'Are you going to be doing this with walkers?'" Brewster laughs. "In a way, we should be so lucky."
Celebrity news, beauty, fashion advice, and fascinating features, delivered straight to your inbox!