Zooey's Moment
She's fresh off a tour for her latest album, millions flock to her Twitter feed, and the third season of her hit show New Girl premieres this month. Fringe favorite Zooey Deschanel is now part of the in crowd. Don't forget to check out the beauty and fashion inspiration behind her September cover spread.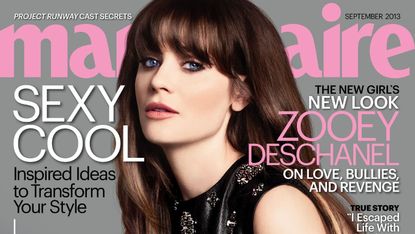 (Image credit: Tesh)
Marie Claire Newsletter
Celebrity news, beauty, fashion advice, and fascinating features, delivered straight to your inbox!
Thank you for signing up to Marie Claire. You will receive a verification email shortly.
There was a problem. Please refresh the page and try again.
Seventh grade was not kind to Zooey Deschanel. As a chubby, freckly preteen at Crossroads School in Santa Monica, California, a prep school where students had names like Willow, Echo, and Ivy, she had poor posture and a round belly. In an oft-told tale, one day a popular classmate actually spat in her face. "I was talking to her, and she didn't want me to talk to her. I honestly did nothing," Deschanel recalls. "I just remember walking over to my locker and wiping the spit off my face, so humiliated." She recently spotted her assailant in photographs at a mutual friend's wedding. "I've forgiven her," she says now. "I just don't forget."
Looking back, she thinks middle school helped build character. "A lot of people I knew who didn't struggle, who maybe came from a lot of money or were really pretty—those people actually have a harder time as adults in a way. They don't even understand what it's like to not be pretty...I'm not saying it's good, I don't think people should be mean to each other, [but] I think it made me stronger."
Now the 33-year-old Deschanel is living every bullied schoolkid's revenge fantasy of success and redemption. She's the star and a producer of Fox's appealing New Girl, is half the indie band She & Him, has a film résumé of both critically acclaimed and box-office hits, and is an ambassador for Pantene. This particular spring day in New York began with brunch with her boyfriend, screenwriter Jamie Linden, whom she began dating six months after her split from Death Cab for Cutie's frontman, Ben Gibbard; their divorce was finalized in late 2012 after three years of marriage.
"Super-dark out, look!" says Deschanel, dressed in a cashmere sweater, a gray wool skirt, black tights, and rain boots, in the lobby of the Gramercy Park Hotel. "It's so sad because we could have taken a lovely walk." Before the weather report, the plan was to take her two terrier mutts, Dot and Zelda—named for Dorothy Parker and Zelda Fitzgerald "if you're thinking highbrow"— on a walk through Gramercy Park. In hatching another plan, all she knew was that she didn't want to go vintage shopping with a journalist for the millionth time. Then she read about an exhibition of 19th-century costumes at the Museum of the City of New York uptown, and she was sold.
Inside the museum, no one knows anything about 19th century costumes. "How did I get this wrong?" she says, defeated. "Maybe it's at another—is this a modern museum? I'm more interested in seeing old stuff than new stuff." Upstairs, she peers into an elegant dollhouse with a kitchen, playroom, rocking horse, teacups, and an elevator, everything hand-painted. "I've always loved little dollhouses; they're so cool," she says. "I mean, to do all this? There's a museum of miniatures in London that I remember being fascinated with as a kid."
According to her mother, Deschanel was always a daydreamer, extremely creative, and very funny even as a very, very young child. "She was born with something unusual," says Mary Jo Deschanel, a television and film actress, over the telephone from Los Angeles. "It was almost like she could hear a different voice in her head. She would just see or think something different from everybody else. I think she had a hard time fitting in with other children, with people in general."
Her first word was "light"; one of her first sentences was "Don't you shush me!" She didn't want to be bossed around or repressed, her parents and teachers quickly realized. At age 2, she saw The Wizard of Oz and told her mother she wanted to go into the television through the cord and redo the part of Dorothy. At age 5, she made up her first song. (It was called "I'm Having Fun at the Fair.") The Deschanels lived in the Pacific Palisades neighborhood of L.A. when they weren't on film locations from the Seychelles to San Francisco, where The Right Stuff was made. (Mary Jo stole scenes as the speech-impediment plagued Annie Glenn, and her husband, Caleb Deschanel, did the cinematography, earning his first of five Oscar nominations.) Deschanel and her older sister, Emily, fought a lot. "She's tall, and I'm smaller, so it was kind of unfair," Deschanel recalls. "I would have to grow out my nails so I could scratch her."
Emily stars in another Fox TV series, the 8-year-old crime comedy-drama Bones, so Deschanel "always went into [New Girl] with the thought that it could last. I never thought about doing TV, particularly because I didn't want to be signed up for something for that long. But after being frustrated with the kinds of material I was getting in the feature world—and it's very competitive— I just thought, Why am I doing this in the first place? If you're an actor and you want to go where the material is, it doesn't matter the medium. All these people who used to say, 'Oh, I'll never do TV,' now want to because they see things that are successful and good on TV." (In 1999, when Deschanel dropped out of Northwestern University after seven months to appear in Almost Famous, someone told her she should do a sitcom because she was funny. "And I was like, 'That's crazy.' I remember thinking, I want to do art films.")
So the girl who wanted to make artistic films, who was reluctant to sign on to a project long-term, ends up with a seven-season contract for a popular sitcom. "I always felt like a little bit of an outsider, and now I'm an outsider who's a satellite for the outsiders? All of a sudden, I'm on the inside, and it feels weird. Because I always saw myself as sort of not mainstream."
Not that her indie cred has slid. She was costarring in a road movie called The Go-Getter in 2006 when she met Portlandbased singer-songwriter and guitarist Matt Ward (aka M. Ward), who was composing the music. The director asked them to do a duet for the soundtrack. They hit it off, and two years later She & Him's first record was released. A common misconception is their folksy band is more Him than She. "No, no, I write all the music, and then we go into the studio," she confirms. "People have assumed that either I write nothing or I just sing or that I write the lyrics but not the music."
For someone who plays piano, percussion, banjo, and ukulele, it's no surprise that the projects she pursues are musically oriented. Realizing she would never get tired of hearing the Loretta Lynn catalog, she decided she wanted to star in a Broadway musical version of the 1980 biopic Coal Miner's Daughter starring Sissy Spacek. Someone already had those rights, so she bugged the producers until "they finally ran the idea of my playing the lead by Loretta's camp, and they were like, 'Oh, we love Zooey, we'd love her to play Loretta.'" The musical is still in development, but Deschanel breaks out a few snatches of her favorite Lynn song, "You're Looking at Country," to me. She doesn't mention that she and Lynn performed together at the Grand Ole Opry in Nashville last year. "We bonded right at the beginning—it's like meeting somebody and you feel like you've known them forever," says Lynn. "She's young, and she's good. She can pull it off—I ain't worried one bit."
Deschanel attracts no notice at the museum, a fact that she loves. (Later, we would discover the exhibition she was looking for was online only.) Stepping into a tiny theater, Deschanel is in and out in less than 25 seconds. "I get very overwhelmed by crowds, especially of strangers," she says, adding that Union Square and Times Square freak her out. Even driving in L.A. past the hordes on Hollywood Boulevard is stressful. Her idea of heaven on earth is "being on a farm, with horses, farm animals, and dogs. Select people, some food, and maybe some music. That sounds really great."
Select people? On an appearance on the Late Show With David Letterman the previous night, she showed a picture of her rescue dogs and mentioned that "my boyfriend" took it. She leans over to look at my list of "her boyfriend" questions, which she wants to skip. "I will say we got the dogs together, and he loves them very much." When the couple visited the Black Dahlia house in Los Angeles, where some believe Elizabeth Short was murdered in 1947, all of a sudden they were "house-hunting." "We saw it just to see a Lloyd Wright house," she says. "Just because you go see a house doesn't mean you're going to buy it."
Is having children on her priority list? "I'm not going to answer that question. I'm not mad at you for asking that question, but I've said it before: I don't think people ask men those questions."
What has she—
"Learned from being married and divorced? I will say this: Whether you're married or not, if you're in a relationship, you have to wake up every day and say, 'I want to stay with this person.' You have to make the commitment every day and every second and every minute."
After her divorce from Gibbard, her financial records were splashed across the Internet, from her income to credit card balances to how much she spent—and on what—every month. "Here's the thing about that," she says. "It is the law that you provide financial records, and they are public record. A lot of people said my lawyer made a mistake, and I want to say that my lawyer is a great lawyer, and he did not make a mistake. It felt weird, but I feel OK about how I've handled my finances. It felt like a violation, but once you get over it, you go, 'Well, if it's out there, it's out there.'"
Out there, too, is the mini backlash that once briefly threatened her. TV critics mocked her "adorableness" in the blogosphere. Then in 2011, she was hanging out with actor Ben Schwartz (Parks and Recreation) and her business partner, Sophia Rossi, with whom she cofounded a TV production company and a humor website for girls, HelloGiggles.com. Deschanel was a Twitter neophyte (she has 4.5 million followers now) when she noticed that cutesy things like a kitten hugging a baby were what got the most retweets. She bet Schwartz and Rossi that if she tweeted "I wish everyone looked like a kitten," she would get 100 retweets in 10 minutes. "I did, and then a lot of people were like, 'What the fuck! Who said that? How stupid you are.'" Comedian Julie Klausner denounced the tweet on Tumblr, declaring that Deschanel's girlish image was bad for women. (Klausner later toned down her remarks.) "My theory is that people in this day and age want to dismiss things. So they want to be able to dismiss you," Deschanel says. "They say, 'You don't belong, you don't deserve this because here's why, and let me find an intellectual argument for why you wearing pink or cuff sleeves or a bow makes you not worthy of your accomplishments. Everything you've done doesn't matter because you wore the wrong thing or you speak in a way that's feminine or you identify yourself as feminine.' And I just think that's bullshit. And smart people are doing it, and that's surprising to me. I'll give them being smart, but they're being very shortsighted.
"It's just attacking who I am," she continues. "A lot of times it doesn't have to do with what I get paid to do. It has to do with, 'Oh, you stupid person.'" Part of the reason she started her website was to create a positive place online for girls. "Even I get slammed and overwhelmed by how negative the Internet can get, and I'm an adult. I don't pay any mind to it, but it's pretty shocking how when you give people anonymity—it's like the worst of human nature."
Snark, gossip, and cursing aren't allowed on HelloGiggles. "I just felt it's important to teach young girls to be strong people, to not think, I can't do this because I'm worried about what people will say. There are worse consequences, but online negativity stops people from being creative, part of which is having bad ideas as well as good ideas. When somebody says, 'That idea's stupid,' you stop your flow of ideas. We can't have the next generation be so afraid because they have been attacked."
So if she's doing the site for the next generation, is she doing the rest for fame, fortune, and beautiful lovers, as Freud said of all artists? "No," she says, laughing. "I'm in it because I like creating things. Freud missed the mark sometimes."
Pick up the September issue of Marie Claire when it hits newsstands on August 13.
Celebrity news, beauty, fashion advice, and fascinating features, delivered straight to your inbox!