Natalie's Next Moves
Though she hasn't been seen on-screen in two years, Natalie Portman has been busy wrapping four movies, including this month's Thor: The Dark World, prepping for her directorial debut, and planning a relocation to Paris. The actress we always knew would go places takes her major year ahead in stride.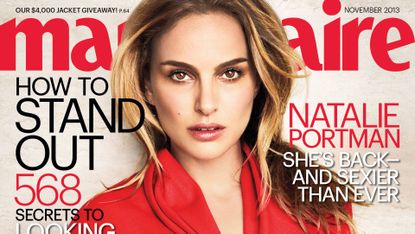 (Image credit: Future)
Marie Claire Newsletter
Celebrity news, beauty, fashion advice, and fascinating features, delivered straight to your inbox!
Thank you for signing up to Marie Claire. You will receive a verification email shortly.
There was a problem. Please refresh the page and try again.
Finding the right location to meet Natalie Portman proves easier than expected because we both live in the same Los Angeles neighborhood known for its harmonious blend of nuclear families, artsy hipsters, and celebrities of the sort who just can't stomach Beverly Hills. Better yet, we both frequent the same section of Griffith Park, a sprawling expanse that serves as the neighborhood's communal backyard. Portman arrives driving a hybrid SUV, looking like half a dozen other young hikers, wearing pea-green shorts, weathered gray running sneakers, a gray T-shirt, and oversize blue sunglasses.
"Hi there," she says in that famously singsong voice of hers. "Hope you don't mind company." She peers down at her Yorkie terrier, Whiz, who looks large only when in the vicinity of his owner. At 5'3" Portman would look girlish under any circumstance. But today, in a simple ponytail and no makeup, she's a 32-year-old who could easily pass for a college senior. En route up the fairly steep mountain trail we've chosen on this 90-degree day, there's something all-business about her. Initially, I can't decide whether this is because of her oft-stated aversion to interviews ("I'd never do them if I didn't have to") or because this is just how she approaches everything. Not by accident does someone become, in addition to a movie star, a Harvard graduate.
As Portman gazes down at the parched L.A. skyline, I ask whether she'll miss the place. Her husband, the French ballet dancer and choreographer Benjamin Millepied, was recently tapped to run the famed Paris Opera Ballet. "Yeah, we're moving at the end of next year," she says with a sigh. "Although obviously we'll be spending a good deal of time there in the meantime." Describing her grasp of French as OK," Portman, who is fluent in Hebrew, says she can get through a conversation. "I mean, not about, like, philosophy," she explains. "But about this and that, I can manage."
Admittedly, the move will be somewhat bittersweet for the couple, who met in 2009 while collaborating on Black Swan, the ballerina thriller that earned Portman an Oscar, and married in 2012 in Big Sur, California. "I just really, really love it here," she says, adding that Millepied feels likewise, having spent the past year running the L.A. Dance Project he founded. "It's one of the most exciting places to be in the world right now. It's really central in terms of the arts. It feels like things are happening in L.A., you know? New York is more where art is bought than where art is made." A moment later, she clarifies: "I'm really lucky. When Ben asked me if I wanted to go to Paris, I freaked. Everyone dreams of living in Paris."
Portman frequently self-edits. For one thing, she refuses to be another spoiled star whining about the price of fame. "This isn't a problem," she says, more than once. "I'm very happy." Such circumspection is born of her long experience in the public eye. She's been a high-value paparazzi target ever since her star-making turn in Luc Besson's 1994 thriller The Professional, and her big-game status has remained unchained for two decades, a period in which she has appeared in more than 30 feature films. And over the next year, she'll be starring in four more that span the genre spectrum, from action to artsy.
And yet Portman remains steadfast in her determination to live a low-profile life. "She's a very private person," explains Darren Aronofsky, who directed Black Swan. "But because she's been in the spotlight since she was so young and she's so beautiful, there's this real attention on her. Usually people who are haunted by the paparazzi say they don't want it, but they do. Natalie has no interest in that. She's not playing that game."
Portman is the only Hollywood A-lister who speaks authoritatively about Israeli literature and microfinance (she's the Ambassador of Hope for microloan charity FINCA and recently started working with Free the Children, which builds schools in developing countries) while simultaneously using "like" as a verbal comma. She gets a little squirmy when asked to talk about Being Natalie Portman, but she could be forgiven her diffidence when asked about two forthcoming collaborations with the gifted but secretive Terrence Malick. In Hollywood, the first rule of Malick Film is: You don't talk about Malick Film. The second rule is: You can't talk about Malick Film because nobody really knows what the movie is until postproduction, during which the director frequently alters and cuts major characters and plotlines. "Who knows if I'll even end up in the movies," Portman says. "Seriously." She does offer this: Years ago, during a rare opportunity to meet the reclusive auteur, she told Malick how dearly she loves his films, which include the classics Badlands, Days of Heaven, and The Thin Red Line. Then, in 2011, Malick called Portman out of the blue. "I'm doing two movies in a row," he said, offering no further elaboration. "Would you do them?" She said yes on the spot.
Portman is freer to discuss her big-ticket role in this month's Thor: The Dark World, a sequel to the hit 2011 superhero movie about the Norse god of thunder (portrayed by Chris Hemsworth). In both movies, Portman plays the gamine scientist who tames Thor's heart. The sequel was developed amid reports that Portman was reluctant to make a second go of it. "No," she says flatly. "Chris is, like, one of the greatest people in Hollywood. He's the kind of actor who's so charismatic, he must be tired when he goes home."
That production began on the heels of the Malick films proved to be a nice counterbalance, especially as she prepares to direct her first feature film, A Tale of Love and Darkness, based on the novel by the Israeli writer Amos Oz. Portman plans to cast mainly Israeli actors, herself included, and film in her birthplace of Jerusalem. Her family immigrated to the U.S. when Portman was 3. Her father, Avner Hershlag, is a fertility doctor; her mother, Shelley, an artist and homemaker. (Portman, named after the French song "Nathalie" by Gilbert Bécaud, took her surname from her paternal grandmother.)
The fourth of Portman's crop of films, Jane Got a Gun, is an indie Western developed by the Scottish director Lynne Ramsay as a vehicle for Portman and Jude Law. But Ramsay didn't show up on the first day, and Law soon followed her out the door. Although each was replaced by Gavin O'Connor and Ewan McGregor, respectively (after Law's original replacement, Bradley Cooper, fell out due to scheduling conflicts), the damage was done. "It was very challenging," Portman says diplomatically. "Everyone came together, but it was hard emotionally." The movie premieres next year. The first Malick film, with a working title of Knight of Cups, costars Christian Bale and Cate Blanchett. Reportedly, it's about . . . the perils of celebrity.
Thirty minutes into our broiling ascent, Whiz lets it be known that he's over hiking. Portman dutifully leads us down to a shaded section of the park. Here, in cool seclusion, she seems notably lighter. To wit: She's the first to acknowledge that those who label her as Hollywood's reigning goody-goody are not without some ammunition. Asked to name her vices, she pauses for a long while. "I bite my cuticles," she offers, apologetically. "Oh, and I can go into a Food Network hole."
Mostly, though, she tries to remain willfully oblivious to what the world is saying about her. When I mention a recent page-one New York Times report that the Clinton Foundation flew her and Whiz first-class to a Clinton Global Initiative event, it's news to her. Likewise when I reference an article in which she'd confessed to a fear of confrontation. "Honestly, I've been interviewed for, like, 20 years," she says. "It's possible I said that, but I don't know." Then she adds: I don't like confrontation, but I'm probably less afraid of it now. I wouldn't say I'm confrontational. But I say my opinion. I realize how much my nonconfrontation was about trying to have everyone like me." At which point, she removes her sunglasses, revealing her famously giant doe eyes, which animate her every word. And that's when it happens.
While joking about Hollywood's efforts to typecast her—as either The Young Ingenue or The Soulful Jewess—Portman glimpses a nervy man inching toward her. She smiles tightly, bracing for an awkward celebrity moment. "Sorry to bother," the man says, pointing toward a road 50 yards behind us. "But there are a couple of guys there with big cameras." After profusely thanking her Samaritan, she cheerfully proceeds as if she's not being stalked by professional creeps hiding in the bushes. "I had no idea I was being photographed," she says. "Like, I don't like this part of it. But there are two parts to it. If you don't see them, then they're not interfering with the way you feel when you're at the park." But not infrequently, they catch Portman when she's out with her 2-year-old son, Aleph. "If they make your kids afraid, then obviously that's a whole second layer to it."
In a heartbeat, Portman seamlessly picks up where she'd left off. "Like, every Jewish role comes to me," she says, laughing. Even now, when everyone from Mila Kunis to Scarlett Johansson is of the faith? "I look more Jewish than Scarlett," Portman deadpans.
Her calm disregard of those prying eyes continues unabated. There's a discipline to it, one forged by two decades' worth of experience. Actress Greta Gerwig, who played Portman's roommate in the romantic comedy No Strings Attached, likens Portman's life to that of a young Olympic prodigy. "With some of them, you think, Oh, no, that kid's going to have a hard life after this is done," Gerwig says. "And others, you're like, 'That kid is going to be OK.' Natalie's got an inherent practicality and a real sense of groundedness, and has been and will always be OK on some deep level."
Make no mistake, Portman has her share of boldface friends, among them Kate and Laura Mulleavy, the designer sisters behind Rodarte. "I most respond to someone when they have other things beyond fashion to talk about," says Laura. "So I feel a connection with Natalie on so many other levels—we talk about art, family, literature, and dance." But mostly Portman sticks with the same three best friends she's had since high school in Syosset, New York, where, as a child, she was encouraged to pursue the sciences. And her parents made damn sure she wouldn't be yet another nightmarish child star. "She doesn't wear any of that on her," says actor Michael Fassbender, Portman's costar in one of the Malick films. (They were also set to costar in Macbeth until a scheduling conflict forced her to drop the role, which went to Marion Cotillard.) Granted, he says, adult Natalie looks eerily like young Natalie. "I understand that part. But she's a real woman. The way she holds herself is very mature."
Portman reveals the same toward the end of our interview, when I make a throwaway remark about raising children with my wife. In a flash, Portman clicks into mommy mode. "I have the most amazing woman near here, if you guys want to go to her," she says, wide-eyed. "She runs baby groups. In ours, there's a mom who just adopted a little girl, and it was really cool because a lot of us gave extra breast milk." While I stammer about breast milk, Portman hurriedly unearths her iPhone. "Let me give you her information," she says, scrolling madly before handing over her entire contacts list. Having offered a brief primer on breast-feeding, Portman offers a firm handshake and heads to her SUV, trailed by the two snapping paparazzi. Joggers recoil. For Portman, though, it's a walk in the park.
Pick up the November issue of Marie Claire when it hits newsstands on October 22.
Celebrity news, beauty, fashion advice, and fascinating features, delivered straight to your inbox!