A Week on Instagram: Our Favorite Celeb Shots
To be hot, rich, and totally stalkable. Le sigh.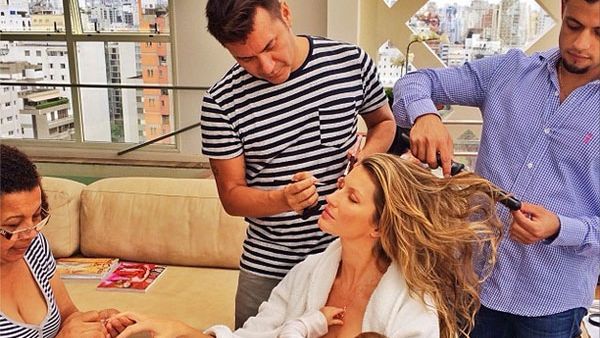 (Image credit: Archives)
Fact: Celebs have awesome lives. And we admit we love to live vicariously though them for all the glam, parties, and pretty houses. So to get our stalker fix, we've rounded up our favorite celeb social media snaps from the past week. Happy scrolling!
Here's the glorious Gisele Bündchen doing her version of the multitask. Baby on the boob, posse on the hair, nails, and face.
Taylor Swift having a ball with her anonymous friends and one very lucky lip gloss.
T. Swift's BFF knows a thing or two about a pretty Instagram as well. Filter? Check. Thoughtful stare? You know it.
Can we all agree that life would be better if we could live in Lauren Conrad's Paper Crown office?
Kim Kardashian channeling Elizabeth Taylor with diamonds and a towel.
It Brits Harry Styles and Sienna Miller partying it up at what we can only assume to be a totally hip party. Our 1D boy looks hot even in a blonde wig (with perfect beach waves, right?).
Leave it to Alexa Chung to put together crazy cool accessories but act completely casual about it. GIMMIE.
Related Stories:
Blue Ivy Carter is Our Style Icon
5 Things Your Boyfriend Doesn't Know About Fashion
Morning After? There's a Sweatshirt for That.

Follow Hallie Gould on Twitter.