Girls Recap: Bush is Back, Gaby Hoffman Rules, and Hannah Horvath Turns 25
Adam's estranged sister drops in for an unexpected visit.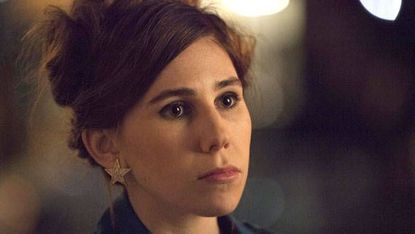 (Image credit: HBO/Jessica Miglio)
Spoiler Alert! Do not read on if you have not yet seen Girls season 3, episode 3, titled "She Said OK."
Ladies, the Goop is a sage. If you harbored any doubt that bush is back, Girls is here to drive the point home, guest starring Gaby Hoffman and her spectacular pubic coif.* Much more notable than the hair, though, is Hoffman herself, who shines on like a crazy diamond as Adam's (Adam Driver) sister Caroline. Liney, as Adam calls her, arrives at their apartment with a compelling sob story: she's freshly dumped, freshly fired, freshly homeless, in a tornado of melodrama that Adam warns Hannah (Lena Dunham) not to get sucked up in.
Hoffman herself is archetypal Dunham verité—the precocious child-actress daughter of urban creative types (her mother was a Warhol Factory girl, and Hoffman grew up at the Chelsea Hotel), she sort of embodies who we think of when we think of a real-life "Girl." In the third episode, though, she's just a narcissistic party crasher, and the party is Hannah's 25th birthday.
And it's better than the last scene of Grease: the gang's all back together again! In so many ways, I wish episode three had been the season opener. All four girls are present, plus Adam, Ray (Alex Karpovsky), Laird (Jon Glaser), and David, Hannah's editor (John Cameron Mitchell), plus the Horvaths (Becky Ann Baker and Peter Scolari), on hand to pick up the bar tab.
Of course, a crowd is an audience, willing or not, so Marnie (Allison Williams) tries to force Hannah into performing a duet from Rent, because that was Marnie's favorite moment of Hannah's 21st birthday. (Hannah, as she reminds Adam, always has bad birthdays. No wonder, when your celebrations get hijacked by a singing psycho hose beast.) Marnie's shameless me-ness knows no bounds—she is the Kanye of Girls, without the Kanye. But she's also a character that Dunham & Co. seem to have a lot of fun writing, and you get the sense that the script sometimes frivolously, gleefully f**ks with Marnie. Take, for instance, a video that Marnie discovers Charlie has posted to YouTube, of Marnie slow-twerking to an AutoTuned Edie Brickell song. It's horrible, and delightful to watch, as is the total freak-out Marnie has when she finds it.
Fortunately, at the bar, Ray gets in a fistfight with David, who is amped up on all of his Grindr solicitations, so nobody has to suffer through the Marnie show for too long. Next to Hoffman's hot-mess brilliance, Karpovsky gives the best show this episode, which is actually a lot about Ray: his coffee-slinging heart is suffering in Shosh's Viktor-and-Rolf-Flowerbomb wake, especially when he meets a guy who has followed her to the bar, enamored of the fact that Shosh's party-girly-ness is like something "out of a Ciroc commercial." Bummed about Shosh, he gets in a tiff with David, who quickly plows Ray's face into a table.
The fight brings the party to an end, and Hannah and Adam head home for some newly-mature-couple sex, unaware that they had only been in the eye of Caroline's crazy storm. There's Liney, bottomless in the bathroom, squeezing a glass with her bare hands until it breaks. As if to prove she is growing up on her very birthday, Hannah helps doctor Caroline up and put her to bed. At this rate, the show will be called Grown-Ass Women next season.
*I was hoping to be able to address whether this was a merkin or her real hair, which she revealed in last year's Crystal Fairy, at the beginning of the great Gaby Hoffman renaissance, but did not get a response before this post was published.
Celebrity news, beauty, fashion advice, and fascinating features, delivered straight to your inbox!