32 Celebrity Couples That You Forgot Dated
Sometimes, "random" feels like an understatement.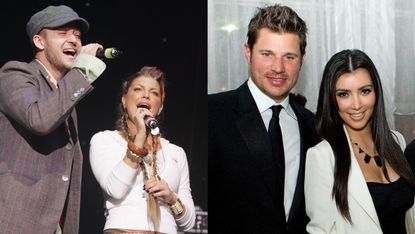 (Image credit: Getty Images)
It's a truth universally acknowledged that celebrities love to date other celebrities. As such, some of your favorites have kind of a wild dating history. There are tons of celebrities whose love we all forgot about—which, at least for me, is a fun trip down memory lane or a moment to think to yourself, Wait, really?? and go down an internet research rabbithole.
Part of the reason you may not know that these couples dated is optics: Sometimes there's an age gap. Sometimes one (or both!) of the people just got out of relationships. Sometimes the couple wants to try and make sure they have actual chemistry before they debut it to the public and the media (especially if this is a person who's got a very different "image" than they do). Sometimes it's not all that serious. It's probably harder to keep a relationship secret today than it used to be, thanks to fans with phones on their camera, but the low-key relationship is absolutely still a celebrity thing.
Ahead, 32 celebrity couples that you probably forgot dated.
Emma Roberts and Chord Overstreet
You may perhaps know that Chord Overstreet dated Emma Watson (as well as none other than Taylor Swift), but that's not the only Emma he's been linked to. He and Emma Roberts had an on-again, off-again relationship from 2011 to 2012. At the time, sources indicated the relationship "ran its course"; The pair were seen at a party in 2020—as friends. Roberts has also been linked to Alex Pettyfer, Garrett Hedlund, Hayden Christensen, and Evan Peters.
Michael Fassbender and Alicia Vikander
Not just dating: Michael Fassbender and Alicia Vikander were married in 2017. The two don't usually speak about each other, which is why you might not know about this coupling, but the two met in 2014 on the set of The Light Between Oceans. We do have this very cute Fassbender quote when he spoke to Good Morning America: "We met on that job and have been seeing each other since...She's such a fierce performer. She's so brave. She's not afraid to bring ugly personality traits to the forefront in characters. So I was really impressed by her immediately."
Jennifer Garner and Michael Vartan
In case you missed it, Alias was the absolutely hottest show in the early '00s—and part of that popularity was from the chemistry between Sydney (Jennifer Garner) and Michael (Michael Vartan). News of their pairing in real life broke in 2003, not too long after Garner had split with husband Scott Foley, but their split was confirmed shortly after; Fans everywhere were heartbroken, especially after Vartan told E! in 2018 that the pair were never, ever getting back together.
Vanessa Hudgens and Josh Hutcherson
If you're thinking of Vanessa Hudgens' dating history and remembering only Zac Efron, cast your memory back to 2011, after that couple split. The former child star was linked to another famous former child actor, Josh Hutcherson, with whom she would star in Journey 2: The Mysterious Island. Actually, we discovered the two had dated and split thanks to an incredibly awkward TODAY interview where the two were asked whether they were dating. The silence was deafening (but the two recovered well).
Emmy Rossum and Sam Esmail
Another couple who kept their relationship, marriage, and kids out of the spotlight, the director and writer Sam Esmail (you may know him as creator of Mr. Robot) met Emmy Rossum when he began working with her on the 2014 film Comet. They began dating, and got engaged in 2015 after Esmail mocked up a copy of the New York Times Modern Love column in which he proposed (it is...a very cute story). They got married in 2017 and kept their lives mostly offline after that.
Mark Ronson and Rashida Jones
Introduced by mutual friends, Mark Ronson (musician, songwriter, DJ) and Rashida Jones (that actor from Parks and Rec, obv) dated in 2002. The two got engaged in 2003 but parted in 2004. The two apparently remained friends; Jones interviewed Ronson in 2019 for Interview and Ronson stated candidly, "When you and I were together, we were really struggling and busting our asses. You were auditioning, getting some parts, but not maybe the way some of your peers were. I was completely not where my peers were...That's why I'm so excited for your success and everything that you've done. I know exactly how hard you've been working since you got out of college."
Elisabeth Moss and Fred Armisen
Like a lot of celebs, Fred Armisen and Elisabeth Moss met on the set of Saturday Night Live. Less than one year later in 2009, they got engaged and then swiftly married that same year. Less than a year after that, they divorced in September 2011. Moss told Page Six in 2012, "One of the greatest things I heard someone say about him is, 'He's so great at doing impersonations. But the greatest impersonation he does is that of a normal person.' To me, that sums it up."
Keira Knightley and Jamie Dornan
Keira Knightley and Jamie Dornan met at a photoshoot in 2003, and the two dated until 2005. The two didn't confirm they were dating to the press, keeping a low profile until the pair split in 2005. Dornan has spoken about the relationship, initially saying there was "pressure" (although he refuted a Daily Mail quote where he reportedly claimed the man should be the "alpha" in a relationship). He later said to the Evening Standard in 2014, "It was a strange environment to find yourself in, being hounded and followed."
Kirsten Dunst and Jake Gyllenhaal
If you didn't know that these two dated, it was a while ago—both were in their early 20s—and introduced through Jake's sister Maggie. They dated between 2002 and 2004, moving in together quickly and getting a dog together (Jake kept the dog when they split, FYI). The relationship was made iconic while the two ate lunch together in London, Jake staring intently while Kirsten put a piece of salad into her mouth with her fingers—seriously, if you don't know what I mean, you need to Google it right now. Anyways, the two split and professed to be not close.
Matthew Morrison and Kristen Bell
Kristen Bell shared this very fascinating factoid to Us Weekly in 2010: "I actually went to college with Matty Morrison...We actually dated very briefly, so I'll have to say maybe Matt Morrison is my favorite part of Glee for various reasons." We don't know much beyond that; Bell married comedian Dax Shepard in 2013 and Morrison was later linked to, among others, Olivia Munn and Lea Michele. The pair appeared to be on good terms in 2011, appearing for a group photo at a UNICEF ball.
Jennifer Garner and Scott Foley
During the hit show Felicity, Jennifer Garner briefly guest-starred in 1998 as the long-distance girlfriend of Noel (Scott Foley)—and the pair got married in 2000, so life apparently imitated art. They announced their separation in April 2003; Though they didn't say it at the time, Garner's meteoric success (and hot coworkers) on Alias may not have been helpful. Soon after, Garner dated her coworker Michael Vartan. Garner and Foley refuted rumors of infidelity and seemed to be (somewhat) amicable; Garner told Allure in 2013, "Oh, [Scott's] a great guy. We were full-on grown-ups, but looking back I'm aware we did not know what hit us. We didn't have a shot. He's a really good guy, and we just imploded."
Alanis Morrisette and Ryan Reynolds
If that particular couple feels a bit...random to you, don't worry because it sometimes felt a bit random to the two people in it (as well as people who watched it unfold). The two Canadians met in 2002, at a party hosted by Drew Barrymore apparently, and got engaged in 2004. The two were often on red carpets together (with lots of PDA!) but then broke up in 2006. Then! They got together, and broke up again. Oops. In 2008, Morissette said to the LA Times she wasn't about to start dating another celeb again."I think it's the straw that breaks the camel's back...I was a full-blown love addict, so it was like, 'I can't keep doing this, my body can't take it.' For someone who is a love addict, [breakups are] debilitating."
Jason Schwartzman and Zooey Deschanel
Apparently Deschanel's first serious romance, the two initially dated when she was 19 then reunited thanks to...Dustin Hoffman? She told Cosmopolitan in 2005 that he "invited us over at the same time. He was like, 'I'll leave you two alone.' It was clear he was setting us up." Then they dated from 2003 to 2005. Honestly, we don't know much beyond that; Deschanel would later be linked to Jonathan Scott and Schwartzman with Brady Cunningham.
Jared Leto and Cameron Diaz
The reason you probably don't know about this couple is because the pair kept very quiet about their relationship (despite occasionally being photographed together). They apparently dated from 1999 to 2003 and there were rumors that they got engaged, but...I guess not! Diaz later dated Justin Timberlake and Alex Rodriguez, and got married to Benji Madden in 2015. Leto was linked to Katy Perry and Scarlett Johansson.
Emilia Clarke and Seth MacFarlane
In terms of "Wow, that feels a little random," this relationship might be the pinnacle: Game of Thrones actor Emilia Clarke and Family Guy creator Seth MacFarlane apparently dated from 2012 to 2013. Clarke told Glamour in 2016 that fans weren't shy with their feelings. "Well, a con is you have strangers giving you love-life advice like, 'I'm a big fan of the show, and I'm not sure what you're doing with that guy,' which I didn't react well to," adding, "That happened in New York when Seth and I were together. This guy started to give me advice: 'Can I get a selfie? And by the way…' Unh-unh, bro."
Kat Dennings and Josh Groban
Yup, these two dated for two whole years. Josh Groban and Kat Dennings went out from 2014 to 2016—they made a bunch of red carpet appearances. He even told Ellen DeGeneres, "Humor is such a huge thing for me, so, you know, the fact that we could talk about Monty Python and all sorts of weird other things, I was like, 'Okay yeah, we're on the same page.'" The split was apparently amicable. Groban also, fun fact, dated January Jones, Selma Blair and Katy Perry!
Leighton Meester and Sebastian Stan
This one is probably Sebastian Stan's most public relationship (he's pretty private these days), and when he started dating his Gossip Girl costar Leighton Meester in 2008, fans were preeeetty excited. It was also the only relationship that he spoke about publicly, saying in 2009, "She's the most interesting, sophisticated, talented and extremely funny person that I know. She's really hilarious." Alas, the two split in 2010. Meester would later get married to Adam Brody.
Simon Cowell and Carmen Electra
I...admit that this one surprises me! But apparently this one was never official or exclusive; The two got to know each other on The X Factor. Apparently he was hosting a big party, and she agreed to come. On a date night, the two kissed, and the paparazzi spotted them. From then on the rumor mill kicked into high gear, with a lot of associated "messiness" being reported in their relationship. But Electra told Oprah, "We never dated. We didn't date...He wasn't my man."
January Jones and Ashton Kutcher
Go figure: Ashton Kutcher and January Jones dated, and for kind of a while (1998-2001). We don't know much beyond that. There seems to be no love lost, at least on Jones' side, as she told GQ in 2009 that an ex (the writer specifies that it's Kutcher) "was not supportive of my acting...He was like, 'I don't think you're going to be good at this...He only has nice things to say now—if anything, I should thank him. Because the minute you tell me I can't do something, that's when I'm most motivated." Later, on Watch What Happens Live, she walked it back, saying, "I never really said who it was," but refusing to clarify.
Jim Carrey and Renée Zellweger
Go figure, because I had absolutely forgotten that these two dated. They got close during filming of 1999's Me, Myself & Irene, and dated for a year. The two weren't shy about it (see above photo) and they speak fondly about each other even post-breakup. In 2020, Carrey wrote in his semi-fictional book that Zellweger was "his last great love." When asked by Howard Stern about it, Carrey said, "You have poetic license because it's fiction, but you're saying, 'Man, the great love of my life was Renee Zellweger' and that was quite some time ago, and it was almost like you were saying I shouldn't have ****** that up. That was the one, whatever happened, the one that got away."
Renée Zellweger and Bradley Cooper
This high-profile couple, like so many on this list, met on set for the horror movie Case 39. The movie was made in 2006, but didn't come out for three years—so they may have reconnected at that point. They dated 2009 to 2011, and (true to form for both) they mostly kept their relationship private. Despite that, the paparazzi took pictures of them at home, shopping, and at events together. This photo was actually from the 2020 Oscars, where the two briefly reunited and were snapped smiling, having a private conversation.
Fergie and Justin Timberlake
Prepare yourself for a huuuuuge throwback: Fergie and Justin Timberlake dated when they were both young (she was 16, he was 23)! In 2017, Fergie shared one detail with us (thank you, Fergie) on Watch What Happens Live. "It wasn't all that serious," she said when asked about the relationship, then immediately passed on saying anything more (lol). In 2006, she spoke to Cosmopolitan, revealing a bit more: "One of my good friends was dating J.C. Chasez, and so we'd all hang out with *NSYNC. Justin and I would go out together and have fun and make out. We went to Hawaii together, but we were never serious. He was Mr. Right Now." Ok then!
Emma Stone and Kieran Culkin
Yup! Emma Stone dated "Roman Roy" before that was even a thing! Kieran Culkin and Stone played romantic interests in Paper Man (which came out in 2009 and wasn't seen by a ton of people). They dated from 2010 to 2011, and honestly we don't know much more than that—other than the fact they remain friendly, including a photo of the two together at the 2022 Met Gala. Fun, kind of random fact: Some fans believe that Taylor Swift's "When Emma Falls in Love" might be about Emma Stone and Culkin! Listen to the lyric "boy with eyes like a man" and place your bets.
Kim Kardashian and Nick Lachey
Huh?? I hear you saying. Yea, the Kardashians are pretty public about their relationships, but this one manages to slip under most people's radar. That's probably because it was pretty short, with the two dating in 2006 (the two held hands at the premiere of The DaVinci Code, which of course got people excited about the dating possibilities). Then we didn't hear much else. Lachey had some not so awesome things to say on Watch What Happens Live. "To say that she's my ex is a little bit of a liberal use of the term...She left about halfway through and went to the restroom and then shockingly there were 25 paparazzi when we left the theater. I think there were other things in play on our little rendezvous."
Scarlett Johansson and Josh Hartnett
Celebrity couples: often meeting on set! At least, that's the case for Josh Hartnett and Scarlett Johansson, who met on the set of 2006's The Black Dahlia. They dated for two(!) years, and were very, very low-key about their relationship. We did get one quote Johansson told Allure: "Josh is very sweet...He's a good boy. A great person. I'm very lucky, and I'm very happy." But by 2007, it was over, with Hartnett citing conflicting schedules and time away from each other. That year, Hartnett told Mirror UK, "At the end of the day we're just ordinary people, and it didn't work."
Chris Evans and Jessica Biel
Unlike others on this list, this relationship wasn't secret. The two started dating in 2001 (for context, Biel was still on Seventh Heaven). They costarred in a couple of films, including Cellular and London—which, if you haven't heard of them, there's probably a good reason why. The two actually gushed a bit about each other, including how they cooked for each other and did fun date things together. But by 2006 the pair had called it quits, and don't talk about their private lives. Evans has talked about his need for independence and his argumentative nature in past relationships, though.
Jennifer Lawrence and Chris Martin
This photo might make you laugh as hard as it made me laugh: See Jennifer Lawrence in the foreground, with Chris Martin running in the opposite direction in the back? The two apparently began seeing each other in 2014, just five months after he filed for divorce from Gwyneth Paltrow. They dated for four months, broke up, got back together in 2015, and split again later that year. Depending on who you ask, sources for Lawrence said Martin was noncommittal, but sources for Martin told People that he needed time to be around his family. "He's crazy about Jen but wants to keep his own schedule and be able to do what he wants when he wants to do it."
Ryan Gosling and Sandra Bullock
Unlike some of the other couples on this list, this relationship wasn't exactly secret—and yet, you still probably forgot that it happened. (Am I blowing your mind all over again??). Yup, these two dated for two whole years. They met—where else—on a movie set, in this case Murder by Numbers. There's a bit of an age gap, 16 years to be precise, but the two apparently hit it off right away. They walked the red carpet together in Cannes in 2002 (meaning, without actually confirming their relationship, they...confirmed their relationship). They broke up in 2003, and Gosling later said in 2011 to the Times that the entertainment industry was to blame—but that she was one of the two "greatest girlfriends of all time."
Matthew McConaughey and Janet Jackson
These two!! Does this shock you as much as it shocks me? The pair met in 2002 backstage at the Grammys, and there was immediate speculation that they were dating since there was some hot hot chemistry. McConaughey later admitted in 2019 on Watch What Happens Live, "We went and had dinner...that was sort of it." Jackson was candid earlier, saying in 2006 that it was a brief fling. "I guess we did date...It was just for a minute; That's why I am so hesitant to mention it."
Nicole Kidman and Lenny Kravitz
A secret relationship! Yes, Nicole Kidman and Lenny Kravitz dated: Apparently, she was his landlord(??) in 2002 and that may be how they connected. They admitted a whopping 15 years later that they'd gotten engaged; Zoë Kravitz said the three of them lived together for a period, telling The Edit that she and Kidman would go to see movies together (awww!). Back when Kidman was still playing coy, she told Vanity Fair in 2007 that she was engaged to "someone." "It just wasn't right...I wasn't ready. We weren't ready…I get engaged and I get married—that's my thing. I don't want to date. I'm interested in a very, very deep connection."
Cher and Tom Cruise
Although we don't know a ton about this pairing, since they kept it a secret at the time, Cher and Tom Cruise apparently met at Sean Penn and Madonna's wedding. They were also invited to the White House (both of them are dyslexic and it was apparently for a related event), reconnected, and formed a "deep connection." In an episode of Watch What Happens Live, Cher called Cruise one of her top five lovers. WOW. I need to know about a thousand more details if someone could get on that.
Madonna and Tupac
You'd be forgiven if you'd forgotten that these two dated—and frankly, I'm shocked I didn't know this. At the time, these two were probably some of the most famous celebrities around, and they never confirmed that they were dating despite wild media speculation. Madonna late admitted it in a 2015 interview with Howard Stern. In 2017, TMZ posted a letter Tupac wrote to Madonna from prison in 1995, in which he broke up with her over her race. "But for me at least in my previous perception I felt due to my 'image' I would be letting down half of the people who made me what I thought I was. I never meant to hurt you."