Emma Watson's Style Transformation
It's been a long time since she first starred in Harry Potter as a 9-year-old. See her grow up on the red carpet.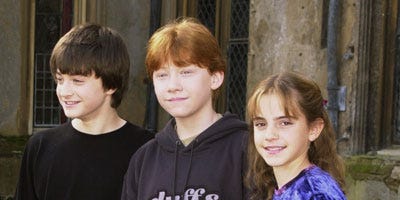 It's been a long time since she first starred in Harry Potter as a 9-year-old. See her grow up on the red carpet.Plus, see our cover shoot with Emma and read our exclusive interview!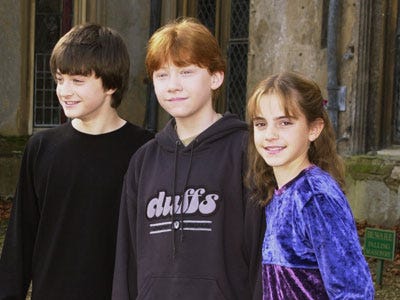 October 2001
On the set of Harry Potter and the Sorcerer's Stone — the first film of the hit fantasy franchise — a young Watson poses with her wizarding costars, Daniel Radcliffe and Rupert Grint.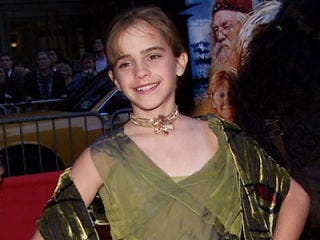 Evan Agostini/Getty Images
November 2001
Even at her earliest Harry Potter premieres (and in varying shades of olive green!), Watson displayed a natural charm and charisma on the red carpet — qualities that have guided her through her skyrocketing career, both as an actress and fashion icon.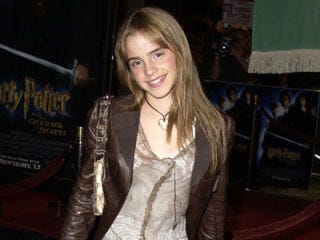 November 2002
The following year, at the premiere of the second Harry Potter installment, Harry Potter and the Chamber of Secrets, Watson added some edge to her long chiffon dress with a brown leather jacket and boots.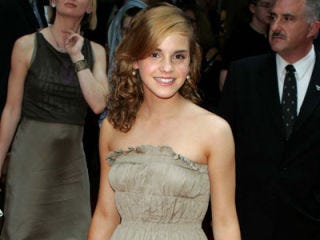 May 2004
Now comfortable on the red carpet, the young starlet ditched the Hermione frizz for a more polished, feminine look with a side chignon. Another chic fashion choice: embellished flats.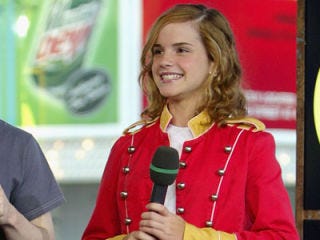 May 2004
While promoting Prisoner of Azkaban, Watson and costar Daniel Radcliffe charmed the crowd at MTV's Total Request Live. Perhaps inspired by music legend Michael Jackson, Watson sported a studded military jacket for the occasion.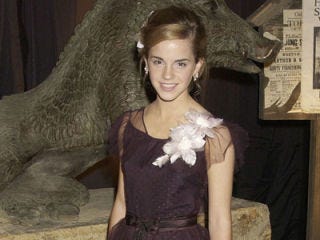 Dave M. Benett/Getty Images
May 2004
At a London party for the U.K. premiere of Harry Potter and the Prisoner of Azkaban, Watson debuted her glamorous side in a floor-length plum evening gown with matching floral accents on both her dress and in her hair.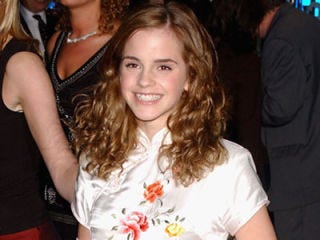 David Westing/Getty Images
September 2004
At the U.K. premiere of the movie, Wimbledon, Watson — whose love of tennis brought her to see the film — looked radiant in a floral-embroidered kimono, and metallic gold flats.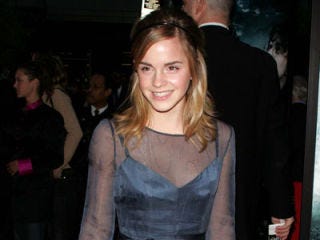 November 2005
At the New York premiere of Harry Potter and the Goblet of Fire, a 14-year-old Watson looked elegant in a charcoal blue skirt and top. This look foreshadowed the mature sophistication Watson would later model for the likes of Burberry and Chanel.
Ben Stansall/Getty Images
June 2007
At 16, the actress wore a Chanel haute couture collection gown to the Raisa Gorbachev Foundation's Second Annual Gala in support of childhood cancer research. (Is it coincidence that the golden fringe pattern is reminiscent of Harry Potter's infamous lightning scar? You decide.)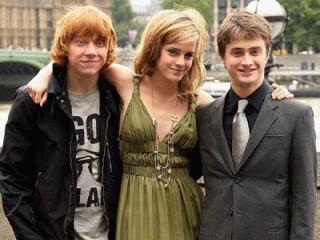 June 2007
Watson looked lovely alongside her longtime costars at a London event for Harry Potter and the Order of the Phoenix in a knee-length olive dress.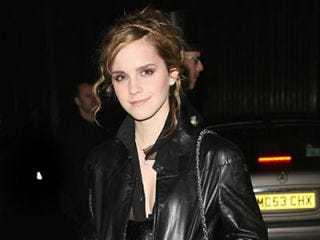 December 2007
The actress arrived at the Chanel Paris Londres Collection Show in London in head-to-toe black — with heels, a leather jacket, and a Chanel shoulder bag.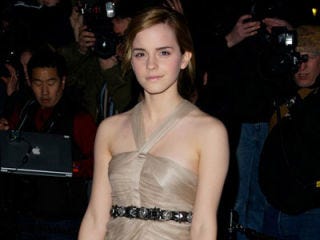 February 2008
The stylish star attended the London opening of a Burberry-hosted photography exhibition — wearing none other than Burberry.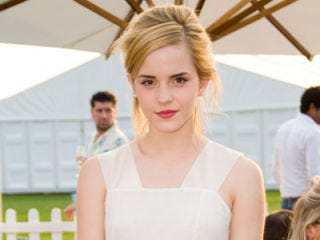 July 2008
For the Cartier international polo match, the 18-year-old actress looked absolutely enchanting with dark makeup and a delicate ivory dress.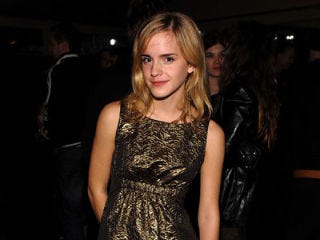 Dimitrios Kambouris/WireImage
October 2008
Watson was a knockout at the Diesel Rock & Roll Circus at Brooklyn's Pier 3 in a black and gold dress.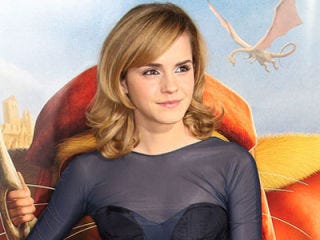 Frederick M. Brown/Getty Images
December 2008
Watson turned heads at the Hollywood premiere of The Tale of Despereaux in a more grown-up version of her November 2005 frock — a form-fitting navy mini-dress by William Tempest.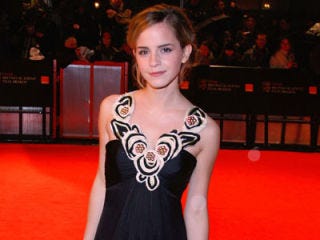 February 2009
With seven films under her belt, the actress worked her magic on the London red carpet of The 2009 Orange British Academy Film Awards. She looked stunning in a floor-length, embellished Temperley London gown.
Dave M. Benett/Getty Images
June 2009
At a Rodarte event in London, Watson sported a one-shouldered dress by the designers. The actress paired the draped frock with understated hair and makeup for an avant-garde fashion statement.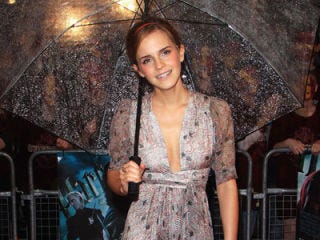 July 2009
At the world premiere of Harry Potter and the Half Blood Prince, Hermione Granger herself didn't let the rain stop her from looking radiant in a plunging pink and gray vintage dress from iconic British designer Ossie Clark.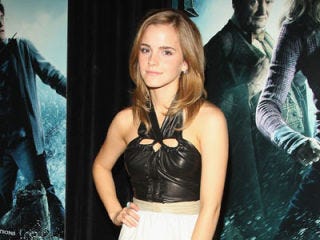 Stephen Lovekin/Getty Images
July 2009
At the film's New York premiere, Watson chose a sexy leather-top dress from Proenza Schouler's resort collection. The classic-yet-edgy look was just right for the first-year Brown undergrad.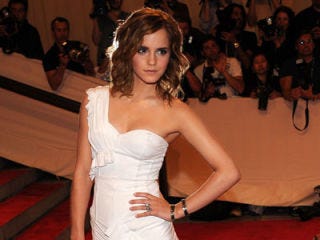 Larry Busacca/Getty Images
May 2010
All grown up, the 20-year-old wore a custom one-shouldered Burberry gown to the Metropolitan Museum's annual costume ball in New York City.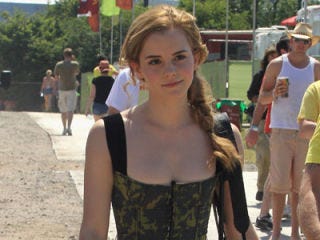 Danny Martindale/WireImage
June 2010
At England's Glastonbury Festival, Watson pulled off a red carpet look in the midst of the English countryside. Her Louis Vuitton corset paired with Hudson denim shorts and Christian Louboutin boots showed her knack for working runway into everyday.
This content is created and maintained by a third party, and imported onto this page to help users provide their email addresses. You may be able to find more information about this and similar content at piano.io