Get to Know the Project Runway All Stars
Get reacquainted with fan favorites who will be competing for top designer this January.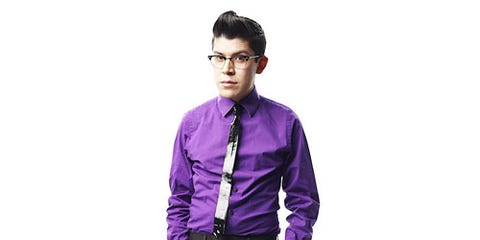 Get reacquainted with fan favorites who will be competing for top designer this January.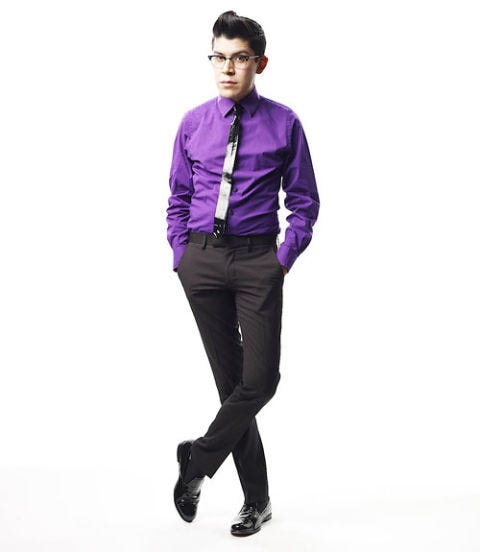 Mondo Guerra
Season 8: The loss that forever rocked Runway. Bravely revealing his HIV-positive status on the show after keeping it secret for 10 years, 33-year-old Mondo was the runner-up, losing to controversial winner Gretchen Jones. Mondo expresses himself using bright colors and adventurous prints — he actually used his own bold plus-sign pattern in one challenge. Since the show, he has designed two limited edition tees in support of World AIDS Day for Piperlime. Last year, Heidi Klum was also spotted in one of his gowns at the L.A. premiere of Black Swan.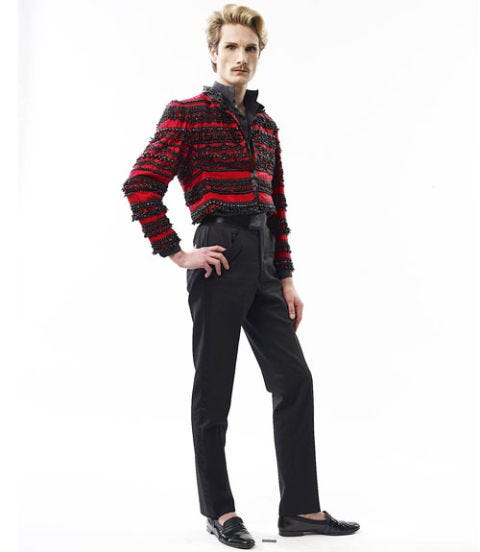 Austin Scarlett
Season 1: Who can forget his corn-husk dress? A romantic who channels his fanciful emotions into elegant and sophisticated designs, 28-year-old Austin came in fourth place after being auf'd in the inaugural season. Tim Gunn has recently said that Austin's now-famous cornhusk design was one of the most impressive of the series. Now, Austin uses his creative talent for good and advocates the arts and other charitable causes such as Equity Fights AIDS and Women in Need.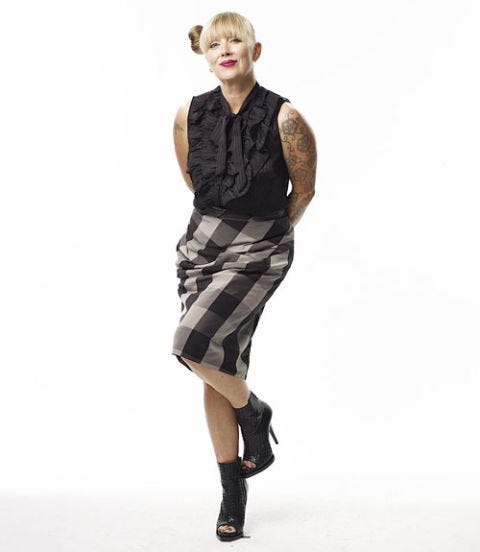 Kathleen "Sweet P" Vaughn
Season 4: The pierced and tattooed lady with super-feminine flair. Sweet P (a name given to her while riding in an all-girl motorcycle club called the Hells Belles) proved that it's never too late to get your start in fashion: the 50-year-old contestant came in fifth place, and her passions for surfing and vintage pieces propelled her to develop retro-style clothing. After Project Runway, Sweet P worked at Bebe and then took an offer to design a sleepwear line. Her first clothing collection, Sweet P, debuted in 2008.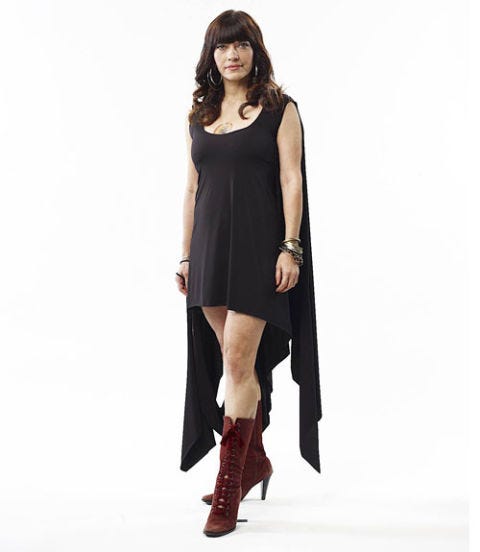 Elisa Jimenez
Season 4: The eccentric who put energy and essence into her designs — with spit. Elisa was actually asked to appear on Season 1 of Project Runway but took a job in London instead. When she did join the show, the 48-year-old designer blessed her clothing with saliva and referred to her designs as "polymorphic." These quirks didn't keep her from being booted, and she only came in 10th place. Her designs have since appeared in Vogue, and she made costumes for High School Musical: The Movie.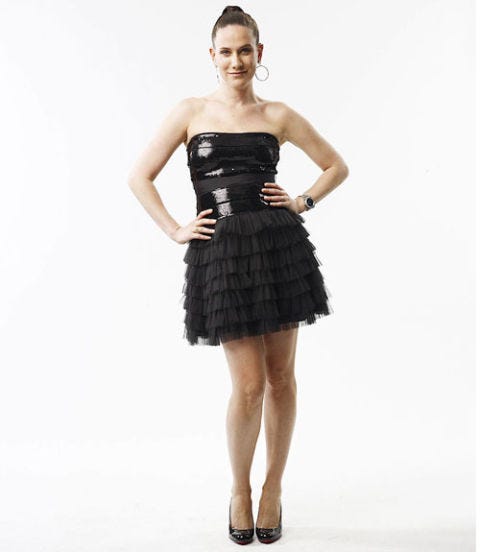 Kara Janx
Season 2: The South African wrap-dress wizard. Kara's flirty and colorful designs, which helped get her to fourth place, are inspired by her life in Johannesburg and her style can be attributed to a degree in architecture she earned before moving to the U.S. Since she left the show, the 35-year-old South African designer has acquired celebrity customers, including Julia Roberts, Natalie Portman, Rihanna, and Sarah Jessica Parker.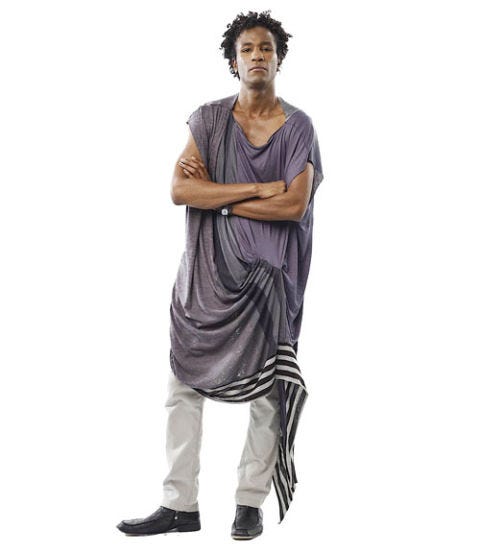 Jerell Scott
Season 5: Lord of the blings who fused eclectic references. As a young adult, 31-year-old Jerrell took a DIY approach to fashion, designing whatever he wanted to wear because he didn't have the money to buy it. He calls his designs "raw beauty" and they reflect his daring personality. His love of "bling" and elaborate designs defines him, but is also what got him kicked off the show, leaving him in fourth place. Now, Scott continues to work on his women's wear collection.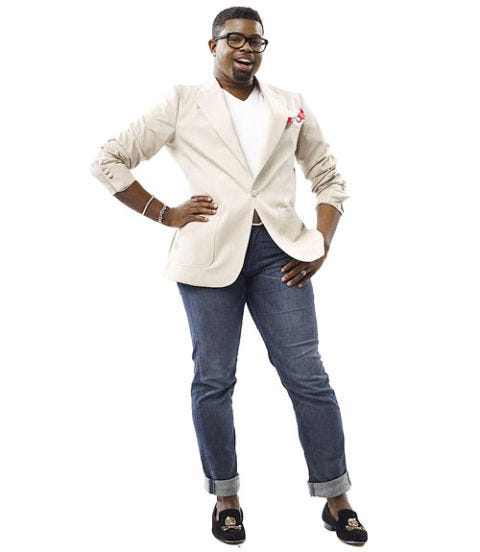 Anthony Williams
Season 7: The funny guy whose dress for Heidi Klum graced an MC cover. Although 29-year-old Anthony only came in fifth place, he designed a turquoise dress so amazing that Heidi Klum wore it on the April 2010 cover of Marie Claire. The Southern designer's pieces are as bright and shiny as his sense of humor. His most famous one-liner? "I'm stacked, packed, and ready to attack!" Anthony continues to work in Atlanta and has served as a style consultant on VH1's Single Ladies.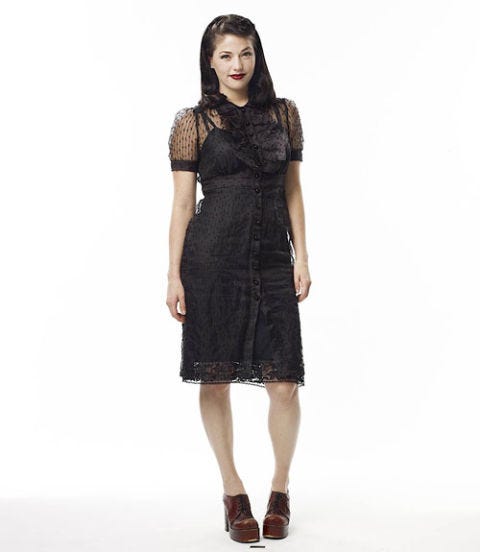 Kenley Collins
Season 5: The feisty designer who landed in jail for assaulting an ex-fiancé. The 28-year-old contestant, remembered for the vintage flapper-inspired looks she created, was the second runner-up of her season. Some might say her aggression (she threw a laptop – and a cat – at her fiancé!) was her demise, but Kenley says her attitude and jail time have made her appreciate freedom. She since debuted a spring collection inspired by Amelia Earhart.
Mila Hermanovski
Season 7: The artsy designer with strong black-and-white tendencies. Before Project Runway, Mila studied apparel design at RISD and then went on to work for eight years at Calvin Klein in New York. Her overly confident personality propelled her into the finals but also quite possibly resulted in her elimination as the second runner-up. The 41-year-old designer is known for her timeless-yet-mod graphic pieces. Since leaving the show, Mila has launched and continues to work on her capsule collection, Recycled Cashmere.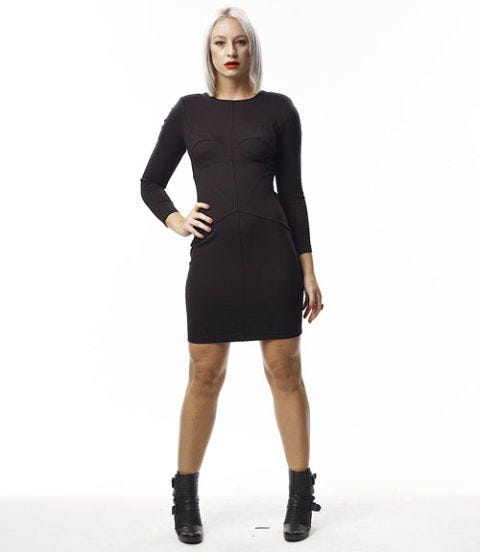 April Johnston
Season 8: The outspoken beauty who specializes in mod body-con dressing. April graduated from SCAD in Savannah, Georgia, and left the small town to participate in Season 8, where she reached fifth place. The 22-year-old designer, inspired by dark visions and nightmarish dreams, is one of the youngest contestants to have ever been on the show. Her design concept is to "destroy to create," and she incorporates contrasting textures and shapes when designing for her collection Mangled Courtesan. April also recently debuted a fabric line for Jo-Ann Fabrics.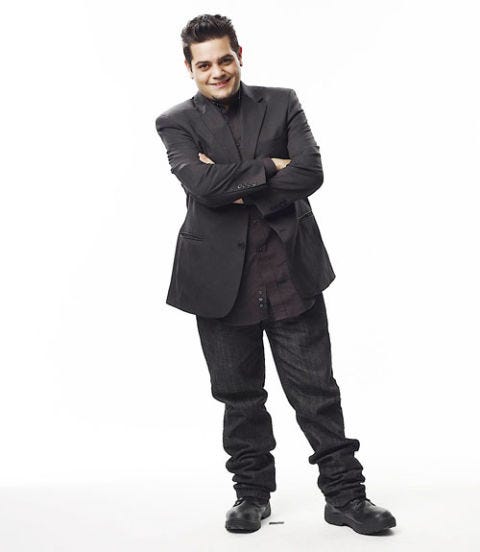 Michael Costello
Season 8: The overly emotional eveningwear lover. Since he was a child, Michael has had a passion for apparel. By the time he was 15, he opened his first boutique shop in Palm Springs, California. The 28-year-old designer — sans formal training — focuses on drapery, but his beautiful designs didn't save him from only reaching fourth place. His work has since been displayed on The Real Housewives of Orange County and other TV shows, and he continues to work on his emponymous resortwear collection.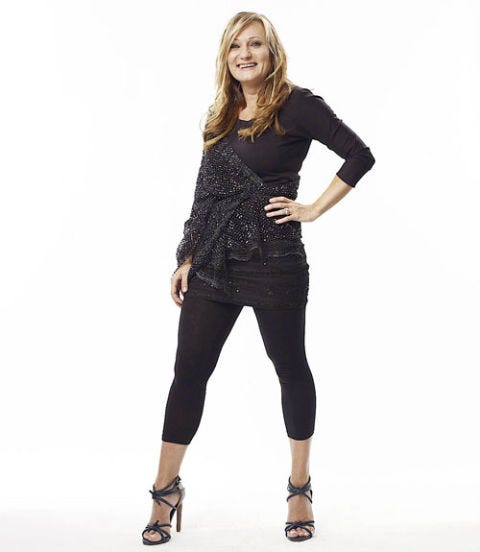 Gordana Gehlhausen
Season 6: The Seasoned veteran, especially with knits. The 47-year-old from a small Serbian village took fourth place in her season. With a love of wool and an expertise in crochet, it's no surprise Gordana was just seven years old when she knitted her first sweater! She continues to run her boutique shop, GOGA, in Charleston, South Carolina, and has recently opened her newest store in downtown San Diego.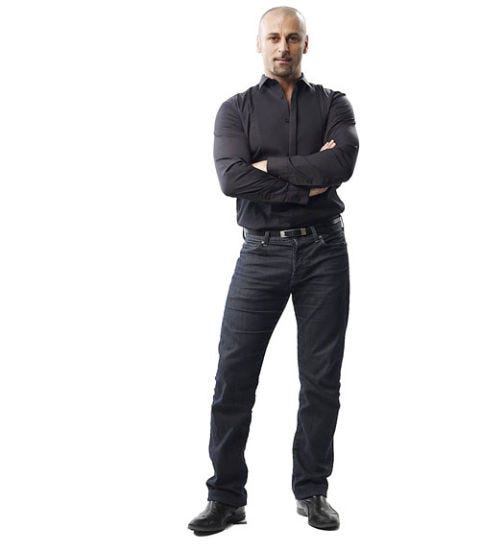 Rami Kashou
Season 4: The king of draping who came in close second to Christian Siriano. Son of the former Miss Jordan, the 35-year-old runner-up was born in Jerusalem. His goal? To bring out the goddess in every woman with his signature Grecian-style draping. Celebrities such as Penelope Cruz, Malin Akerman, Dita Von Teese, and Paris Hilton seek his elegant and graceful red carpet designs. Rami has said that his mother, among other women, is his muse.
This content is created and maintained by a third party, and imported onto this page to help users provide their email addresses. You may be able to find more information about this and similar content at piano.io