Celebrities Who Dressed Up as Other Celebrities for Halloween
Remember when Kim Kardashian dressed up as herself?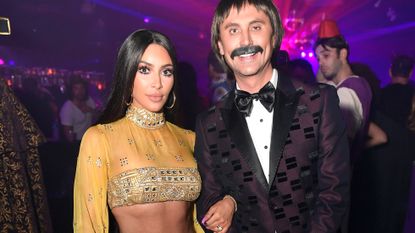 (Image credit: Getty Images/Neilson Barnard)
If there's one thing that Halloween in Hollywood has taught us, it's that celebrities like to go all out for the holiday. As for their go-to costume inspiration? Naturally, each other. Ahead, we rounded up the best celeb-on-celeb costume ensembles. You're going to want to take notes.
1/50
Beyoncé as Lil' Kim
When Beyoncé does something, she goes all in. So why would Halloween be any different? In 2017, the singer dressed up not once but five times as R&B artist Lil' Kim.
2/50
Demi Lovato as Selena
The singer shared a shot of herself on Snapchat recreating the late singer's iconic look for Halloween back in in 2017. Is now a good time to start petitioning for Demi to bring back the bangs?
3/50
Kim Kardashian and Jonathan Cheban as Sonny and Cher
Kim Kardashian and her longtime friend, Jonathan Cheban, celebrated Halloween in 2017 with a joint costume emulating the '70s singers Sonny and Cher.
4/50
Karlie Kloss as Marilyn Monroe
The model and entrepreneur donned Marilyn Monroe's classic white dress and a red lip from the late starlet's film, The Seven Year Itch.
5/50
Nina Dobrev as Ryan Lochte
In 2016, Nina Dobrev (left) shared a snap of her and a friend dressed up as U.S. Olympic swimmers Ryan Lochte and Jimmy Feigen. The actress was taking a shot at the swimming duo and their scandal in Rio de Janeiro that was unfolding at the time.
6/50
Kylie Jenner as Christina Aguilera
Fans went crazy when Kylie Jenner replicated Christina Aguilera's outfit from her "Dirrty" music video in 2016.
7/50
Beyoncé and Blue Ivy as Janet and Michael Jackson
At just two years old, Blue Ivy was already cooler than us. Back in 2014, the singer dressed herself and her daughter up as members of the famous Jackson family.
8/50
Miley Cyrus as Lil' Kim
Miley Cyrus wore a barely-there costume for Halloween in 2013, when she dressed up as rapper Lil' Kim circa the 1999 MTV Video Music Awards. Apparently, Lil' Kim told MTV News Miley got the seal of approval: "I think she did me well."
9/50
Paris Hilton as Miley Cyrus
In 2013, Paris Hilton recreated Miley Cryus' memorable outfit from the VMAs—foam finger and all.
10/50
Josh Duhamel and Fergie as Karl Lagerfeld and Choupette
Not only did Josh Duhamel nail his ensemble for Karl Lagerfeld in 2015, but he also brought along Choupette (Karl's cat) in the form of his then-wife, Fergie. Both of them looked amazing and did the designer proud.
11/50
Kate Moss as Cara Delevingne
In 2014, Kate Moss (right) decided to dress up as one of her friends. The famous model rocked messy hair, a graphic t-shirt, and a beanie to capture the look of model Cara Delevingne.
12/50
Martha Stewart as Marilyn Monroe
The TV personality showed off her detailed costume of the late actress on Instagram in 2016. From the curls to the pout, we'd say she hit the nail on the head.
13/50
Kim Kardashian and North West as Anna Wintour and André Leon Talley
For Halloween 2016, Kim Kardashian West dressed herself and her two-year-old daughter, North West, as fashion executives Anna Wintour and André Leon Talley.
14/50
Neil Patrick Harris, David Burtka, and Their Kids as Groucho Marx, Charlie Chaplin, Marilyn Monroe, and James Dean
Neil Patrick Harris and his husband David Burtka won the holiday in 2018 by dressing not only themselves, but also their children, up as iconic stars of yore.
15/50
Kim Kardashian as Kim Kardashian
What do you wear for Halloween when you've broken the internet, not once, but multiple times? In this case, it's only reasonable to dress up as yourself. At least, that's what Kim did in 2015. The reality star re-wore her famous 2013 Met Gala dress for an easy, pregnant-friendly costume.
16/50
Kelly Ripa and Michael Strahan as Kim Kardashian and Kanye West
In 2014, Live's then-morning cohosts decided to dress up as the couple of the year, Kim and Kayne. The duo recreated their wedding looks, complete with a flower wall.
17/50
Katy Perry as Freddie Mercury
The singer completely committed to capturing the look of the late Freddie Mercury when she dressed up as him for Halloween in 2013.
18/50
Miley Cyrus as Dolly Parton
Complete with a pig, Miley Cyrus donned a big blonde wig and slapped on a sequined dress to pay homage to her godmother, Dolly Parton, in 2014.
19/50
Victoria Justice as Amy Winehouse
Victoria Justice rocked the late singer's beehive hair and tatted arms for her Halloween costume in 2015, and it was epic.
20/50
Mario Lopez as Elvis
Mario Lopez decided to dress himself and his son, Santino, up as Elvis Presley in 2015. We have to say, their hair makes their looks.
21/50
Miranda Kerr as Marilyn Monroe
Yet another celebrity decided to imitate Marilyn Monroe. This time, it was Miranda Kerr who channeled the icon in 2015 by giving us her best pout.
22/50
Aziz Ansari as the Weeknd
Comedian Aziz Ansari replicated the singer's hair and added a stylish leather jacket for Halloween in 2015.
23/50
Sarah Michelle Gellar as Madonna
The actress opted for Madonna's '80s vibe for her 2013 Halloween costume, and she even went as far as to rock the singer's iconic mole.
24/50
Katie Couric as Marilyn Monroe
Journalist Katie Couric took on one of Marilyn Monroe's most famous ensembles in 2005, dressing up as the 1950s bombshell from her film, Gentlemen Prefer Blondes.
25/50
Heidi Klum as Michael Jackson
No, this isn't a picture from the "Thriller" music video. In 2017, Heidi Klum went all out and dressed up as Michael Jackson.
26/50
Rande Gerber and Cindy Crawford as Ziggy Stardust and Debbie Harry
The couple decided to ditch their famous personas for the night and channeled famed rockers David Bowie as Ziggy Stardust and Debbie Harry from Blondie for Halloween in 2018.
27/50
Winnie Harlow as RuPaul
The model's spot-on costume of drag queen and TV personality RuPaul is honestly a sight to see.
28/50
Adele as June Carter
Musical talent Adele dressing up as one of biggest country singers of all time, June Carter, probably takes the cake for the best celebrity-on-celebrity costume.
29/50
Heidi Klum as 95-Year-Old Heidi Klum
Heidi Klum gave us a glimpse at what she'll look like in her 90s at her 14th annual Halloween party, when she dressed up as an older version of herself.
30/50
Harry Styles as Elton John
In 2018, Harry Styles arrived at the Casamigos Halloween party dressed up as a young Elton John—sparkly sunglasses and all.
31/50
Chrissy Teigen and John Legend as Queen Elizabeth and Prince Philip
Chrissy Teigen and John Legend dressed up as the British Royal family's ruling monarchs, Queen Elizabeth and Prince Philip, for Halloween in 2018. The duo took to Instagram to share their perfect costumes of the royal couple.
32/50
Kaia Gerber as Joan Jett
The young model looked chic in this rocker costume, which she wore for Halloween in 2018 to pay homage to Joan Jett's signature '70s look.
33/50
Kourtney Kardashian as Ariana Grande
Copying someone is the sincerest form of flattery, right? Well, Kourtney Kardashian did just that when she dressed up as Ariana Grande in 2018, sporting the singer's signature ponytail, baby doll dress, and knee-high boots.
34/50
Ryan Seacrest as Karl Lagerfeld
Ryan Seacrest (left) replicated the distinct look of Chanel's late head designer, Karl Lagerfeld, in 2018. His date, Shayna Taylor, went with a sexy Anna Wintour costume.
35/50
Nicky Hilton as Paris Hilton
Nicky Hilton's costume for the 2018 Casamigos Halloween party is pure genius. She dressed up as her sister, Paris Hilton, on her 21st birthday in 2002. Epic.
36/50
Rita Ora as Post Malone
No, you don't need to get your eyes checked...that really is Rita Ora. She celebrated Halloween in 2018 dressed up as rapper Post Malone. She even got the Bud Light right!
37/50
Orlando Bloom and Katy Perry as Bill and Hillary Clinton
The actor and singer made a fine-looking first couple as they arrived at Kate Hudson's Halloween party in 2016 dressed as the Clintons. They had a secret service detail and everything.
38/50
Alessandra Ambrosio as Cher
During Halloween 2017, model Alessandra Ambrosio joined the ranks of celebrities who have recreated Cher's most famous looks. It might be one of the best Cher costumes of all time.
39/50
Kathie Lee Gifford and Hoda Kotb as Princess Beatrice and Princess Eugenie
After Prince William and Kate Middleton's 2011 nuptials, Kathie Lee and Hoda Kotb recreated the looks of the two princesses that made headlines across the world for Today.
40/50
Lisa Rinna and Harry Hamlin as Edie Sedgwick and Andy Warhol
For Halloween in 2018, Lisa Rinna and Harry Hamlin rocked some serious wigs to do their best impersonations of 1960s icons Edie Sedgwick and Andy Warhol.
41/50
Neil Patrick Harris and David Burtka as the Olsen Twins
In 2019, Neil Patrick Harris and David Burtka had us seeing double in black outfits and long blonde wigs a la Mary-Kate and Ashley Olsen. Harris even imitated the twins' discreet approach to the press with a "please no photos" pose.
42/50
Nina Dobrev as Billie Eilish
Nina Dobrev drew inspiration for her Billie Eilish costume from the singer's past red carpet looks, which have included bright neon colors and high-end streetwear from Louis Vuitton and Gucci.
43/50
Rachel Hilbert as Britney Spears
Victoria's Secret model Rachel Hilbert channeled the red leotard look from Britney Spears's "Oops I Did It Again" music video in 2019. She even had a headset for any impromptu performance requests.
44/50
Lisa Rinna as Jennifer Lopez
Lisa Rinna arrived at the Casamigos Halloween party in 2019 dressed in J. Lo's iconic jungle print dress from the 2000 Grammys. Rinna was unmistakably dressed as Lopez, who rewore the Versace dress on the runway in 2019.
45/50
Jessica Biel as Justin Timberlake
In the ultimate trolling costume, in 2019 Jessica Biel dressed up as her husband from his days as a member of NSYNC. Biel threw on a metallic jumpsuit, some tiny sunglasses, and a curly blonde wig—and JT was her microphone.
46/50
Mel B and Gary Madatyan as Victoria and David Beckham
On Halloween 2018, Mel B threw some shade at her former Spice Girls bandmate. How do we know it was shade? The singer's costume choice came shortly after Victoria announced she wouldn't be joining her former girl group on their 2019 reunion tour.
47/50
John McEnroe as a Young John McEnroe
What does a tennis champion who's short on time dress up as on Halloween? Himself, of course. John McEnroe attended Bette Midler's Halloween party in 2005 as a younger version of himself.
48/50
Devon Windsor and Jonathan Barbara as Britney Spears and Justin Timberlake
Model Devon Windsor and Jonathan Barbara were inspired by one of the great celebrity couple looks of the 2000s: Britney Spears and JT's denim-on-denim 2001 American Music Awards look. Iconic.
49/50
Jenna Bush Hager as Barbara Bush
During Today's 2016 Halloween celebrations, Jenna Bush Hager threw on a grey wig and a strand of pearls to dress up as her grandmother, former first lady Barbara Bush. The family resemblance is striking.
50/50
Benito Skinner and Terrence O'Connor as Kylie and Kendall Jenner
Youtube stars Benito Skinner and Terrence O'Connor recreated Kendall and Kylie Jenner's Versace looks from the 2019 Met Gala and won Halloween. There, we said it.