93 Behind-the-Scenes 'Game of Thrones' Pictures That Will Destroy the Magic for You
Warning, if you're a fan of 'Game of Thrones' these behind-the-scenes cast images could ruin the magic for you ahead of the April 14 season 8 premiere.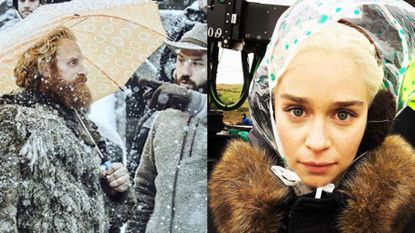 (Image credit: Instagram)
The people behind Game of Thrones have succeeded in creating more than just a show. They've created an immersive world. It's easy to get lost in the series and feel that Westeros is a real place—but it's not. And the cast aren't afraid to remind us of that via loads and loads of illusion-shattering, behind-the-scenes pictures.
In honor of the show's eighth and final season, which is airing Sundays on HBO, here are 93 of the most magic-ruining BTS shots the cast have ever shared. Sorry.
1. Emilia Clarke, revealing what the dragons look like IRL
2. Sophie Turner, taking a nap between scenes as Sansa Stark
3. Carice van Houten, throwing it back with an oldie that it might still be too soon for
4. A Melisandre/Brienne of Tarth Face Swap, to make you wish they had Snapchat in Westeros
5. Carice van Houten, capturing Liam Cunningham in an out-of-character moment
6. The Red Woman, chilling on a coffee break
7. In which Lena Headey shares the single greatest BTS 'Game of Thrones' video ever
8. Lena Headey and Nikolaj Coster-Waldau, proving that they have a way healthier real-life relationship than Cersei and Jaime
9. Nikolaj Coster-Waldau, using his 'GOT' cred to promote Johnnie Walker
10. Kristofer Hivju, showing off his Tormund action figure
11. Carice van Houten, giving a total "I knew he wasn't REALLY dead" look
12. Carice van Houten, giving the world a Red Woman glare in a pink hair net
13. The Lannister sibs, getting along way better IRL than on TV
14. Gemma Whelan forcing every 'GOT' fan in the world to max out their zoom capacity looking for clues in this picture
15. Emilia Clarke and John Bradley geeking out over Oasis during a night off
16. Onscreen OTP Gwendoline Christie and Nikolaj Coster-Waldau, wearing matching My Little Pony shirts
17. Oh, look, it's Khaleesi and Missandei, wearing pants and making silly faces
18. Emilia Clarke and her onscreen husband, Jason Momoa, posing in front of an Iron Throne (if not THE Iron Throne)
19. Emilia Clarke, reminding us all that her dog hangs out on the GOT set and none of us do
20. Lena Headey, giving the finger to Conleth Hill, aka Varys, who took this picture, apparently
21. Emilia Clarke, doing a promotional video on a couch, wearing one of her most iconic costumes
22. Emilia Clarke, in the makeup trailer, transforming into Daenerys
23. Emilia Clarke, shattering the illusion for a good cause
24. Gemma Whelan, reminding you that almost nothing you see on TV is actually real
25. Carice van Houten, casually in character and also in a hair scarf and clips
26. Carice van Houten, kicking 2018 off right with a GOT throwback
27. Maisie Williams showing off this cool (er, not) font
28. Jack Gleeson and Carice van Houten chilling on the iron throne
29. Carice van Houten braving the elements
30. Kristofer Hivju being iconic
31. Kit Harington attempting to fly
32. Sophie Turner and Maisie Williams striking a pose
33. Ben Crompton, Gwendoline Christie, Sophie Turner, Kristofer Hivju, Liam Cunningham, Carice van Houten, and Kit Harington being candid
34. Carice van Houten clutching a hot water bottle
35. Carice van Houten wearing this amazing hair protector
36. Carice van Houten backstage during Season 5
37. Kit Harington and Emilia Clarke being lovable nerds
38. Emilia Clarke protecting her set
39. Gemma Whelan showing off some truly amazing makeup
40. Kristofer Hivju holding a delightful umbrella
41. Iain Glen and Kristofer Hivju taking a selfie like the youths
42. Maisie Williams snacking BTS
43. Carice van Houten aged up
44. Another view of Carice
45. Emilia Clarke about to wrap Season 7
46. Emilia Clarke on set back in January 2017
47. Honestly, we'd love to see Dany in this look
48. Emilia Clarke with her new costars
49. This headgear seems popular on set
50. Emilia Clarke braving the wind
51. Ben Crompton, Gwendoline Christie, Sophie Turner, Liam Cunningham, and Carice van Houten chilling back in 2015
52. Kristofer Hivju and Bella Ramsey bonding
53. Jonathan Pryce, Hannah Waddingham, and Dean-Charles Chapman playing Heads Up
54. Literally too cute
55. Emilia Clarke using the toilet
56. Hafþór Júlíus Björnsson being badass
57. Gemma Whelan doing some training
58. Kristofer Hivju BTS of Battle of the Bastards
59. What Dany's squad does during down time
60. So that's where the camera goes
61. Wait this is incredible
62. Kristofer Hivju celebrating Liam Cunningham's birthday
63. Sophie Turner and Alfie Allen wearing some cool shades
64. Alfie Allen and Gemma Whelan wearing some more cool shades
65. Emilia Clarke showing us how dangerous the set can be
66. Emilia Clarke's new co-star: cut-out Ryan Gosling
67. Isaac Hempstead Wright and Kristian Nairn, a.k.a. Hodor, a.k.a. Everything
68. Emilia Clarke getting her signature Dany wig put on
69. Emilia Clarke being a boss
70. Emilia Clarke showing off the work of the GOT costuming team
71. Emilia Clarke with a well-deserved Emmy and tiny hands
72. Emilia Clarke doing her best Dany
73. Dean-Charles Chapman and squad
74. Nathalie Emmanuel and Emilia Clarke at the airport on their way to a read through
75. These two!
76. Carice van Houten and Tara Fitzgerald being very sweet
77. Carice van Houten taking a "meliselfie"
78. Carice van Houten doing voice-over work
79. Carice van Houten making massive fabric clips fashionable
80. Dean-Charles Chapman in the iron throne room
81. Carice van Houten ready to film
82. Carice van Houten wandering around Westeros with an umbrella
83. Carice van Houten's BTS beauty routine
84. Dean-Charles Chapman's first day on Season 5
85. Dean-Charles Chapman owning the throne
86. Sibel Kekilli and Jack Gleeson doing their best 'Twilight'
87. Gwendoline Christie, Finn Jones, Pedro Pascal, Indira Varma, and Lena Headey hit the beach
88. Pedro Pascal, Lena Headey, and Indira Varma soak up the sun
89. Lena Headey and Charles Dance hard at work
90. Pedro Pascal, Natalie Dormer, and Sophie Turner circa 2013
91. Lena Headey getting GOT ready
92. Maisie Williams, Carice van Houten, and Liam Cunningham take what should be theirs
93. Carice van Houten and Liam Cunningham practice archery
Marie Claire email subscribers get intel on fashion and beauty trends, hot-off-the-press celebrity news, and more. Sign up here.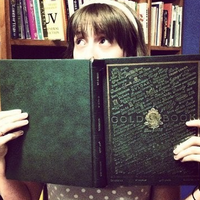 Kayleigh Roberts is a freelance writer and editor with more than 10 years of professional experience. Her byline has appeared in Marie Claire, Cosmopolitan, ELLE, Harper's Bazaar, The Atlantic, Allure, Entertainment Weekly, MTV, Bustle, Refinery29, Girls' Life Magazine, Just Jared, and Tiger Beat, among other publications. She's a graduate of the Medill School of Journalism at Northwestern University.