David Beckham's Hotness Evolution In 50 Photos
Like a fine wine, he gets better with time.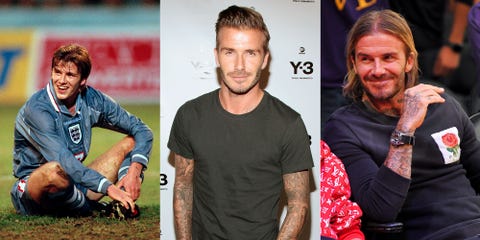 David Beckham is a man with many sides–soccer legend, fashion icon, doting husband and father, and sex symbol. At 43 years old, he still ranks as one of the sexiest and best-dressed celebrities in the entire world. But while he's always been smolderingly good-looking, some of the British hunk's early fashion and grooming choices were...questionable. We've gathered here for you the best and worst of Beckham's metamorphosis from his floppy-haired early soccer days to the zaddy we know and love.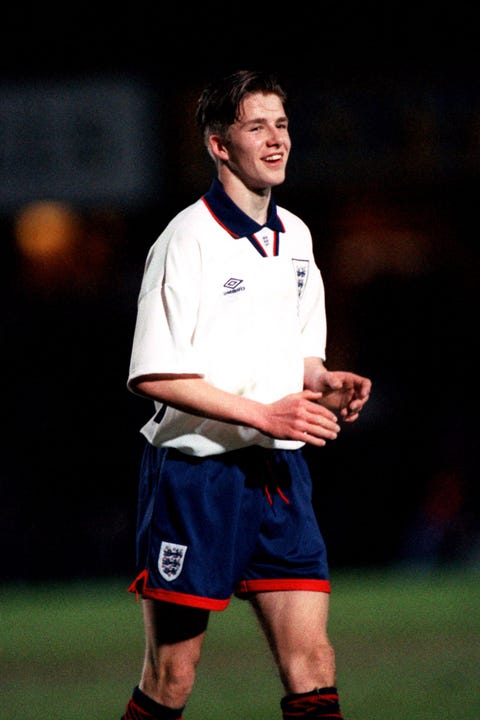 Neal Simpson - EMPICS
Getty Images
1993
Look at this adorable, fresh-faced young thing! This 18-year-old has no idea what's in his future. (Hint: It's universal athletic respect, a great wife and kids, and handsomeness.)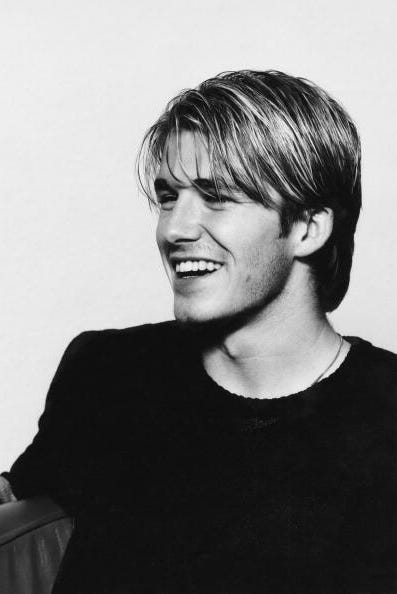 1995
That blonde hair! That shag cut! That gorgeous sweater! I'm salivating over here, pardon me.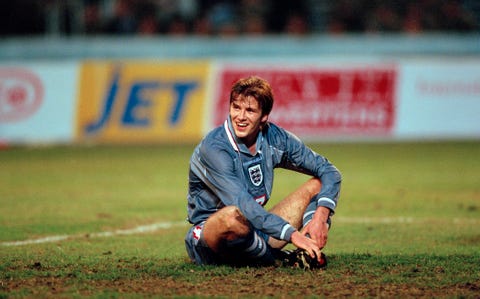 Mark Leech/Offside
Getty Images
1996
Young David, looking so cool and casual, waiting on the soccer pitch. We're loving the uniform the most.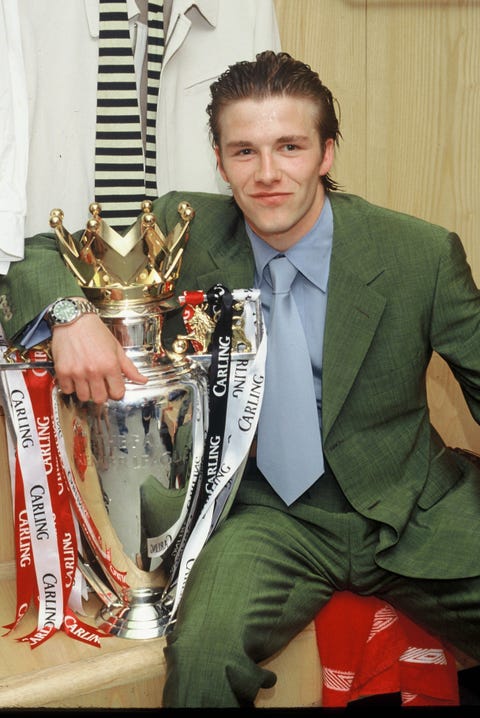 1997
Look at how cute he is with his long hair and the army green suit and his trophy! (Beckham's team, Manchester United had just won the English Premiere League.)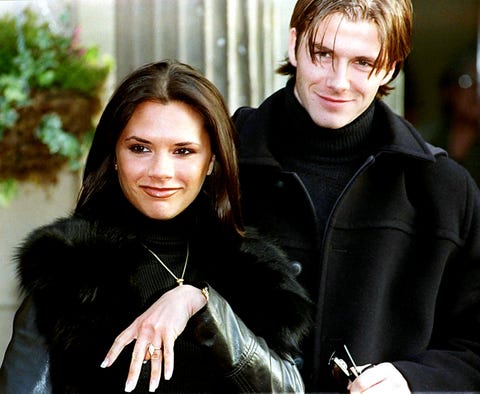 John Giles - PA Images
Getty Images
1998
20 years later, and this is still the best day of my life (that would be the day Becks and Posh Spice announced their engagement). The two of them are so happy, and they were just beginning their rise as fashion royalty. They've always been couple goals.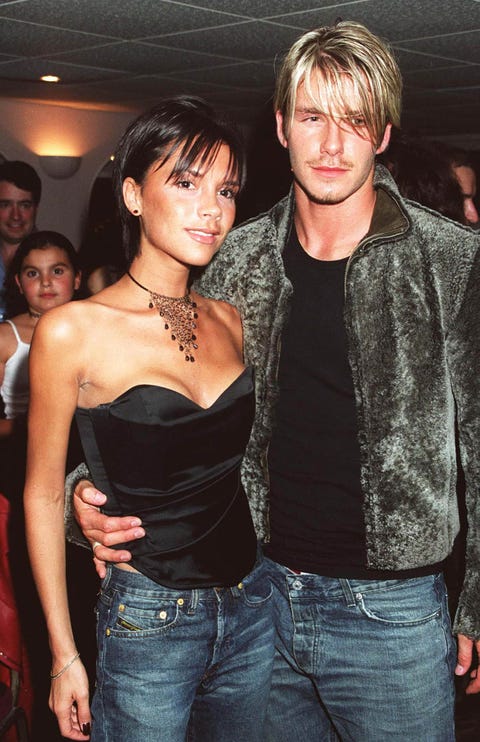 1999
A velvet jacket and a floppy Nick Carter haircut? Sign us up for this late-nineties hotness.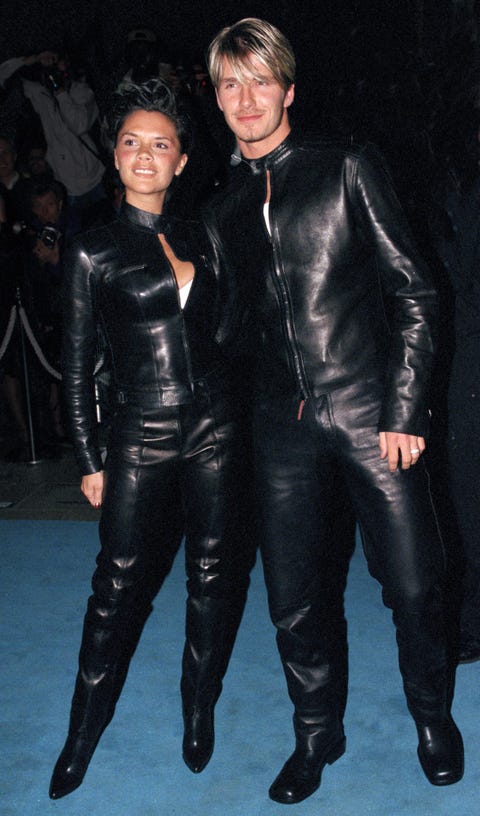 1999
Is it safe to say "the couple that leathers together, stays together"? If so, it clearly worked out for Victoria and David.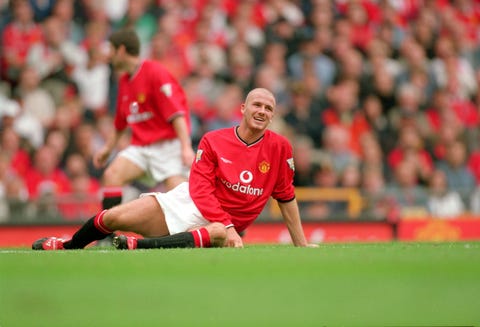 2000
The 2000s marked an era in the David Beckham's Hair Choices: He waffled throughout the decade between a buzz-cut and his longer locks. Either way, we're into it.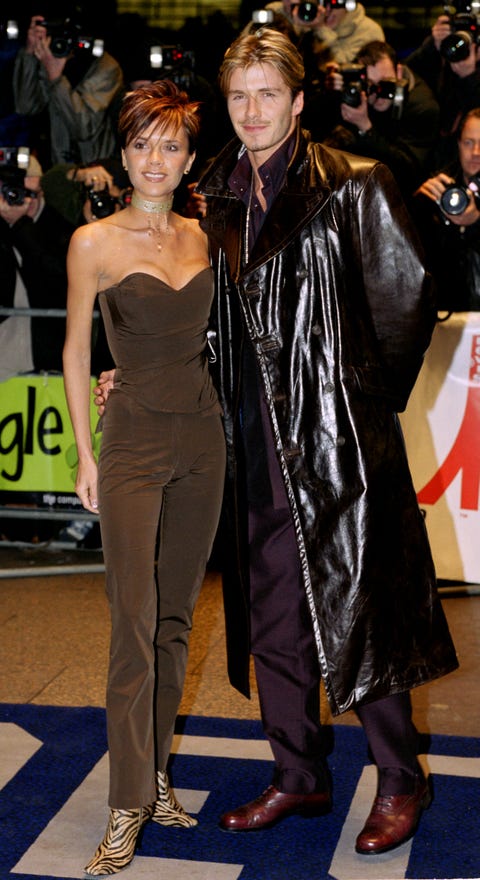 2000
The Matrix had its moment in fashion history, this was far from the worst version.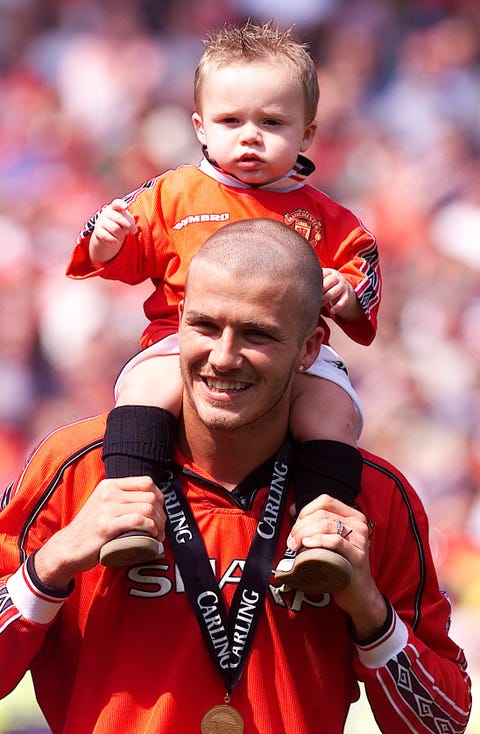 Phil Noble - PA Images
Getty Images
2000
Father and son Brooklyn are both adorable. The matching jerseys and David's earrings are totally swoon-worthy.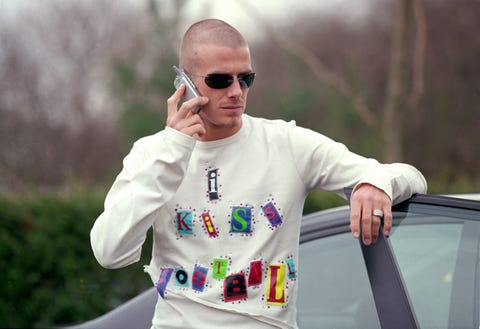 2001
This photo has everything: David Beckham on an early-aughts cell phone, in sunglasses, wearing a strange choice in sweaters. We're not complaining, though. He looks great.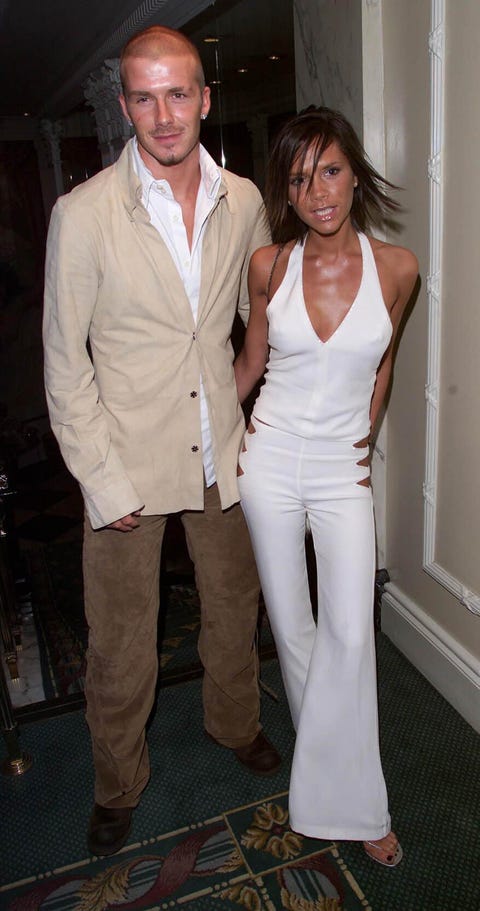 2001
Becks and Victoria have never shied away from a matching ensemble—this is just the first of many. Her jumpsuit with the cut-outs, his cream-and-white hued outfit does it all.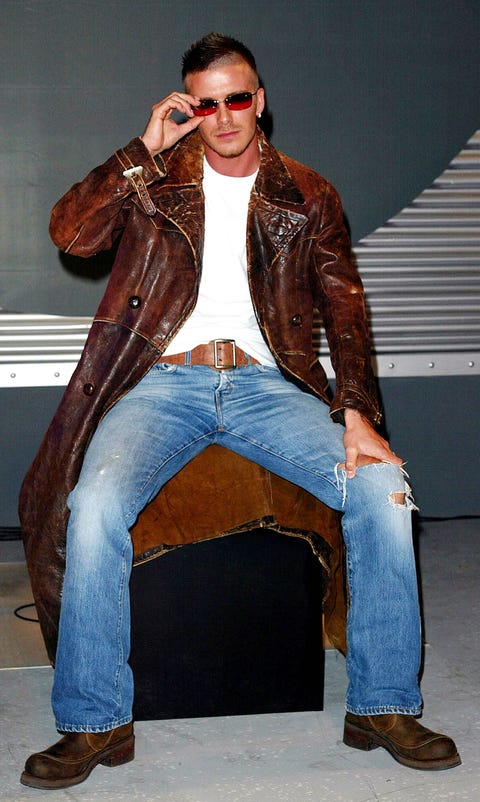 2002
The sunglasses and the jacket can stay in 2002, the rest can come with us.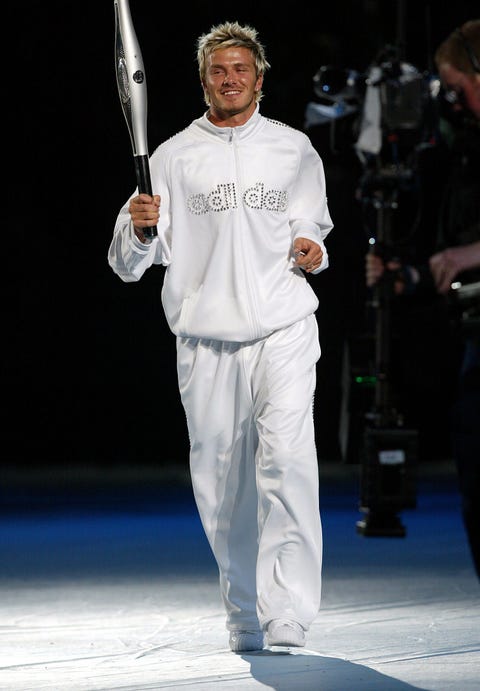 David Jones - PA Images
Getty Images
2002
Another early-2000s look Becks embraced? The Adidas tracksuit. He loved an Adidas tracksuit as much as Jennifer Lopez loved a Juicy Couture tracksuit. Tracksuits were a thing, okay?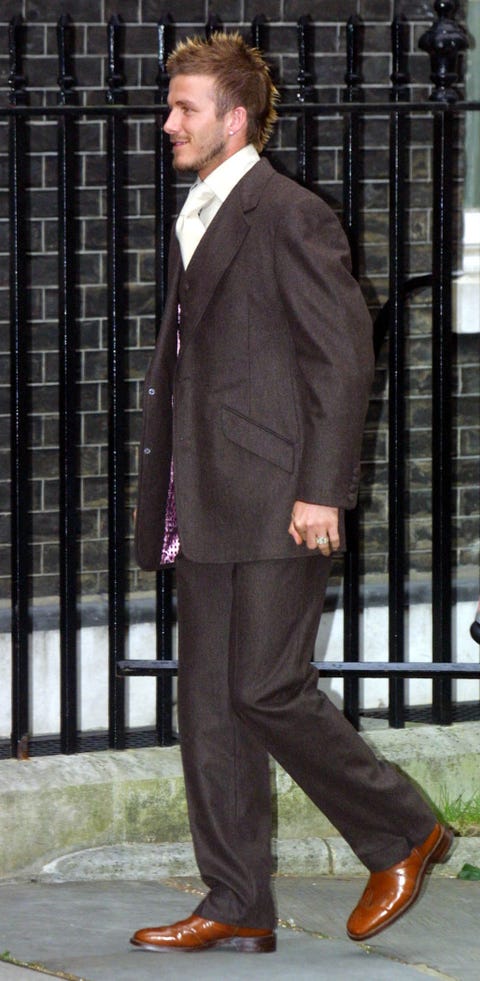 Peter Jordan - PA Images
Getty Images
2002
What a look for a specific time period. The young dad was still figuring it out, and even if his suit jacket doesn't fit, he still looks good.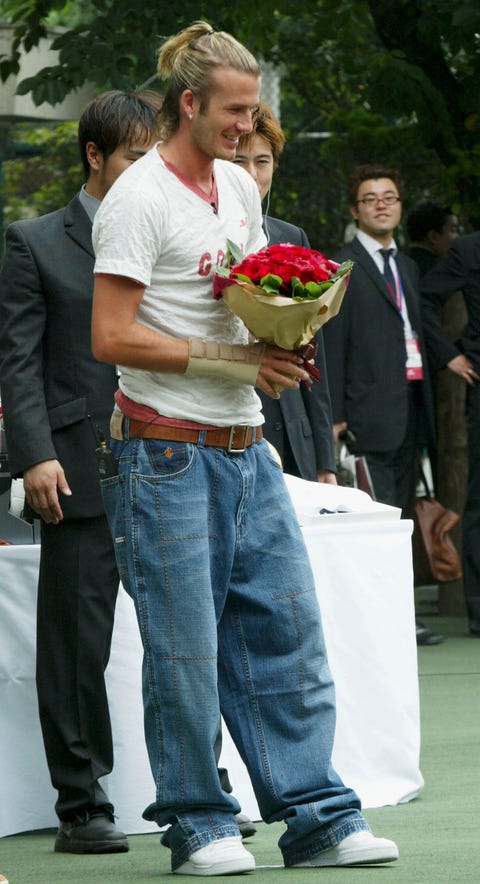 2003
The wrist injury and the roses almost make up for the pony tail and the ill-fitting jeans. Almost.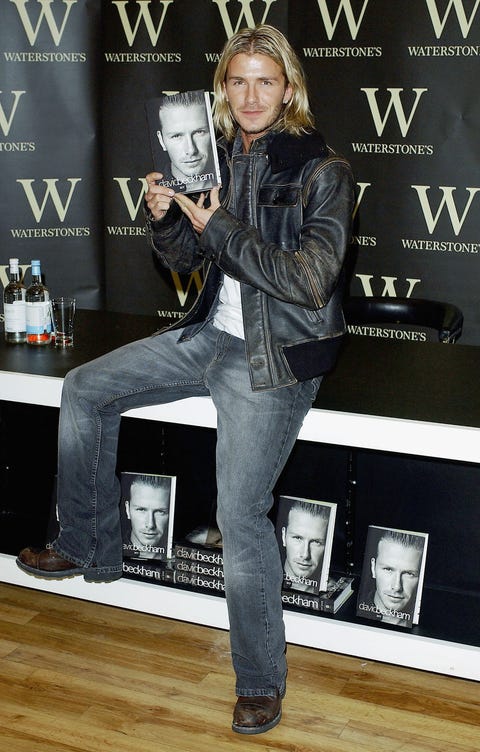 2003
The long hair, the leather jacket, the autobiography?! Where do we sign up?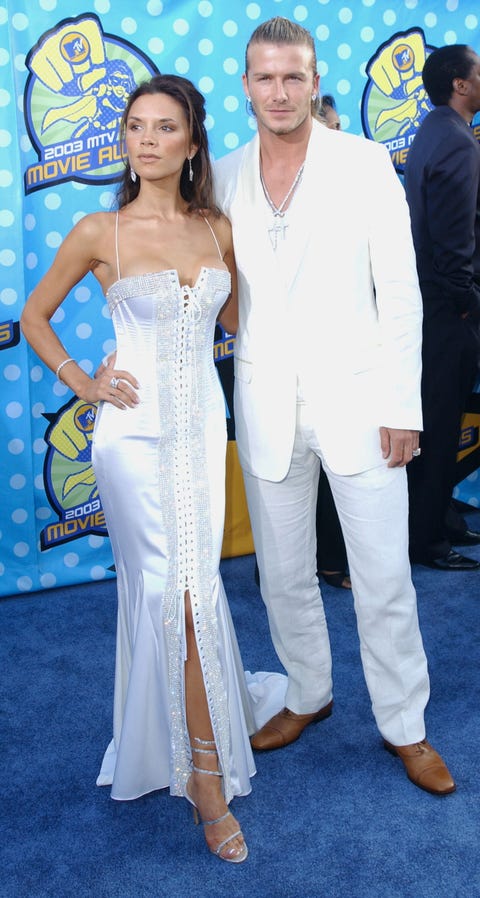 2003
The happy couple has never been afraid to go for a daring fashion moment—this one from the 2003 MTV Movie Awards is just one of many standout ensembles the pair donned.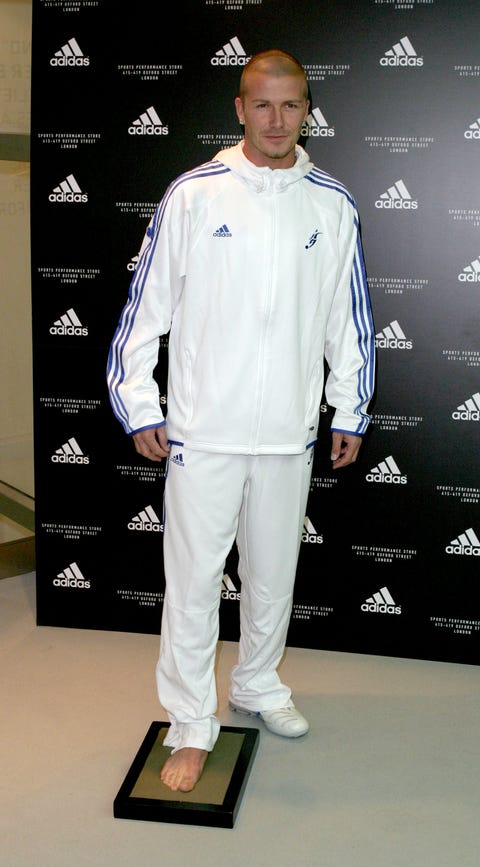 Goffredo di Crollalanza
Getty Images
2004
See, we told you he had an affinity for Adidas track suits. This time it's for an Adidas event. Also, why is he only wearing one shoe?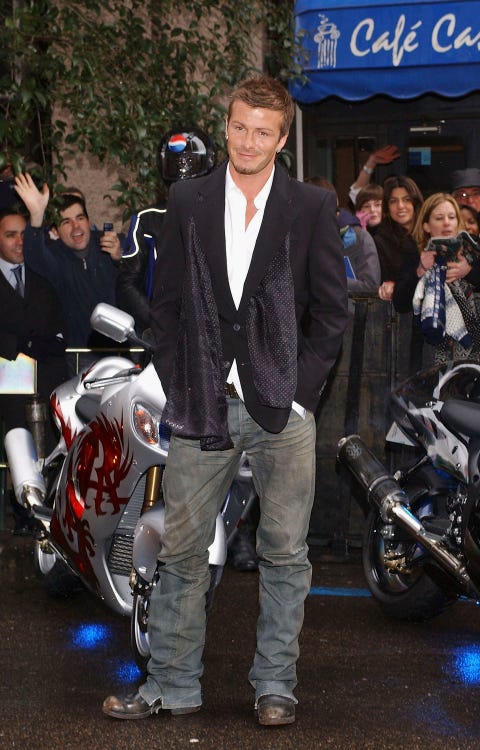 Carlos Alvarez
Getty Images
2005
This jacket-and-jeans-and-silk scarf grouping is totally giving off modern-day Hugh Hefner vibes, and I'm seriously all about it.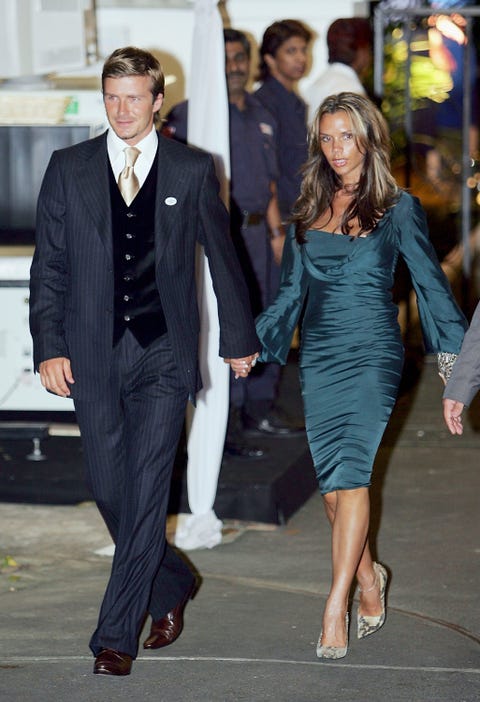 2005
There is always time for a pin-stripe. Always. Again, these two know how to coordinate outfits better than anyone else on Earth.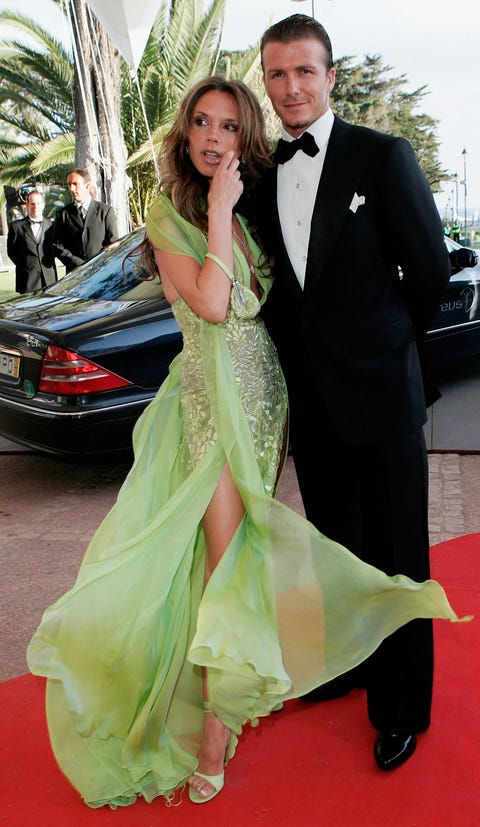 2005
Victoria and David literally look like a mermaid and a spy assigned to keep her mermaid identity undercover (remake of Splash, anyone?). Notice how that dress moves and how handsome he looks, and tell me that's an incorrect assessment. I'll wait.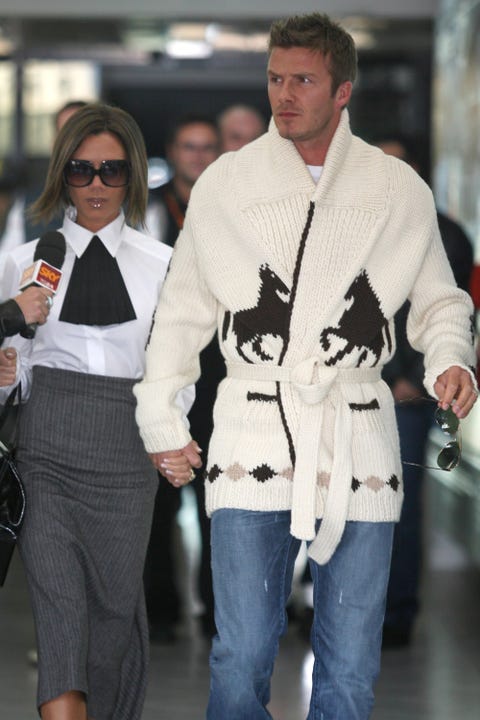 Giuseppe Cacace
Getty Images
2006
That sweater screams "David Beckham is on a winter vacation in Aspen and he's very relaxed!"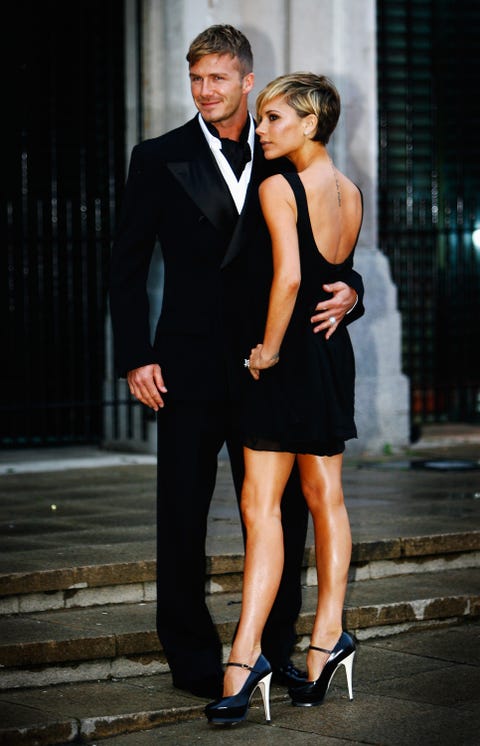 2007
The look on David's face clearly says "I look good...but my wife looks incredible." Most attractive couple on the face of the Earth? We'd say so.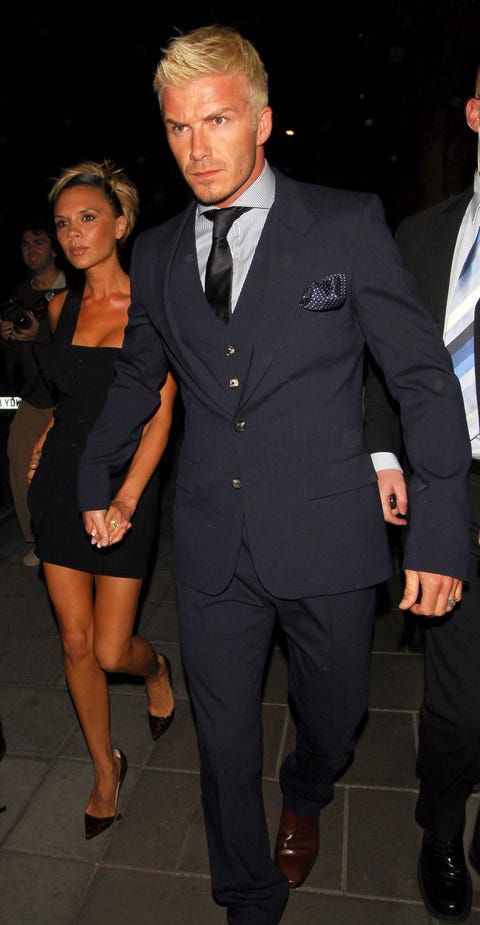 Mark R. Milan
Getty Images
2007
Sure, the bleach blonde is a shocker, but Becks manages to pull it off, especially by pairing it with that perfectly tailored suit.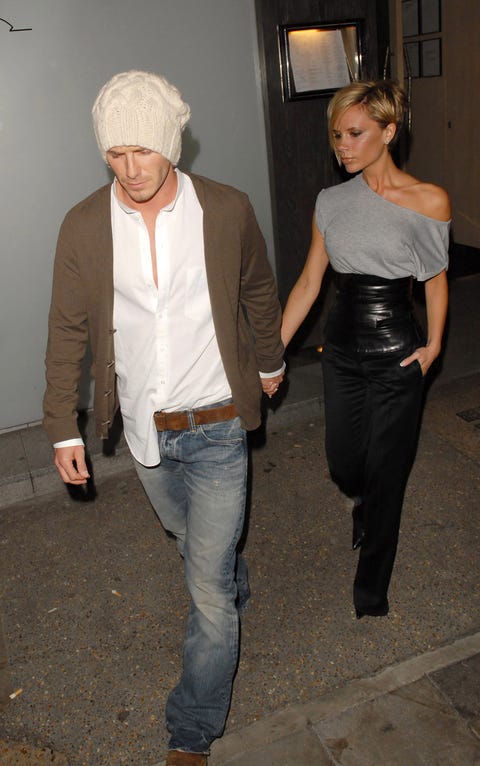 Niki Nikolova
Getty Images
2007
David's love for chunky knits isn't saved for sweaters–as evidenced by this beanie. It signals "I'm fashionable, but also comfortable." Just the way we like you, David.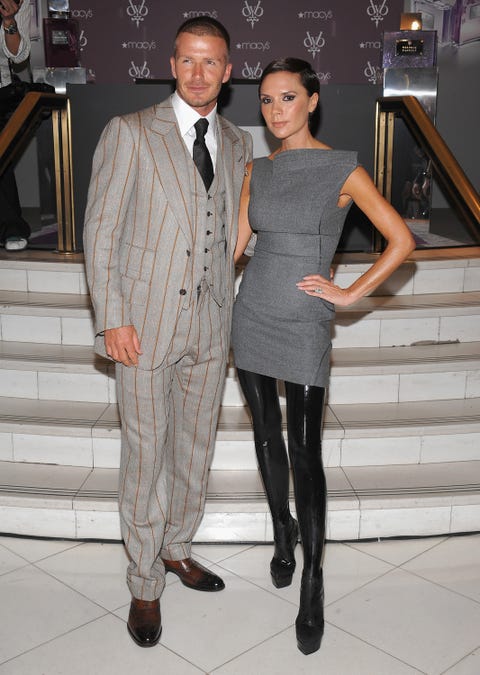 Dimitrios Kambouris
Getty Images
2008
Our favorite couple stuns at the launch of the Beckham Signature Fragrance Collection. Becks is back to the buzzcut, this time with a red-and-grey-striped suit.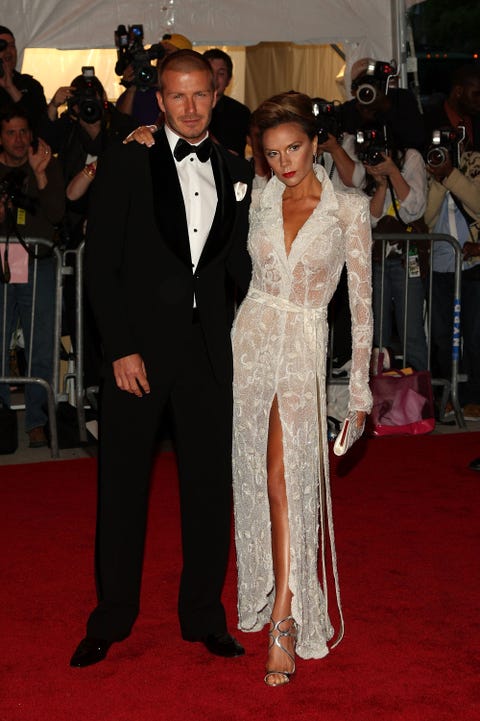 Stephen Lovekin
Getty Images
2008
The 2008 Met Gala was "superhero themed," but Victoria and David didn't have to work very hard to be the fashion superheroes we already knew they were. David looks like Batman, Iron Man, and James Bond all wrapped up in a one attractive package.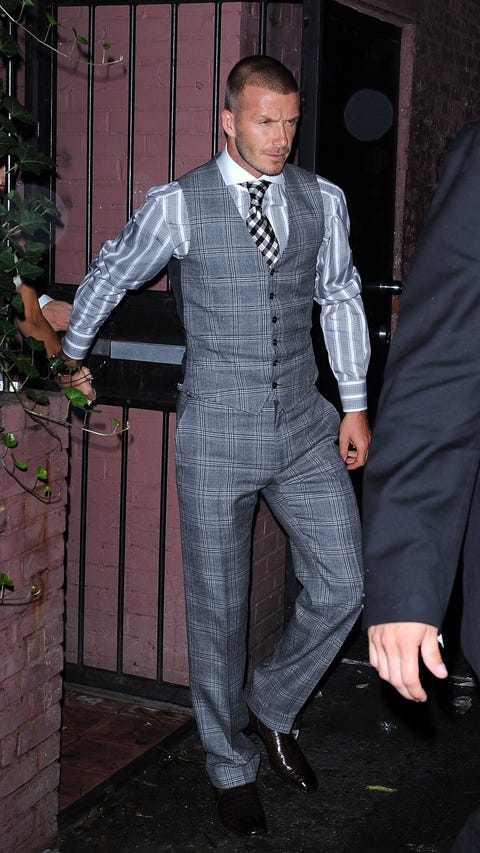 James Devaney
Getty Images
2008
We love a man who mixes patterns, especially when he dares to mix more than two. David is definitely giving off "Hot Army Guy In A Fashion Editorial" vibes here, and we're not mad.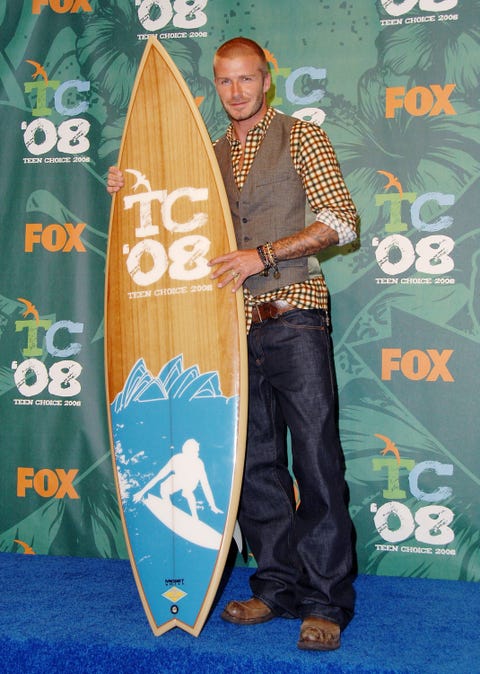 2008
David—never one to shy away from a plaid...or a vest—looks so young (he's 33) and fresh here, you'd never know he was the father of three.
This content is created and maintained by a third party, and imported onto this page to help users provide their email addresses. You may be able to find more information about this and similar content at piano.io