Every Clue You May Have Missed That Meghan Markle Really Was Pregnant
Following Kensington Palace's royal baby announcement this morning, here's all the clues you might have missed that Meghan Markle really was pregnant.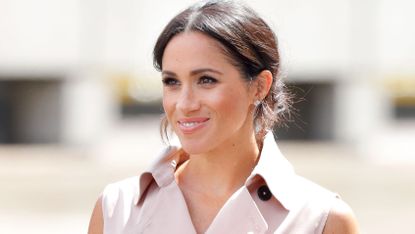 (Image credit: Getty Images)
Marie Claire Newsletter
Celebrity news, beauty, fashion advice, and fascinating features, delivered straight to your inbox!
Thank you for signing up to Marie Claire. You will receive a verification email shortly.
There was a problem. Please refresh the page and try again.
It's sunshine all around this morning as Kensington Palace has announced that the Duke and Duchess of Sussex, Prince Harry and Meghan Markle are pregnant with their first child. The couple, who got married back in May, are preparing to start their own family with a baby due to be born in the spring of next year, and the internet could not be happier about it.
Sharing the wonderful news across social media on Monday, the palace confirmed: "Their Royal Highnesses The Duke and Duchess of Sussex are very pleased to announce that The Duchess of Sussex is expecting a baby in the Spring of 2019. Their Royal Highnesses have appreciated all of the support they have received from people around the world since their wedding in May and are delighted to be able to share this happy news with the public."
As most expectant women decide to do, it seems that Meghan and Harry opted to keep the happy news private for the first few months of their pregnancy. Royal correspondent Rebecca English also revealed that the Duchess has already had her 12-week-scan, and the baby is in good health. In other words, that's TWELVE WHOLE WEEKS that we've all just been running around like schmucks, while a new royal baby was hiding in plain sight this whole time.
But that's not to say there hasn't been constant speculation amongst royal family fans that Meghan could secretly be pregnant. Rumors have been circulating ever since the royal wedding earlier this year, and now, looking back at the past couple of months, there's been plenty of subtle signs that you may have missed that hinted at the mom-to-be knowing she was expecting a baby. Time to take a look back at each of them.
1. The Purple Folders
Earlier in the same day that the pregnancy was officially confirmed, the Duke and Duchess of Sussex touched down in Sydney to begin the first dates of their highly anticipated first royal tour as a couple. Straight off a long-haul flight, the pair looked as stunning as ever, but fans were quick to point out that Meghan seemed to be weighed down by some strategically placed props as they headed into their car. Despite being surrounded by an entourage who usually do the carrying for them, she held two large purple folders across her front—while also wearing a somewhat bulky winter coat and jumper.
I mean sure, maybe she's just really into stationery and travel document organization. Or maybe it was all a clever way to cover any potential sign of a bump.
2. The Wedding Coat
A total departure from her usual sleek, fitted outfits for public appearances, Meghan arrived at the wedding of Princess Eugenie and Jack Brooksbank last weekend in a huge, loose-fitting, dark colored Givenchy coat. While the choice was still from one of her favorite designer's, it was albeit an usual one of the Duchess—particularly when contrasted with the bright, more figure-hugging ensemble worn by Kate Middleton for the day.It didn't take long for speculation to be officially sparked, with a number of royal family fans observing that Meghan's coat would be the perfect option for hiding any blossoming sign of a pregnancy.
3. The New Hairstyle
When the Duke and Duchess paid a visit to Loughborough University for the Coach Core Awards, Meghan raised a few particularly suspicious eyebrows when she debuted a new hairstyle for the occasion. Rather than her signature messy bun with loose tendrils, Meghan wore her hair down in a super-straight, sleek style.
It might not be much to write home about in itself—until you compare it to her sister-in-law, Kate Middleton. It's said that the Duchess of Cambridge has changed her hairstyle right before she's announced each her three pregnancies, with the logic that the change in look will distract from any changes in her body… y'know, like a growing baby bump. With the unusually straight hair and the draped style of Oscar de la Renta top that she also selected for the day, maybe Meghan took a leaf straight outta Kate's bump book?
4. The Ruffle Dress
Another significant outfit choice came when the Duke and Duchess of Sussex attended the 100 Days of Peace concert in September. Meghan looked beautiful in a demure yet vibrant blue Jason Wu midi dress. There was no doubt that the piece was stunning, but there was potentially a little doubt as to whether the floaty fabric and ruffled panelling detail wasn't also a subtle pregnancy disguise for her.
They certainly give the illusion of a bump from certain angles, but it probably would have been much too early for Meghan's slender figure to be showing any noticeable signs of a baby quite yet.
5. Harry's Protective PDA
Harry and Meghan are already known for their disregard for the royal rules surrounding romance and their frequent breaking of protocol when it comes to a little PDA during public appearances. A touch of hand-holding or cute head-kissing is nothing new for the couple, but Prince Harry's body language towards his wife has been particularly protective recently.
Just last weekend at the royal wedding of Princess Eugenie and Jack Brooksbank, the Duke was pictured numerous times with his hand placed gently on Meghan's back as they walked. Now that we know she was carrying his child all along, it becomes that bit more adorable.
6. Harry's Big Decisions
Back in August, according to BBC, the Prince Harry put his beloved sports car up for sale—a move that hinted perhaps that the Duke and Duchess could be in the market for a family-friendly car. The car in question was Harry's precious Audi RS6 Avant. "17 reg and low mileage, so it begs the questions why is the prince selling so soon?" Auto Trader's editorial director Erin Baker said at the time. "Maybe he's on the market for a bigger family car."
Looks like the experts really were onto something.
7. Meghan's Solo Trip Home
In August, Meghan proved herself to be some kind of secret agent after she reportedly pulled off a top secret, solo trip back home to Toronto to see her best friend Jessica Mulroney, and apparently her mother, Doria Ragland, too. Despite being one of the most famous faces in the world, the Duchess remained completely unnoticed on her journey across the pond, and it must have taken quite the feat of engineering to get her there.
Now that we know she must have been a few weeks pregnant at this point and was probably desperate to share the news while face-to-face with her loved ones, it makes sense that the royal family would have pulled out all the stops to get her back home without attracting any press attention.
8. This Photo With The Queen
And hey, maybe we're just getting carried away with #RoyalBabyFever, but does this photo not look like a grandson and his wife who've just told The Queen that they've got her next great-grandchild on the way?
Royal sources revealed this morning that the couple shared their pregnancy news with family at Princess Eugenie's wedding. Judging by Meghan's knowing smile and Harry's cheeky facial expression, this could be the very moment that Harry and Meghan shared their happiness with Her Majesty, or just a sweet interaction about the news later in the day.
Celebrity news, beauty, fashion advice, and fascinating features, delivered straight to your inbox!
Lucy Wood spends most of her time writing about celebrity news, reading books, and waiting for the glorious day that she have enough millions for a pet sloth. She also has a YouTube channel on the go where she pretends to know things about fashion and life advice.