41 Photos From the Set of 'Friends' You've Probably Never Seen Before
Could we BE any more excited?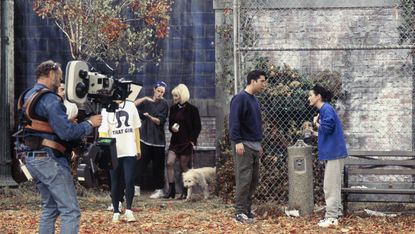 (Image credit: NBC/Getty Images)
Friends was one of the most popular and culturally relevant sitcoms throughout it's 10 year reign on network television—and thanks to Netflix (and nostalgia) it's still going strong. In honor of the 25th anniversary of the show's debut, we pulled together a collection of rarely-seen pictures of the actors, guest stars, producers, and more on set of the beloved show.
1/41
1994: The Concept
Show runners Marta Kauffman and David Crane originally pitched the series to NBC as Insomnia Café. The title was revamped, but the concept remained the same: It was about six funny young friends living in New York City.
2/41
1994: The Cast Is Set
Friends premiered in 1994 and instantly turned it's ensemble cast—Jennifer Aniston, David Schwimmer, Courteney Cox, Matt LeBlanc, Lisa Kudrow, and Matthew Perry–into household names.
3/41
1994: Monica Geller's Apartment
The West Village apartment Monica lived in was the center of much fanfare and debate throughout the show's 10 seasons—mainly because viewers couldn't understand how a 20-something could afford a true two-bedroom with a massive living room and balcony. The show solved this by explaining it was rent controlled.
4/41
1994: Friends From the Beginning
Here, Aniston, Kudrow, and Cox are seen on set during season one. Courteney revealed that she and the other women ate lunch together every day for 10 years. "We always had the same thing—a Cobb salad. But it wasn't really a Cobb salad. It was a Cobb salad that Jennifer doctored up with turkey bacon and garbanzo beans and I don't know what," Cox told the Los Angeles Times.
5/41
1994: Meet the Gellers
Since the show's first season, Christina Pickles and Elliot Gould appeared in the reoccurring roles of Monica and Ross' parents, Judy and Jack Geller. Here, all four actors who make up the Geller family pose together on set.
6/41
1994: Morgan Fairchild Makes an Appearance
As for Chandler Bing, Falcon Crest actress Morgan Fairchild guest-starred on season one as his embarrassingly brazen mother.
7/41
1994: Introducing a New Carol
Anita Barone originally played Carol, Ross' ex-wife, in season one. However, after just a single episode, Jane Sibbett replaced her and played Carol for the remainder of the series.
8/41
1995: Joey as Dr. Drake Ramoray
It doesn't get more meta than this: Here is Matt LeBlanc on set as Joey Tribbiani playing Dr. Drake Ramoray, a character on a fictional version of Days of our Lives. Fun fact: Roark Critchlow (right) played Dr. Mike Horton in both the Friends version of Days of Our Lives and the real one.
9/41
1995: The Men's Department Store
Here's a look at the set of the men's department store where Joey is working as a cologne spritzer in season two. Even though the characters were supposed to be living in New York City, the series never shot there. Instead Friends was filmed on the Warner Brothers lot in Burbank, California—which you can still visit today.
10/41
1995: Janice Gains Fans
Fan favorite Maggie Wheeler, who played Chandler's on-again-off-again girlfriend Janice Hosenstein, is seen here shooting her second episode of Friends. The role was supposed to be a one-time gig, but the writers liked her so much they kept bringing her back.
11/41
1995: The One with the Monkey
Another character that made an appearance in season one: Ross' monkey, Marcel. He was apparently written out of the show because he became too difficult to shoot with.
12/41
1995: Coffee Cup Craze
As the show's popularity skyrocketed, the oversize mugs served at the gang's favorite coffee shop, Central Perk, became iconic. The cast got their own at the NBC press tour party, as seen here.
13/41
1996: The One with the Lesbian Wedding
In season two, Carol and her partner, Susan, get married. It was the first lesbian wedding on network television. "When we did the lesbian wedding episode of Friends, everybody was up in arms. [NBC] put 104 operators on for fear of getting a million phone calls. They got two," writer and executive producer Marta Kauffman told The Hollywood Reporter.
14/41
1996: Marlo Thomas Guest Stars
Since the beginning of season one, Marlo Thomas made numerous appearances on the show, playing the role of Rachel Green's mom. Here she is stealing the show on set during season two.
15/41
1996: A New Love Interest
Tom Selleck joined the cast in season two in the episode, "The One Where Ross and Rachel... You Know," as Monica's first serious boyfriend, Dr. Richard Burke. He later returned during seasons three and five.
16/41
1996: Getting Direction on Set
Courteney and Tom are seen here during season two working with the episode's director, Michael Lembeck (right), who directed 20 episodes throughout the series.
17/41
1995: Chrissie Hynde Performs
Another famous face on set during season two: Rock and Roll Hall of Famer Chrissie Hynde, of The Pretenders, who performed with Phoebe at Central Perk during the episode called "The One with the Baby on the Bus."
18/41
1996: Julia Roberts Guest Stars
That's not all. In season two, one of the biggest names in Hollywood made a cameo on Friends in "The One After the Super Bowl," which aired (you guessed it) after the Super Bowl. She played a love interest for Chandler with ulterior motives.
19/41
1996: Joey and Chandler's Apartment
Here, the cast of Friends performs a scene on the set of the second apartment on Friends. Fun fact: The Magna Doodle on the back of the apartment's door displayed a different message or design in every episode.
20/41
1996: The One with All the Football
The Thanksgiving episode was a fan favorite every season. Here, Schwimmer and Cox are seen being filmed for the famous episode in season three when the Geller siblings get a little too competitive with one another.
21/41
1997: Real Life Friends on Set
LeBlanc and Kudrow on set of "The One With All the Jealousy" during season three, during which Joey lands a role on Broadway after lying on his resume.
22/41
1997: Ben Stiller Guest Stars
Before landing his breakout role in Zoolander, Ben Stiller guest-starred on the series during season three as Rachel's date, who happens to be a secret screamer (see next slide).
23/41
1997: The One with the Screamer
Stiller on set as "the screamer," a.k.a. Rachel's date that Ross catches screaming at people, but his friends don't believe him.
24/41
1997: Billy Crystal and Robin Williams Stop By
During season three, Billy Crystal and Robin Williams by chance happened to be in the same building where Friends was being shot. The two comedians accepted the opportunity to cameo on the show and completely improvised a scene on the coffee shop couch. Here's the cast posing afterward for a photo.
25/41
1997: A New Set Up
Remember the two different apartment sets? Well, when the guys and girls swap units after an infamous bet in season four, episode 12, the set that used to be known as Monica's apartment got a new look. Here it is in season four, episode 13.
26/41
1998: Charlton Heston Guest Stars
The legendary actor appeared on Friends in season four in the episode "The One with Joey's Dirty Day," where Matt LeBlanc's character, Joey, films a scene with him for a movie.
27/41
1998: Lisa Kudrow's Pregnancy
Throughout season four, Phoebe is pregnant as the surrogate to her brother's triplets. But in reality, it was Kudrow who was pregnant and the storyline was added in by writers. Here she is posing with Courteney on set during the episode called "The One With All the Wedding Dresses."
28/41
1998: The One with Ross' Wedding
During season four's two-part finale, the cast flew to London to film Ross' wedding. Here, Perry is seen on set filming a scene where he explores the city.
29/41
1998: Back to the '80s
Friends channeled the '80s in a flashback episode in season five. As proven by this picture on set, Schwimmer and Perry seem into their looks.
30/41
1999: David Schwimmer's Directorial Debut
The first episode Schwimer was given the chance to direct was season six, episode six, called "The One on the Last Night" (in which Rachel is moving out of the apartment so Chandler can move in). He returned to the chair in seasons seven, eight, and 10.
31/41
1999: The One on the Last Night
Here, David is seen collaborating with executive producers David Crane and Marta Kauffman during his directorial debut—a huge feat for the actor.
32/41
1999: Elle MacPherson Joins the Show
Model Elle MacPherson joined the cast for a multi-episode story arch as Joey's roommate during season six. Elle has since said if she knew how iconic the show was, she probably would have chickened out and turned it down.
33/41
2000: A Huge Milestone
Here, the cast is seen posing after filming the 150th episode of Friends during season seven, along with executive producers Marta Kauffman, Kevin S. Bright, and David Crane.
34/41
35/41
2001: Brad Pitt Makes an Appearance
Aniston's then-husband, actor Brad Pitt, appeared on the show in an ironic role: as the former president of the "I Hate Rachel Club." The iconic episode was called "The One with the Rumor."
36/41
2002: Laughs on Set
The cast has said that it was sometimes hard getting through scenes without cracking up—and there are more than enough blooper reels to support that.
37/41
2002: Christina Applegate's Cameo
Christina Applegate's guest appearance as Rachel's sister during season nine brought with it a plethora of funny moments, but one of Applegate's favorites? The scene where she messes up Pheobe's name, which was a rewrite done in front of the live studio audience.
38/41
2003: One More Season
The cast came together for the last, highly-anticipated season, which aired in 2003 and 2004. Most people don't know that Aniston had some reservations about season 10 and almost didn't appear in it.
39/41
2003: The One with the Cake
Here's a shot from behind the camera of the cast preparing to film a scene during season 10, episode four—Emma's birthday party.
40/41
2004: The One With Phoebe's Wedding
Kudrow posing on set with reoccurring guest star, Paul Rudd, as Mike. The two characters got married during season 10 of the series.
41/41
2004: That's a Wrap
LeBlanc, Cox, and Aniston preparing to shoot a scene during the last season. The final episode of Friends was called "The Last One Part 2" and aired on May 6, 2004.
Celebrity news, beauty, fashion advice, and fascinating features, delivered straight to your inbox!