The 47 Best Celebrity Halloween Costumes of All Time
With cash to spend and glitzy parties to attend, the sky's the limit!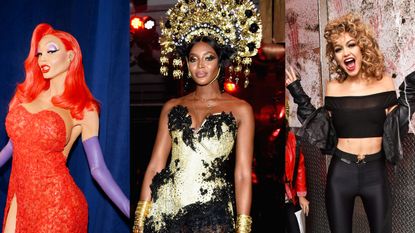 (Image credit: Getty Images)
Marie Claire Newsletter
Celebrity news, beauty, fashion advice, and fascinating features, delivered straight to your inbox!
Thank you for signing up to Marie Claire. You will receive a verification email shortly.
There was a problem. Please refresh the page and try again.
Halloween is the time for the sexy, the spooky, and the truly outlandish to shine. And Hollywood does not disappoint. Admittedly, celebrities have access to hair and makeup teams and designer wardrobes, but they're not resting on their laurels—check out the creativity they put into these iconic Halloween costumes. From Heidi Klum to Karlie Kloss, we've collected some of the best Halloween looks A-listers have ever spooked us with, ahead.
Elsa Hosk as Alice in 'Closer'
Here's Elsa Hosk channeling Natalie Portman's character in Closer (while proving she has good taste in movies).
Halima Aden as Maleficent
Both Halima Aden and Angelina Jolie have the cheekbones to play this role.
Lisa Rinna as Jennifer Lopez
Lisa Rinna channels J.Lo's iconic 2000 Grammy Awards look.
Nina Dobrev as Billie Eilish
Nina Dobrev giving her best "bad guy" impersonation.
Neil Patrick Harris and David Burtka as the Olsen Twins
No press, please.
Benito Skinner and Terrence O'Connor as Kendall and Kylie Jenner
These two nailed the Jenner sisters' iconic Versace Met Gala looks.
David Walliams as Doctor Evil
Mike Myers would be proud.
Heidi Klum as an Alien
Klum sat in makeup for 13 hours for this out-of-this-world transformation.
Georgia Fowler as Holly Golightly
Georgia Fowler pays homage to Audrey Hepburn in her iconic role in Breakfast at Tiffany's.
Anok Yai as Storm from 'X-Men'
The model sat in hair and makeup for seven hours to get ready for this look.
Emily Ratajkowski as a Cavewoman
A fur bikini has never looked so good.
Christian Siriano and Brad Walsh as Picasso Art
Siriano and his (now ex) husband arrived to Heidi Klum's annual Halloween bash in their modern interpretations of Picasso pieces. DRAMA.
Diane Guerrero as Tina Belcher
The Orange is the New Black star was a dead ringer for the Bob's Burgers lead. We can only hope she talked about Boys 4 Now all night long.
Karlie Kloss as Marilyn Monroe
Everyone's favorite supermodel rolled into a costume bash benefitting amfAR looking gorgeous in her Marilyn costume. Let's just hope she avoided subway grates.
Cindy Crawford, Rande, Kaia, and Presley Gerber as '70s Icons
The Most Attractive Family Ever trick-or-treated together in a group costume, and it's truly epic. Check out Cindy's head of hair! Majestic!
Lupita Nyong'o as Dionne from Clueless
As if!
Kim Kardashian West and Jonathan Cheban as Sonny & Cher
Name a more iconic duo playing a more iconic duo. I dare you. We especially love Cheban's commitment to the look—the moustache seals the deal.
Harry Styles as a Dodgers Player
Complete with Gucci sunglasses.
Serena Williams as a Jazzercise Instructor
Look at that WIG, but also look at the leggings! Williams makes the '80s look seem like it's a modern moment straight from the runway.
Heidi Klum as Fiona from Shrek
Heidi Klum is the queen of Halloween for a reason - this look from Shrek doesn't dissapoint.
Rihanna in Skull Face Paint
Riri rocks a fill patent leather look with pink skull face paint.
Kendall Jenner as Fembot from Austin Powers
Jenner has this Fembot costume down to a T.
Zac Posen as Willy Wonka
All that's missing is Veruca Salt.
Lewis Hamilton as The Joker
Hamilton nailed this iconic Halloween costume.
Jessica Williams and Danielle Brooks as Characters From 'B.A.P.S.'
"Livin' large and takin' charge!" And Williams and Brooks are doing just that in these costumes. Take a look at those headpieces and the jumpsuits, these two are the loudest (costumes) in the room.
Chanel Iman As A Mummy
So spooky! The supermodel killed it in her mummy costume, somehow managing to be both terrifying and chic. Scary Chic: Your New Favorite Look.
Tyga as The Mask
Tyga totally pulls off this look from the '90s Jim Carrey movie. If producers choose to reboot it sometime soon, Tyga's already got the costume. Give him a call, Hollywood!
Jasmine Sanders & Terrence J as Wilma and Fred Flintstone
"Flintstones, meet the Flintstones." Sanders and Terrence J are just a modern stone-age family from the town of Bedrock. Not really, but how great is this costume?!
Cardi B as Cruella de Vil
The best part of this costume isn't just the dalmatian: It's Cardi's commitment. She won't be looking for puppies to make a coat out of, but she surely wins in terms of making a costume look couture.
Alessandra Ambrosio as a Unicorn
This isn't your typical unicorn costume—this is a high-fashion unicorn, combining a bodysuit and a thigh-high boot to create a pure fantasy look.
Rihanna & Friends as The Teenage Mutant Ninja Turtles
Total Turtle Power here, right? RiRi—dressed as Raphael, the red ninja turtle—looks great in every color, but a green skin tone totally suits her.
Tinashe as Snoop Dogg
So simple, yet so creative! Tinashe's turn as the D-O-Double-G is spot-on, yet exaggerated perfectly to suit the holiday. Halloween is not a time for nuance!
Joe Jonas as Chazz Michael Michaels from 'Blades of Glory'
Love a costume that requires a quick Google! Jonas gets points for Most Unique Costume. You're not going to find this one everywhere.
Patrick Starrr as Snow White
Snow White with a face beat.
Jennifer Lopez and Casper Smart As Skeletons
Before they broke up, Jennifer Lopez and Casper Smart went full-on spooksters with their skeleton costumes. Lopez's spooky contact lenses are an especially scary detail, we can't stop staring.
Heidi Klum as Jessica Rabbit
The Queen of Halloween does it again! Notorious for her Halloween looks and her famous Halloween Party, Heidi Klum is almost unrecognizable in this Jessica Rabbit costume. The supermodel gets points for committing to a look—those prosthetics and breastplate can't be comfortable.
Gigi Hadid as Sandy from 'Grease'
The model could wear this outfit the other 364 days of the year and no one would blink an eye (they'd be too busy staring because she looks THAT GOOD). Anyone else think she should totally perm her hair??
Naomi Campbell as a Goddess
Seriously living for Campbell's costume—it's nice to have some pretty looks in a sea of scary ones. The headpiece is a gorgeous touch.
Dylan Sprouse as Fabio
A reference some may not get at first glance, let us remind you of that time Fabio got hit in the face with a bird at Busch Gardens. This is a hilarious costume.
Kelly Ripa as Kim Kardashian
Ripa dressed as the famous bride on her highly publicized wedding day.
Cynthia Erivo as an Avatar
Erivo wore blue from head to toe at Heidi Klum's annual Halloween Bash back in 2016.
Janelle Monae as Stanley Ipkiss from 'The Mask'
Monae is unrecognizable as Jim Carrey's iconic character from the 1994 film.
Winnie Harlow as Rupaul
Harlow recreated RuPaul's iconic MAC Viva Glam shoot for Heidi Klum's Halloween bash in 2018.
Padma Lakshmi as 'The Black Swan'
Lakshmi took a page out of Natalie Portman's book for Heidi Klum's annual Halloween Bash in New York City back in 2018.
Joe Jonas as 'Zoolander'
Joe Jonas channeled some major "blue steel" energy while dressing up as Ben Stiller's character from Zoolander.
Paris Hilton as Minnie Mouse
Never one to stray from the classics, Hilton looked perfectly cute as Minnie Mouse in 2014.
Taylor Hill as Gamora from 'Guardians of the Galaxy'
Marvel fans, this one is for you! Hill went all-out as Gamora in 2019.
Celebrity news, beauty, fashion advice, and fascinating features, delivered straight to your inbox!
Amanda Mitchell is a writer and podcaster with bylines at Marie Claire, OprahMag, Allure, Byrdie, Stylecaster, Bon Appetit, and more. Her work exists at the apex of beauty, pop culture, and absurdity. A human Funfetti cake, she watches too much television, and her favorite season is awards season. You can read more of her work at amandaelizabethmitchell.com or follow her on Instagram and Twitter @lochnessmanda.