90 Halloween Costume Ideas Inspired By Movies and TV Shows
Most of these Halloween costumes double as stylish additions to your closet.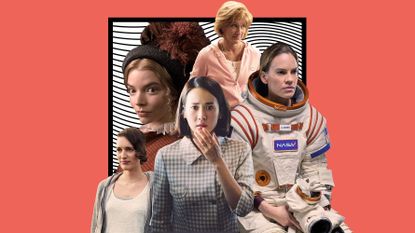 (Image credit: Shutterstock + Focus Features + Neon + BBC)
Finally, it's time to get your Halloween costume ready—because, before you know it, the spookiest day of the year will be here. If you're anything like me, you've been keeping a running list of ideas for your 2022 Halloween costume since November 1. But if you're not as crazy enthusiastic about Halloween as I am (totally understandable!), you may need a little inspiration to get the ball rolling. And what better way to get inspired than by turning to iconic movies and TV shows?
Whether your grand plans for October 31 include bingeing scary movies or attending a fabulous costume party, dressing up as one of your favorite TV or movie characters for Halloween is a low-lift way to pretend you're someone else for a night. Below, we've rounded up our favorite options for your 2022 Halloween escapades, inspired by characters from movies and TV shows. Not only do these costumes make great conversation starters, but almost all of these "costumes" double as (mostly) practical and stylish additions to your closet (need I remind you of all the Halloween costumes a little black dress can inspire?). Once you've decided which movie or TV character you'll be channeling this Halloween, all that's left is to pick a spectacular Halloween eye makeup look.
1/90
Wanda from 'WandaVision'
2/90
Priscilla Presley from 'Elvis'
3/90
Jennifer from 'Jennifer's Body'
4/90
Fran from 'The Nanny'
5/90
C.J. from 'Baywatch'
6/90
Cassie from 'Euphoria'
7/90
Alice from 'Closer'
8/90
Casey from 'Scream'
9/90
Mia from 'The Princess Diaries'
10/90
Joy from 'Everything Everywhere All at Once'
11/90
Faye from 'Cowboy Bebop'
12/90
Satine from 'Moulin Rouge!'
13/90
Principal Ava from 'Abbott Elementary'
14/90
Carrie from 'Carrie'
15/90
Juliet from 'Romeo + Juliet'
16/90
Sharon Tate from 'Once Upon a Time in Hollywood'
17/90
Thomas from 'Peaky Blinders'
18/90
Rhaenyra from 'House of the Dragon'
19/90
Alicent from 'House of the Dragon'
20/90
Maxine from 'X'
21/90
Meredith Blake from 'The Parent Trap'
22/90
Vivian from 'Pretty Woman'
23/90
Mabel from 'Only Murders in the Building'
24/90
Rooster from 'Top Gun: Maverick'
25/90
Anne Wheeler from 'The Greatest Showman'
26/90
Galadriel from 'The Rings of Power'
27/90
Marie Antoinette from 'Marie Antoinette'
28/90
Lizzie McGuire from 'The Lizzie McGuire Movie'
29/90
Cassandra from 'Promising Young Woman'
30/90
Leeloo from 'The Fifth Element'
31/90
Sally from 'The Nightmare Before Christmas'
32/90
The Mask from 'The Mask'
33/90
Elizabeth Holmes in 'The Dropout'
34/90
Sailor Scout from 'Sailor Moon'
35/90
Olive from 'Easy A'
36/90
Padme from 'Star Wars: Attack of the Clones'
37/90
Neytiri from 'Avatar'
38/90
Trinity from 'The Matrix'
39/90
Catwoman from 'The Batman'
40/90
Giselle from 'Enchanted'
41/90
Jessica Day from 'New Girl'
42/90
Anna Delvey from 'Inventing Anna'
43/90
Lara Croft from 'Lara Croft: Tomb Raider'
44/90
Moira Rose from 'Schitt's Creek'
45/90
Emily Cooper from 'Emily in Paris'
46/90
Cruella De Vil from 'Cruella'
47/90
Daphne Bridgerton from 'Bridgerton'
48/90
Keeley Jones from 'Ted Lasso'
49/90
Beth Harmon from 'The Queen's Gambit'
50/90
Lara Jean from 'To All the Boys I've Loved Before'
51/90
Midge Maisel from 'The Marvelous Mrs. Maisel'
52/90
Regina George from 'Mean Girls'
53/90
Young Queen Elizabeth in 'The Crown'
54/90
Robyn from 'High Fidelity'
55/90
Emma Green from 'Away'
56/90
Joe from 'You'
57/90
Yeon-Kyo from 'Parasite'
58/90
The March Sisters from 'Little Women'
59/90
Phoebe Waller-Bridge in 'Fleabag'
60/90
Emma Woodhouse from 'Emma'
61/90
Beyoncé and Jay-Z from the 'Apes**t' Music Video
62/90
Lady Bird from 'Lady Bird'
63/90
Hellen Parr (Elastigirl) from 'Incredibles 2'
64/90
Margot Tenenbaum from 'The Royal Tenenbaums'
65/90
Wednesday Addams from 'The Addams Family'
66/90
Harley Quinn from 'Suicide Squad'
67/90
Dorothy from the 'Wizard of Oz'
68/90
Winifred Sanderson from 'Hocus Pocus'
69/90
Holly Golightly from 'Breakfast at Tiffany's'
70/90
Nina from 'Black Swan'
71/90
Billie Jean King from 'Battle of the Sexes'
72/90
Claire from 'The Breakfast Club'
73/90
Carrie from 'Sex and the City'
74/90
Blair from 'Gossip Girl'
75/90
Penny Lane from 'Almost Famous'
76/90
Ilana from 'Broad City'
77/90
Elle Woods from 'Legally Blonde'
78/90
Daisy Buchanan from 'The Great Gatsby'
79/90
Belle from 'Beauty and the Beast'
80/90
Jackie O from 'Jackie'
81/90
Meredith from 'Grey's Anatomy'
82/90
Mia Wallace from 'Pulp Fiction'
83/90
Allie from 'The Notebook'
84/90
Sandy from 'Grease'
85/90
Cher from 'Clueless'
86/90
Rachel from 'Friends'
87/90
Cleopatra from 'Cleopatra'
88/90
Marilyn from 'Love, Marilyn'
89/90
Princess Leia from 'Star Wars'
90/90
Kat from 'Euphoria'