The Most Iconic Weddings Throughout History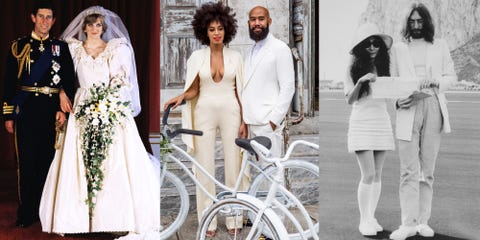 2020 has not been a good year for weddings. The COVID-19 pandemic has left brides-to-be rescheduling their special day, canceling honeymoons, and saying goodbye to tropical bachelorettes. All we can do in the meantime is take time to reassess, regroup, and appreciate the wonderful people in our lives. For the time being, if you're in need of a little inspiration and glamour, take a look back at some of the most iconic weddings in history, hosted by celebrities and public figures who did not hold back when it came to their big day. From '50s sirens to modern day royalty, celebrity royalty, and actual British royalty, these are some of the most out-there weddings of all time.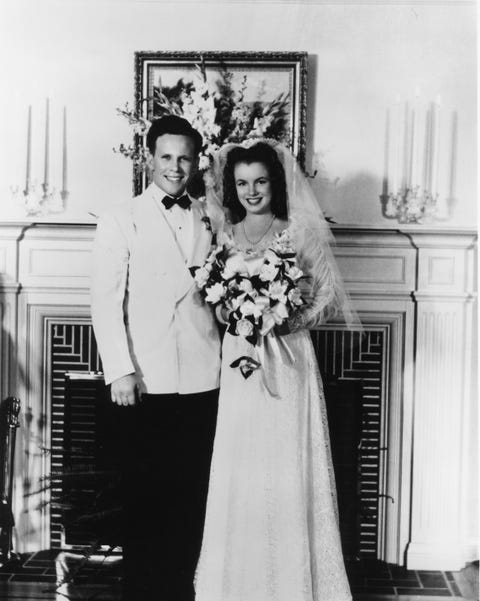 Sunset Boulevard
Getty Images
1942: Marilyn Monroe and James Dougherty
James Dougherty, a police officer, married 16 year-old Norma Jean Baker before she became the icon we know today as Marilyn Monroe. They divorced in 1946, and in a 1990 interview Dougherty said, "I never knew Marilyn Monroe, and I don't claim to have any insights to her to this day."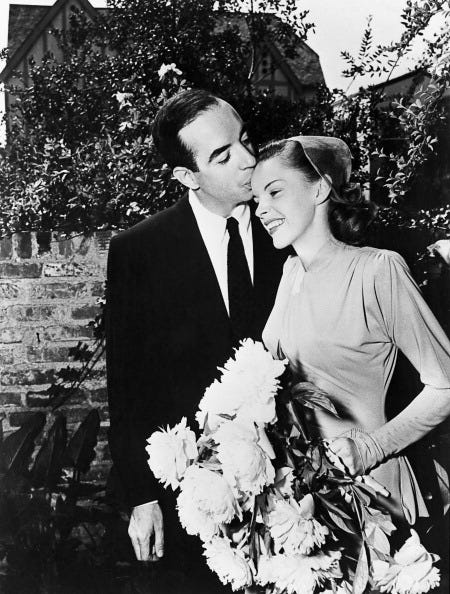 1945: Judy Garland and Vincente Minnelli
Judy Garland married film director Vincente Minnelli in 1945. In 1946, she gave birth to their daughter, Liza Minnelli.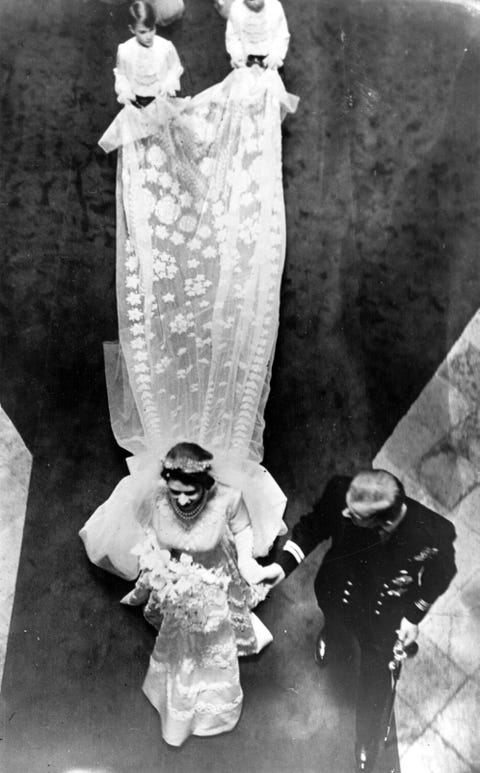 1947: Princess Elizabeth and Prince Philip
Thousands of guests attended the wedding of Princess Elizabeth (later known as Queen Elizabeth) and Prince Philip, including the King of Iraq and and the Prince and Princess of the Netherlands. Designers submitted their sketches for her dress and, ultimately, designer Norman Hartenell was approved a mere three months before the wedding.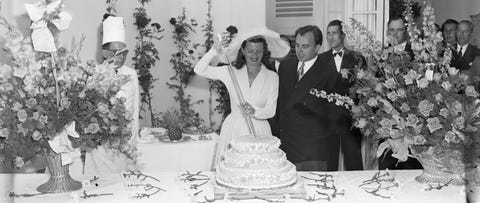 1949: Rita Hayworth and Prince Ali Khan
Rita Hayworth cuts the cake with new husband, Prince Ali Khan, in the South of France. Her dress was by designer Jacques Fath.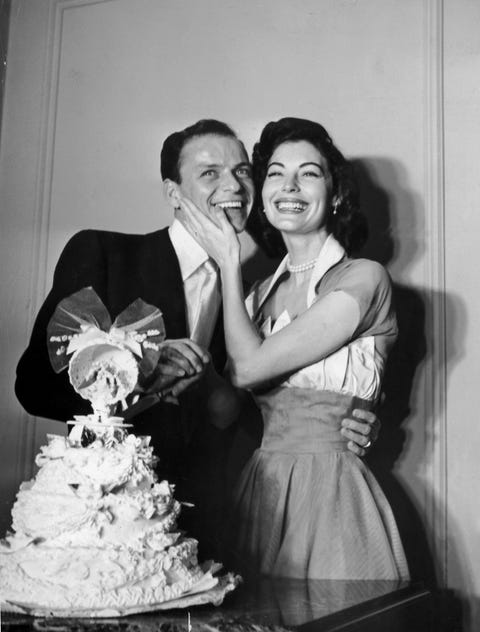 Hulton Archive
Getty Images
1951: Ava Gardner and Frank Sinatra
These soulmates wed in a small ceremony in Penslyvania in 1951. But all was not what it seemed—the day before the wedding, Gardner received a letter from a prostitute stating that she had been having relations with her soon-to-be-husband for months.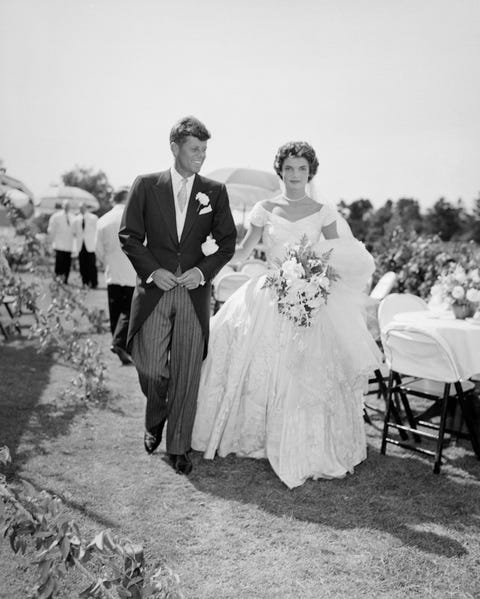 1953: Jacqueline Bouvier and John Kennedy
Bouvier wore a stunning silk-taffeta gown by designer Ann Lowe.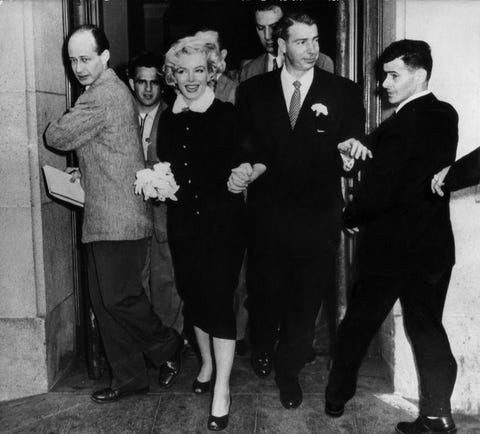 Mondadori Portfolio
Getty Images
1954: Marilyn Monroe and Joe DiMaggio
For her second wedding, Monroe wed baseball player Joe DiMaggio at City Hall in San Fransisco. They divorced after 274 days.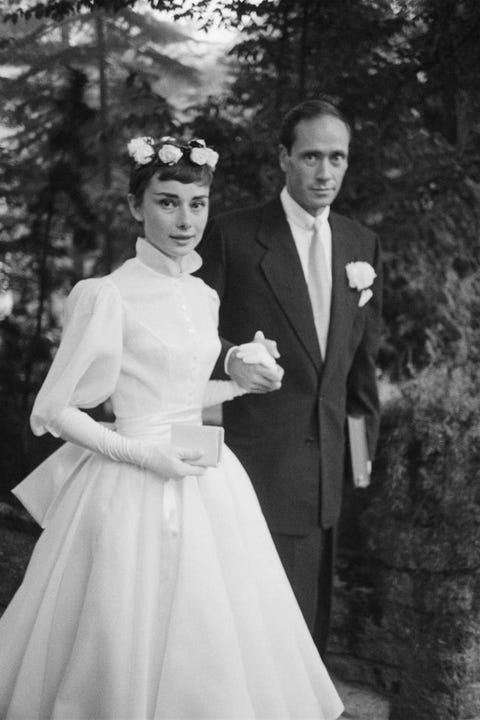 1954: Audrey Hepburn and Mel Ferrer
For her first wedding, Hepburn married actor Mel Ferrer in Burgenstock, Switzerland. The high neck dress with elbow length gloves was designed by Pierre Balmain.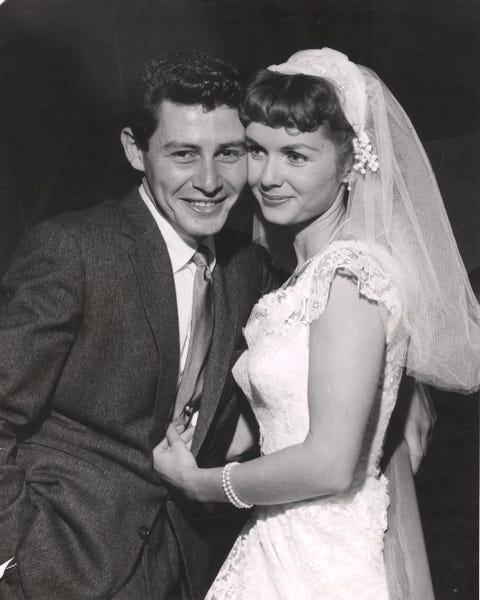 Weegee(Arthur Fellig)/International Center of Photography
Getty Images
1955: Debbie Reynolds and Eddie FIsher
Singer and performer Eddie Fisher wed actress Debbie Reynolds in Grossinger, New York, in 1955. Their close friends and couple, Elizabeth Taylor and Mike Todd, had the roles of best man and matron of honor. However, controversy struck when Todd tragically died in a plane crash in 1958 and Fisher and Taylor began to have an affair. Reynolds divorced Fisher in 1959 and Fisher and Taylor wed in the same year. Fisher and Reynolds had two children, Todd and Carrie Fisher.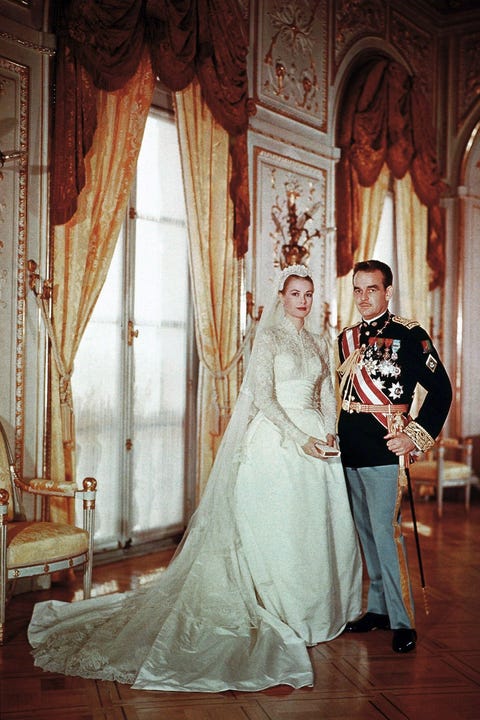 1956: Grace Kelly and Prince Rainier III of Monaco
Bonafide movie star Grace Kelly starred in many films, but it was her marriage to Prince Raineier that gave her her biggest role—princess. Costume designer Helen Rose designed her the dress. which included 400 feet of fabric, and had hundreds of pearls hand-sewn to the lace.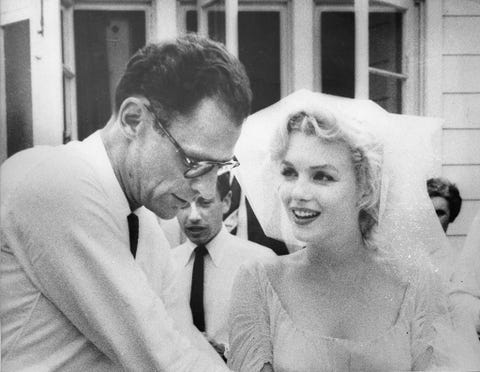 ullstein bild Dtl.
Getty Images
1956: Marilyn Monroe and Arthur Miller
In 1956, Monroe married playwright Arthur Miller and soon divorced five years later. For the courthouse, Monroe wore a pencil skirt, shirt, and gloves. For the second ceremony, she wore a Norman Norell gown, short veil, and white wrist-length gloves.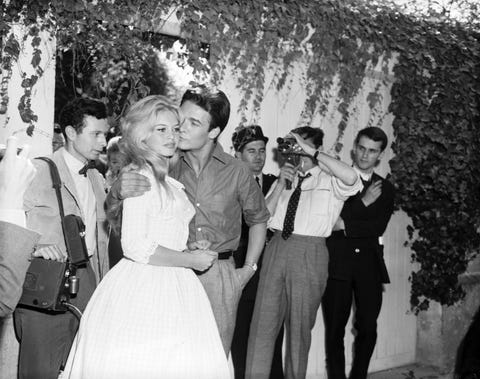 1959: Brigitte Bardot and Jacques Charrier
The bride, Brigitte Bardot, wore a pink gingham dress by Jacques Esterel.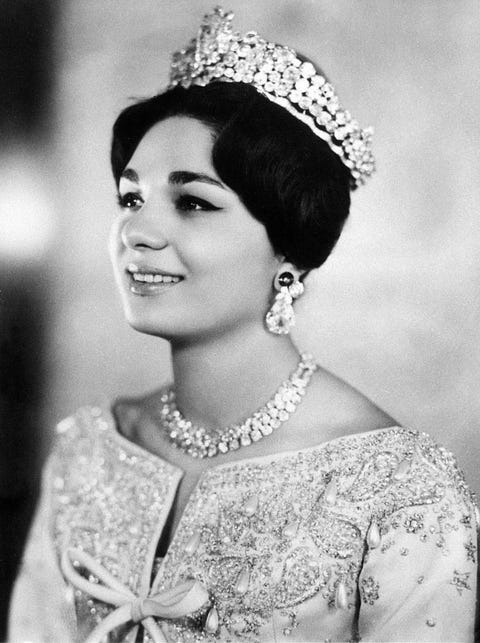 ullstein bild Dtl.
Getty Images
1959: Farah Diba and the Shah of Iran
Farah Diba, empress of Iran 1959-1979, looked breathtaking in a Yves Saint Laurent dress and a Noor-ol-Ain Diamond tiara.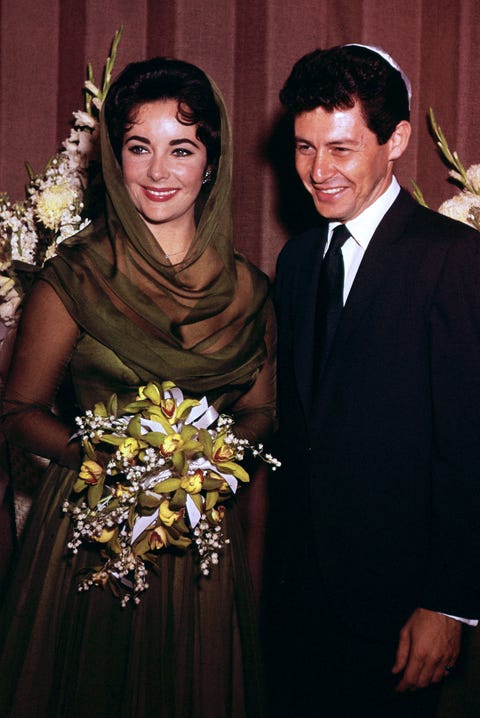 1959: Elizabeth Taylor and Eddie Fisher
Eddie Fisher and Elizabeth Taylor at their wedding at Temple Beth Shalom in Las Vegas. She later said that she married him due to grief.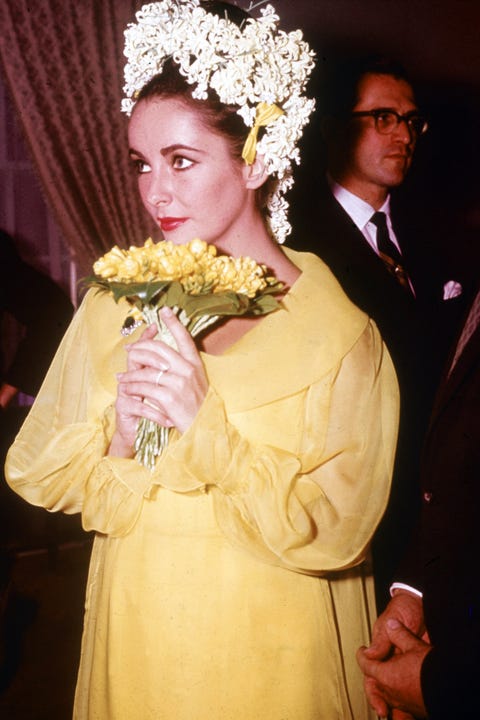 Hulton Archive
Getty Images
1964: Elizabeth Taylor and Richard Burton
Elizabeth Taylor wed actor Richard Burton wed in 1964. Irene Sharaff, the costume designer for the film Cleopatra, created this iconic yellow frock. The look was topped off with hyacinths and lilies of the valley that were woven into her hair.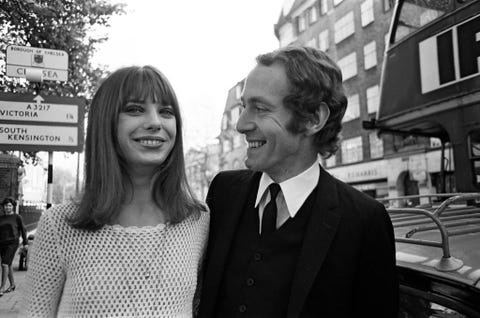 1965: Jane Birkin and John Barry
An 18-year-old Jane Birkin married 30-year-old John Barry at a secret ceremony in London. Jane is widely known for her acting and fashion taste, and Barry was a composer, best known for the James Bond theme song.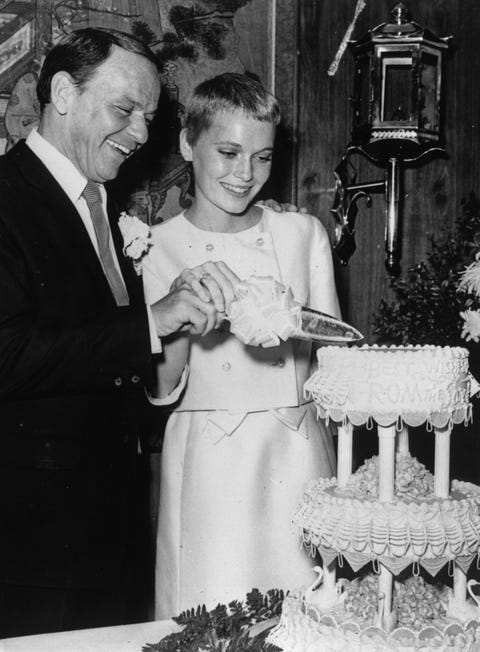 1966: Mia Farrow and Frank Sinatra
The happy couple cuts the cake at their wedding in Las Vegas.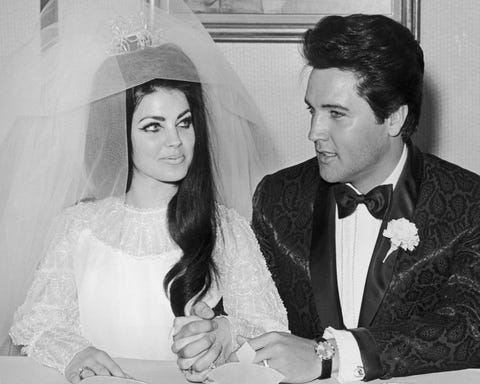 Hulton Archive
Getty Images
1967: Priscilla and Elvis Presley
The couple had a very small wedding in Las Vegas in the middle of the night. A small group of close friends boarded Frank Sinatra's private plane and made the trip for the ceremony.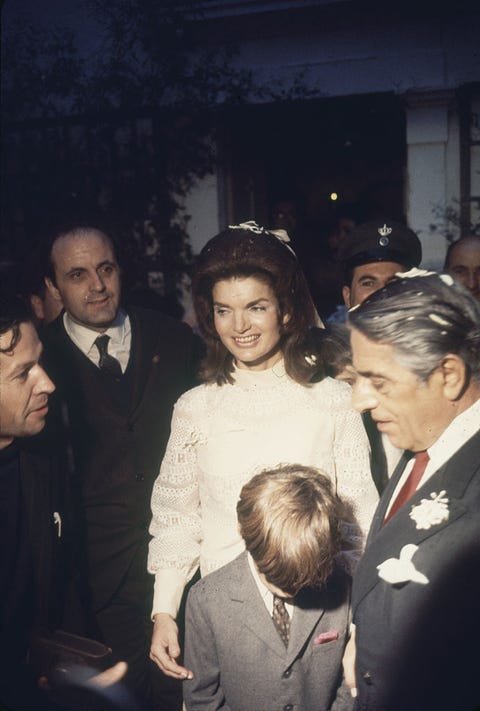 1968: Jacqueline and Aristotle Onassis
The former first lady wed shipping magnate Aristotle Onassis. The reception was held on a yacht and the ceremony was on the Island of Skorpios, Greece.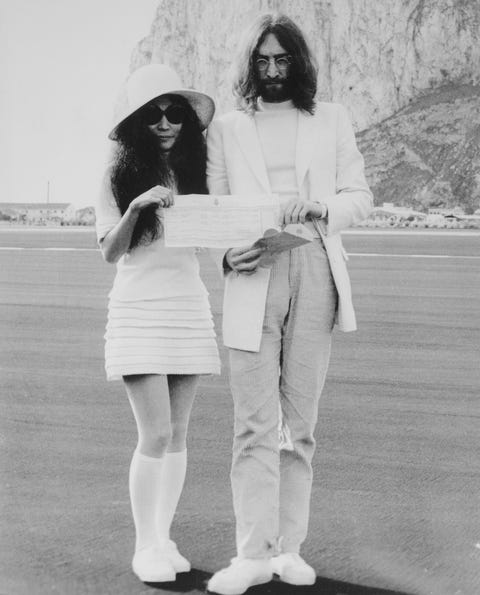 1969: Yoko Ono and John Lennon
Yoko Ono and John Lennon made the choice to marry two days after Paul McCartney wed Linda Eastman. They said "I do" in Gibraltar. Thirty years later, Gibraltar paid homage by creating postage stamps of the couple standing in front of the famous rock.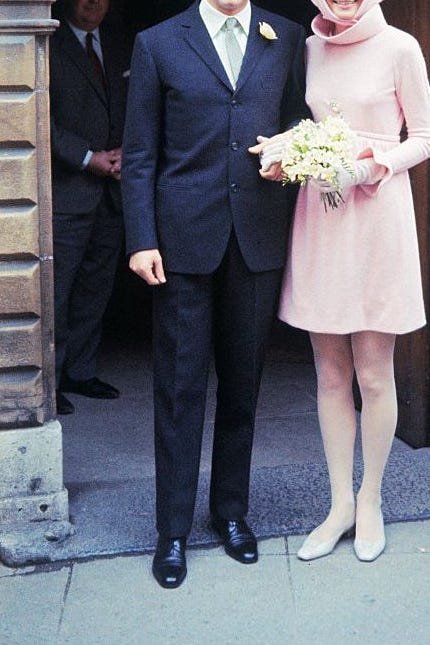 1969: Audrey Hepburn and Dr. Andrea Dotti
In 1969, Hepburn said "I do" to Italian psychiatrist Dr. Andrea Dott in a town hall ceremony in Switzerland. Hubert de Givenchy designed a pale pink mini dress and matching headscarf for Hepburn, which she wore with white tights and ballet flats.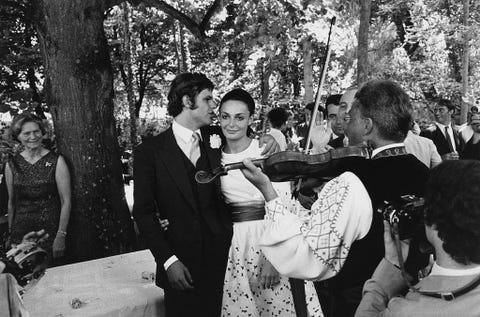 1969: Prince and Princess Von Furstenburg
The couple wed in Paris and the bride wore a confection designed by Mark Bohan at Dior—a long white cotton dress with a colorful petticoat underneath, a ribbon belt, and wide hat.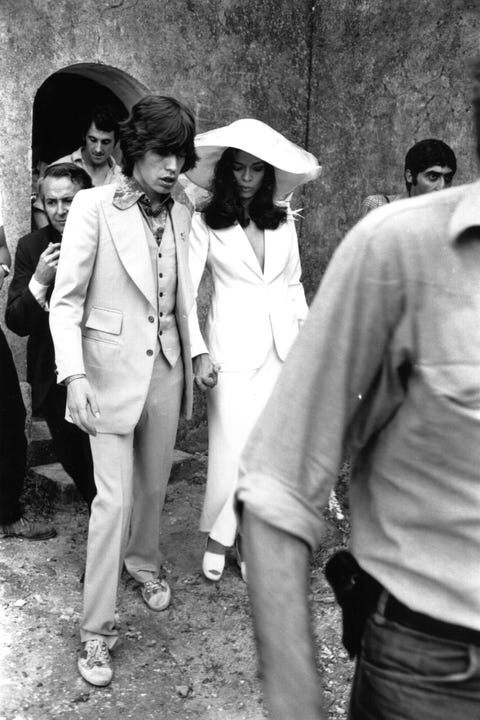 Express Newspapers
Getty Images
1971: Mick and Bianca Jagger
One of the most iconic weddings of all time is the wedding of Mick and Bianca Jagger. This highly photographed, paparazzi playground had an all-star guest list (Jagger had a private jet fly out Elton John and Paul McCartney). Bianca was four months pregnant and wore a YSL white smoking jacket, long skirt, sun hat, and veil. Mick was in a green suit and colored sneakers. What could be more rockstar than that?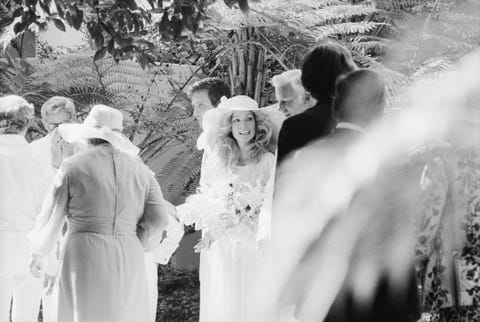 Fotos International
Getty Images
1973: Farrah Fawcett and Lee Majors
American actress Farrah Fawcett wore a large sun hat to her wedding with Lee Majors at the Hotel Bel-Air in Los Angeles, California.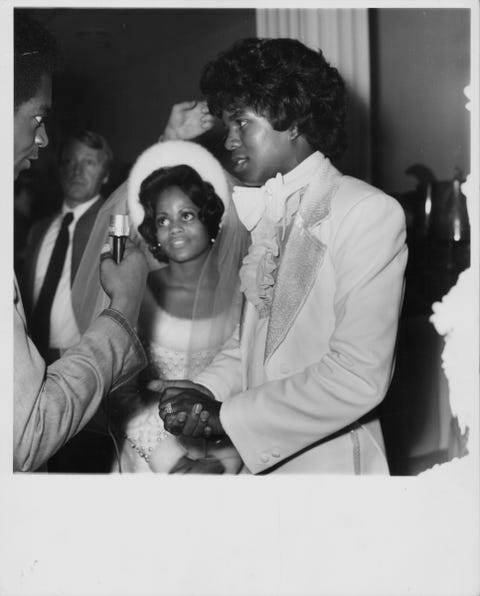 Frank Edwards
Getty Images
1973: Hazel Gordy and Jermaine Jackson
Singer Jermaine Jackson of the Jackson Five married Hazel Gordy, daughter of the founder of Mowton, Berry Gordy. They wed at the Beverly Hills Hotel in California.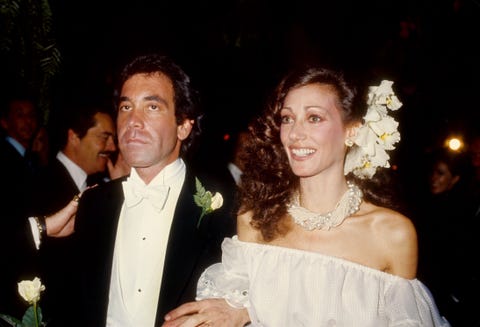 Michael Ochs Archives
Getty Images
1976: Marisa Brenson and James Randall
Marisa Brenson, grandaughter of Elsa Schiaparelli, wed James Randall in 1976 at their Beverly Hills home. She wore a twisted pearl necklace and flowers in her hair.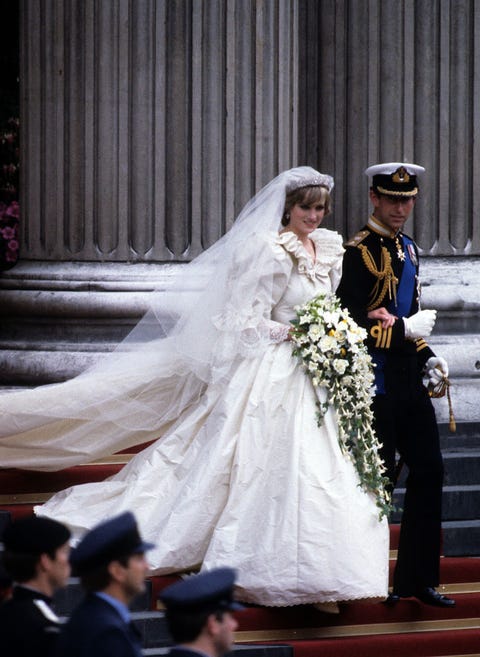 Anwar Hussein
Getty Images
1981: Prince Charles and Lady Diana
Prince Charles and Lady Diana married in St Paul's Cathedral in London. Her dress was made by David and Elizabeth Emanuel and included 10,000 pearls. It was an estimated to cost $115,000.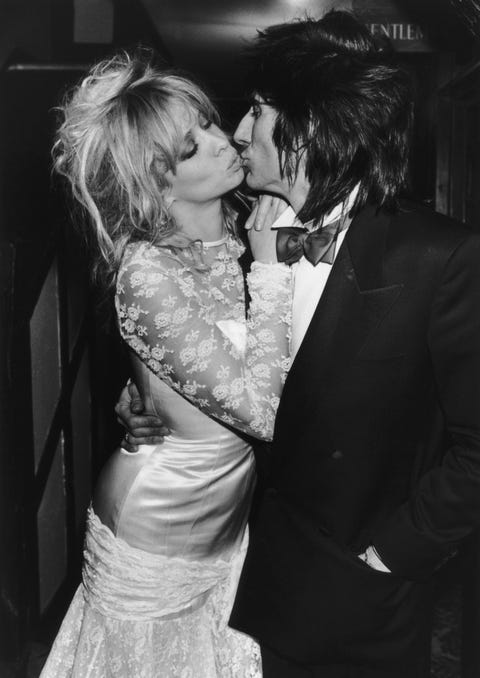 1985: Jo Howard and Ron Wood
Guitartist Ron Wood of the Rolling Stones marries Jo Howard in Gerrards Cross, Buckinghamshire.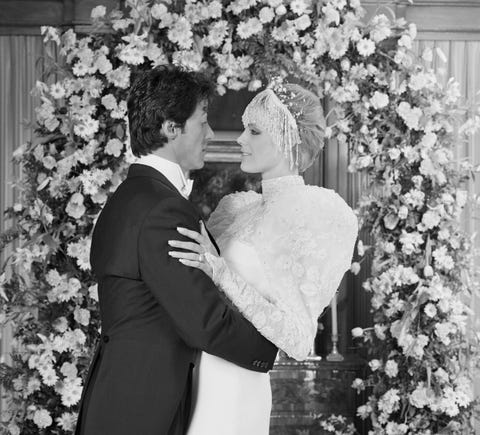 1985: Brigette Neilsen and Sylvester Stallone
The couple wed in 1985 in Beverly Hills. She designed the lace gigot-sleeve dress herself, but most noticeable was her jeweled headpiece.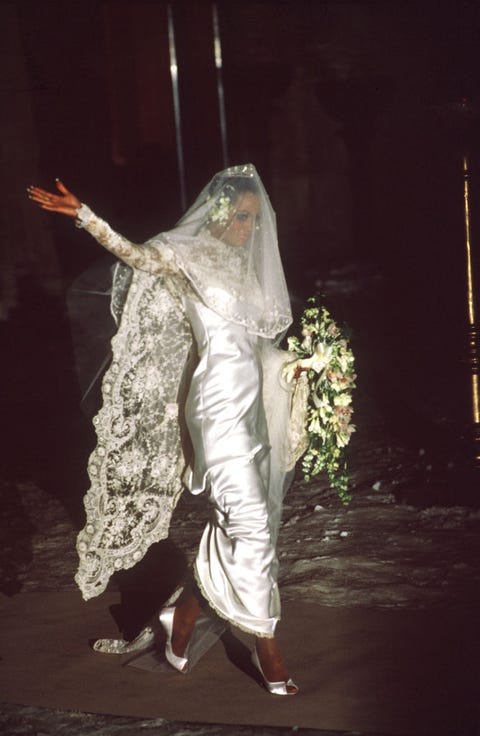 picture alliance
Getty Images
1986: Diana Ross and Arne Naess
Diana Ross married Norwegian businessman Arne Naess, Jr. in Switzerland in 1986. Ross began her career as a member of The Supremes and later became a solo artist.
This content is created and maintained by a third party, and imported onto this page to help users provide their email addresses. You may be able to find more information about this and similar content at piano.io