It's Show Time
Remotes ready? Here an exclusive chic preview of Fall TV.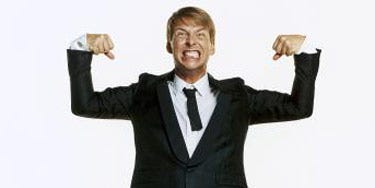 Remotes ready?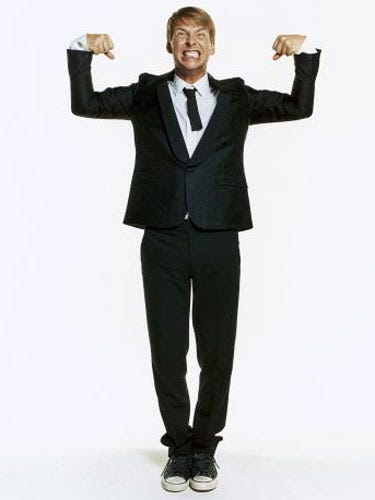 It's Show Time!
JACK MCBRAYER - 30 Rock
He brings the funny as Kenneth Parcell, 30 Rock's worker-bee NBC page with a Georgia twang, a job that's caused "an aversion to blue blazers when I'm off the clock," McBrayer says. But as someone who's "never been a clotheshorse," he says he doesn't mind wearing a uniform every day. In high school, McBrayer primarily wore hand-me-downs, figuring, "If my brother didn't get beat up wearing them two years before, I was probably fine." McBrayer hasn't changed much from the days of making biannual trips to Sears. "I don't own a pair of jeans over $35," he says. "The most I've ever splurged is $80 on running shoes. I'm a boy!"

Jacket, $2015, pants, $565, Band of Outsiders; dress shirt, $79.50, Brooks Brothers; T-shirt, $78, Marc by Marc Jacobs; shoes, $125, Converse by John Varvatos; tie, $200, Dior Homme; cuff links, $155, Sir Drake.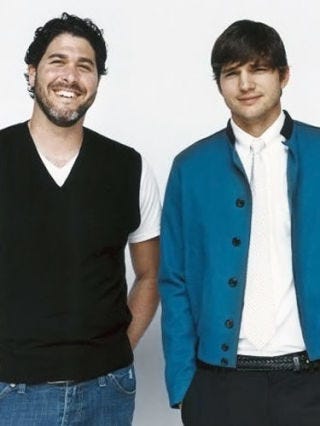 It's Show Time!
JASON GOLDBERG & ASHTON KUTCHER - Opportunity Knocks
As the heads of Katalyst Film & Television, Kutcher and Goldberg collaborated on ABC's new roving game show, Opportunity Knocks. But when the two met at a party in 1999, they didn't mesh quite so well. "We both have too much ego," Kutcher says. "But once we got beyond our egos to actually have a creative conversation, we clicked." Today Katalyst employs a staff of 36, no longer meets at Kutcher's house, and is launching a daily Web video on celebrity gossip called Blah Blah Blah. But back in the days of Punk'd, "people thought we were insane," says Goldberg. Kutcher remembers being pelted with questions: "'What about your career as an actor? What are people gonna think?' Now they're saying, 'How are you gonna move a whole Hollywood stage around the country? What are people gonna think?' That's how you know you're breaking new boundaries."

On Goldberg: Vest, $298, John Varvatos; T-shirt, $39.50 for three, Brooks Brothers; Goldberg's own belt and G-Star jeans. On Kutcher: Jacket, $1425, Yves Saint Laurent; dress shirt, $79.50, Brooks Brothers; tie, $170, Dior Homme; belt, $550, Roberto Cavalli; Kutcher's own Gucci pants.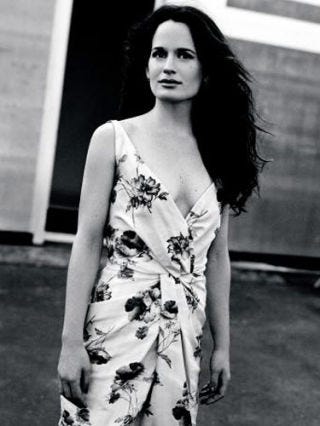 It's Show Time!
ELIZABETH REASER - The Ex List
On CBS's The Ex List, Reaser embarks on a High Fidelity--like quest through a stack of exes after a psychic predicts her future husband is someone she's already dated. Does the high-concept plot make Reaser, 33 and single, eager to reconnect with anyone from her past? "Some people will always haunt you," she says, "but I try to live in the present." Her current love: the Dries Van Noten "sex boots" that made the vegan Reaser break her three-year ban on wearing leather. "I went back to the store three times to stare at them first," she says of the knee-high zip-ups. "I wear them with jeans. I wish I could wear them with shorts, but you have to be Chloë Sevigny to pull that off."

Dress, $2045, Jason Wu; Reaser's own earrings.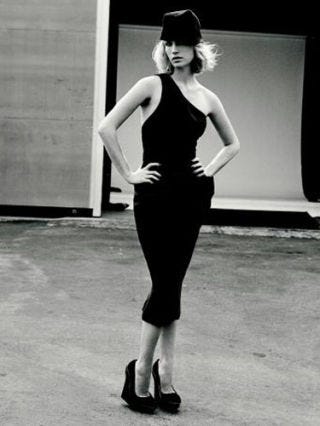 It's Show Time!
JANUARY JONES - Mad Men
Jones plays Betty Draper, the perfectly repressed 1960s pinup wife to Don Draper (Jon Hamm), a cheatin' big-time ad exec on AMC's Mad Men. "Even though the show is set in the past, the questions we're asking are still very relevant: Am I happy? Is this marriage going to work? Do I really want to be a mother and a wife? Do I like my job? Usually when you're asking yourself if you're happy, you're not." What satisfies Jones, a fan of vintage clothing, is her character's wardrobe of "girdles, garters, stockings, fluffy petticoats, and pointy bras--it makes you walk differently and improves your posture. It imparts a confidence you don't have in jeans." The only wardrobe downside? "I can't buy '60s clothes anymore, or I'd walk around looking like my character. But it's OK--I've switched more to the '30s and '40s."

Dress, $3730, Versace; shoes, $1145, Stella McCartney; hat, $265, Victor Osborne.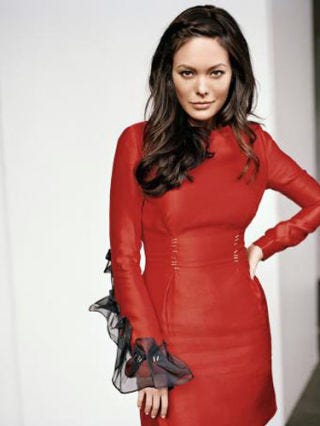 It's Show Time!
LINDSAY PRICE - Lipstick Jungle
The resident fashion designer on NBC's Lipstick Jungle, Victory Ford is on a mission this season: buy her company back from her billionaire ex-boyfriend. "She's got that Dolly Parton '9 to 5' song in her head," says Price. "She'll be pounding the pavement in ridiculously gorgeous shoes." While Ford gravitates toward frilly, the real-life Price can be tomboyish. "I look like a cute cat or some precious doll--people actually pinch my cheeks," she says--which is why she tries to counteract the Kewpie in gray T-shirts, jeans, and custom-made black leather Converse with her initials on the heel.

Dress, $1590, Viktor & Rolf.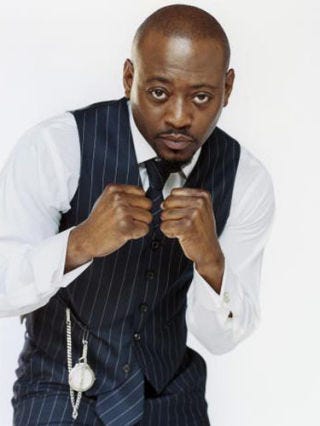 It's Show Time!
OMAR EPPS - House
Thank goodness Epps doesn't have to dress in real life like conservative, lab-coat-clad Dr. Eric Foreman, his character on Fox's House. "My style is more hip-hop meets rock and roll: a vest, a tie, jeans, Vans, a funky hat." As a dedicated follower of fashion, Epps also notices what women wear. "When you see a woman at 6 a.m. in sweatpants and flip-flops, she looks great if she's confident," he says. "If she's all glammed out but isn't confident, that's not attractive." His own most embarrassing fashion faux pas? "In the late '80s, I had a Gumby haircut with a bleached spot in front and Hammer pants. It wasn't even cool at the time."

Three-piece suit with tie (blazer not shown), $1518, Valentino; dress shirt, $79.50, Brooks Brothers; pocket watch, $70, Avalon; cuff links, $155, Sir Drake.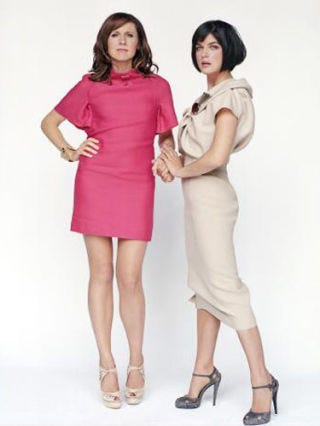 It's Show Time!
MOLLY SHANNON & SELMA BLAIR - Kath and Kim
Though they're only eight years apart in real life, Shannon and Blair team up as a dysfunctional mother-daughter duo in NBC's Kath and Kim, a remake of an Australian comedy from the same folks who Americanized Ugly Betty and The Office. The pair "think they dress with class and style, but they're cheesy," says Shannon. To play a Doritos-mooching couch-sloth, Blair gained 10 pounds. "Kim wears it with confidence," she says. "I do not." In fact, Blair's so embarrassed by her on-set look--"hot pink and rhinestone acrylic nails"--she wears a bathrobe over her costume to the lot's coffee shop. Not so Shannon. "SNL got me used to crazy costumes," she says (hello, Mary Katherine Gallagher!). "Just putting on the skintight pants helps me step into Kath's character"--partly based on Shannon's boss from back when she was a department store perfume-spritzer.

On Shannon: Dress, $2425, Versace; shoes, $1045, Giambattista Valli; bracelet, $1950, Chanel. On Blair: Dress, $2983, brooch, Louis Vuitton; shoes, $965, Giorgio Armani.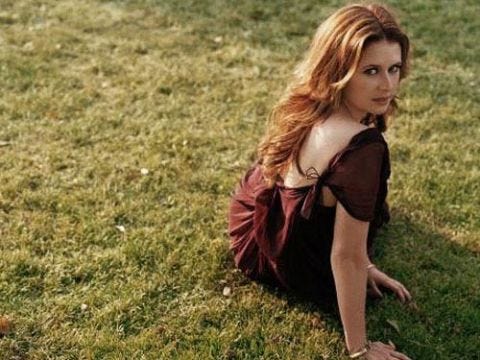 It's Show Time!
JENNA FISCHER - The Office
Fischer came to fame as Pam Beesly, the patient artist-at-heart receptionist (and girlfriend to Jim) on NBC's The Office. "Last year their relationship was smooth sailing," she says. "This season they'll have to deal with a long-distance relationship." Neither Beesly nor Fischer spends much time fussing over her look. "I'd describe my personal style as a mother of three kids--without the kids. I spend a lot of time in sweats, a baseball hat, and one of my 14 hoodies." But what about when she's primped for a photo shoot or a premiere? "I feel like Cinderella," she says, "until it's midnight and I'm back to the slipper-socks."

Dress, $3695, Donna Karan New York; carved bracelet, $238, Elizabeth Cole Jewelry.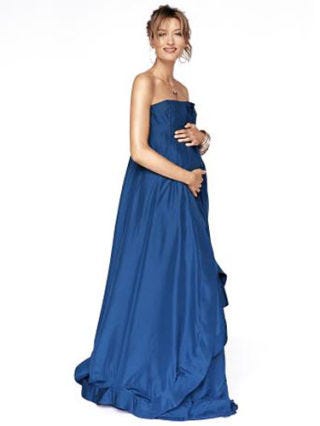 It's Show Time!
NATASCHA MCELHONE - Californication
McElhone's personal style overlaps with that of Karen Van Der Beek, her character on Showtime's Californication. Currently pregnant with her third child, she's "one of those rare women that hates shopping." So, McElhone came up with a system: "I ask the costume department if I can buy [Van Der Beek's] clothes off them. I'm already there, I don't have to go into a store, and I know they fit!" Maybe for the best. Left to her own devices, McElhone went through an ill-advised "Oscar Wilde phase" where she refused to wear anything "less than 100 years old--just tailcoats and cravats." (She was 13 at the time, but still . . . )

Dress, $4950, Celine; earrings, $35, bangles, $45 for set of 12, Roxanne Assoulin for Lee Angel; McElhone's own necklace.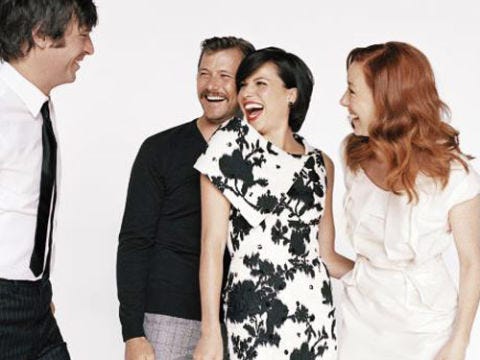 It's Show Time!
JACK DAVENPORT, GRANT SHOW, LANA PARRILLA & MOLLY PARKER - Swingtown
Perhaps the most buzzed-about "character" on Swingtown, CBS's drama about wife-swapping couples in the '70s, is Grant Show's mustache. "We call it Sebastian," says Davenport. "I wasn't sure I could grow it," Show admits. "I look like a porn star, but it works." Maybe that's why he's recently been propositioned to swing in real life. As for Davenport, "On the show, I wear a lot of shirts made of Qiana, a really phony nylon that retains the sweat of a thousand nights at the disco." So, do the women have it easier? "For the beach party on last season's finale, they made me a beautiful one-piece turquoise bathing suit," says Parker, who remembers her own mother wearing one-pieces in the '70s. "Everything is just impeccable," says Parrilla of her character's dresses and bikinis. "She's the Carrie Bradshaw of 1976."

On Davenport: Dress shirt, $475, Malo; pants, $295, Versace Collection; tie, $175, Dolce & Gabbana. On Show: Sweater, price upon request, Costume National; pants, $1745, Brioni. On Parrilla: Dress, $2700, Bill Blass; earrings, $95, Bing Bang by Anna Sheffield. On Parker: Dress, $1766, Costume National; ring, $95, Alexis Bittar.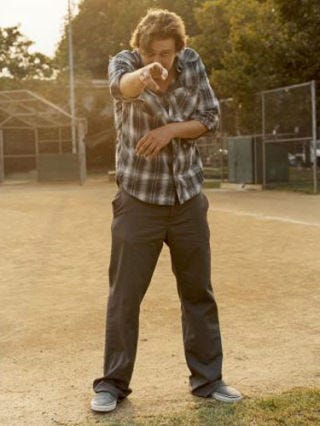 It's Show Time!
JASON SEGEL - How I Met Your Mother
Segel is an actor (returning in CBS's How I Met Your Mother), a musician (self-taught in guitar, piano, drums, and harmonica), and writer of the hit Forgetting Sarah Marshall. He's also a surprisingly immodest model. "I make love to the camera," he deadpans. "That camera is now pregnant--with twins." As a counterbalance to the "raunchiness of the stuff I do with Judd [Apatow]," Segel is writing the new Muppets movie. In a way, his own appeal matches Kermit's--"the original everyman," says Segel, "like Jimmy Stewart or Tom Hanks, just trying to do the right thing." When Segel hit a slump while writing from home in his pajamas, he decided to shower and put on a suit every day. Besides productivity-increasing workwear, he doesn't care much about clothes, except for a pair of his grandfather's driving gloves he wears when he rides his Vespa. "They're worn brown leather, holes for the knuckles, really cool. Except I don't ride a Vespa--I command one."

Segel's own clothes.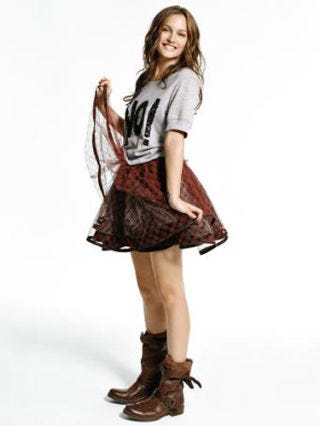 It's Show Time!
LEIGHTON MEESTER - Gossip Girl
Meester steps back into her (designer) bitch boots as Blair Waldorf, the conniving queen of the CW's Gossip Girl. Of course, she doesn't take home Blair's attitude, but what about her wardrobe? "Maybe a cool piece of jewelry," she says. "I loved the gowns for the masquerade ball, but once I wear something five days straight for shooting, I've had my fill." Meester mixes in "hand-me-downs from my mom, like a blue-and-white tie-shoulder top she wore in the '70s. When I was a little girl I'd play dress-up in it, and now I wear it constantly. I get the most compliments when I'm wearing her vintage stuff."

Top, $760, Viktor & Rolf; skirt, $7500, Thakoon; boots, $328, The Frye Company.
This content is created and maintained by a third party, and imported onto this page to help users provide their email addresses. You may be able to find more information about this and similar content at piano.io