Hugh Grant and Ashley Graham Had the Most Awkward Interview on the Oscars Red Carpet
"What are you wearing tonight?" "Just my suit."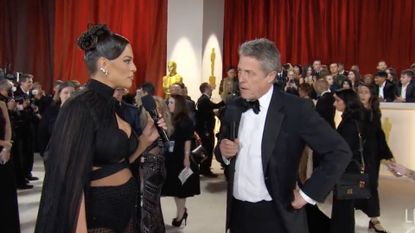 (Image credit: ABC)
You know those exchanges that haunt you deep into the night, the ones you play in your head over and over and wish you'd done differently? Well, for once, the exchange playing in my head tonight won't be my own, but the dialogue between Ashley Graham and Hugh Grant on the Oscars red carpet. Graham tried, she really did, and she handled Grant's non-answers like a champ, but...whew. Whew.
First:
AG: "What's your favorite thing about coming to the Oscars?"
HG: "It's fascinating. The whole of humanity is here. It's Vanity Fair."
AG: "Oh, it's all about Vanity Fair. Yes, that's where we let loose and have a little bit of fun."
I'll quote Refinery29 writer Katherine Singh here for an explanation. Singh tweeted: "Hugh Grant and Ashley Graham's red carpet exchange about "Vanity Fair " (he was talking about the 1848 novel about shallow society, she thought he was referring to the 2023 magazine after party) is my favourite #Oscars moment of all time."
That moment itself, readers, would have been awkward enough. But no! It gets worse!
AG: "What are you most excited to see tonight?"
HG: "To see?"
AG: "Yeah, well, I know you probably watched a few of the movies. Are you excited to see anybody win? Do you have your hopes up for anyone?"
HG: "Um. Not...No one in particular."
AG: "Okay, well, what are you wearing tonight, then?"
HG: "Just my suit."
AG: "Your suit? Who made your suit? You didn't make it."
HG: "I can't remember. My tailor."
AG: "That's okay. Shout-out to the tailor. Um. So, tell me, what does it feel like to be in Glass Onion? It was such an amazing film. I really loved it. I love a thriller. How fun is it to shoot something like that?"
HG: "Well, I'm barely in it. I'm in it for about three seconds."
AG: "Yeah, but still! You showed up and you had fun, right?"
HG: "Uh. Almost."
AG: "Okay. All right. Okay. Well, thank you so much. It was nice to talk to you."
HG: "Yeah."
hugh grant wants no part of this dumb shit pic.twitter.com/uBQ70QcZGfMarch 12, 2023
See more
Well. Shut down the ceremony, ladies and gentlemen. The most awkward moment of the night already happened. Thanks, Hugh!