Amber Tamblyn on Tilda Swinton's Unicorn-ness, Being Mistaken for Amber Rose, and Her New Book of Poetry
The Sisterhood of The Traveling Pants star debuts Dark Sparkler, out now.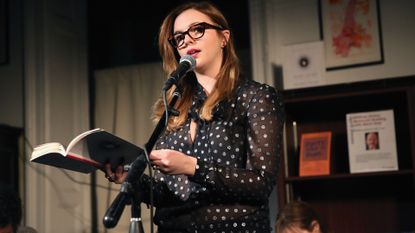 (Image credit: Getty Images)
At age 11, Amber Tamblyn became a professional actor. At 21, she became the second-youngest Primetime Emmy lead actress contender for her performance in Joan of Arcadia. At 22, she became a household name in Sisterhood of the Traveling Pants. Now 31, she hits another milestone year ahead of time with the publication of Dark Sparkler (opens in new tab), her third volume of original poetry.
Commemorating the lives of three-dozen late actresses who died young (Mansfield, Monroe, Murphy), the book's poems are interspersed with Tamblyn's emails and artwork by the likes of musician Marilyn Manson and director David Lynch. It's a fascinating, dark, involved, insightful read.
While wandering around the streets of Manhattan following a screening of her own directorial debut—the forthcoming film adaptation of Janet Finch's 2006 novel, Paint It Black—Tamblyn spoke to Marie Claire about overcoming an obsession with death, her misconstrued "Daughter of Hollywood" status, playing houseguest to Tilda Swinton, and trying to make a feminist out of Tyrese Gibson.
How are you going to celebrate the release of Dark Sparkler?
"Well there's a difference between how I'm going to and what I'd like to do. [Laughs] What I'm going to do is do is this show at Housing Works (opens in new tab) with Yo La Tengo. They're doing an original score with just music and I'm going to be reading pieces and telling stories about my experience writing the book. And then I leave for a 35-city book tour. What I'd like to do is move to the moon and lay around with some sedated wolves—'cause they're really soft and fluffy, but they're also really powerful—and just eat soup dumplings."
Based on some of the lines in your book, I think you could be a hell of a rapper. If women adopted "Here's my Law Rap/You have the right to get strangled by a bra strap" as our rallying cry against regressive politicians, I would be delighted.
[Laughs] "Well you know what that's from? There was a thing that happened a couple years ago where Tyrese Gibson mistook me for Amber Rose (opens in new tab), Wiz Khalifa's ex."
Are you kidding?
"My middle name is Rose. I can't believe you've never read about this. I was on an email chain with him, and Tyrese pulled my email out and was like, "I want to do an album with you" because he thought I was Amber Rose. And he was very persistent about it, so then I just started making fake feminist raps for him, which he was really disgusted by, and that's one of them."
He was disgusted?
"He didn't think it makes for a very good club jam."
How did you decide to write a book about late child actresses?
"I had originally written this poem about Brittany Murphy [editor's note: see it below]. I never met her but in 2009 when she died, it really affected me in a way that a lot of other celebrity deaths didn't. I think it was because we were virtually the same age and I'd seen her at a lot of auditions and I mean, she was truly my peer. She also died during a year in which I was going through a lot of self-discovery, questioning whether or not I ever wanted to act again. When she died she was being sort of immortalized. And I really wanted to get to the root of her pain. I read in an autopsy report that she died crumpled up in the shower. I was urgently and desperately wanting truth and wanting to read or know about the things that I felt like I had experienced, which was just wanting to be seen as an actual person as opposed to an object."
"I gave it to Roxane Gay—she wrote Bad Feminist. I submitted that poem to Paste magazine, which she's the editor of. And if you're a poet you get rejected all the time, that's the way it is. But I probably get more rejected because people know who I am and you're like, 'Ugh, I'm not going to publish her'—regardless of if you read the work or not. But she accepted it in like one hour, and then she sent me a personal email. Roxane and two other very good poet friends, Rachel Mckibbens and Mindy Nettife, were the ones who sort of said, 'This is your next book. This is the book you need to write.' My first two books indirectly touched on child celebrity and what it was like to grow up and go through puberty in front of a camera and all of those things and they were very much encouraging of me to go full throttle. And so I did that, but then it also went much further than I ever intended. Ever."
The entertainment industry is your family business. Do you think it's better to grow up on the periphery of fame than to be plucked from complete obscurity like some child stars?
"Oh my God, you just said so many things that I disagree with."
I'm sorry!

"No—it's okay! It's okay and you wouldn't know. It's my cross to bear. First of all I grew up with a father who was not only retired by the time I started acting but no one knew who he was anymore, unless you knew about famous films from the 1950s. So this idea that I grew up in a famous family with like a famous actor dad and benefitted from sort of nepotism—not that you implied that, I'm telling you this is my experience talking to people—but my dad actually, after he was a huge star in like the 1950s and 60s, he quit acting to become an artist, and from that he met Dennis Hopper and Neil Young and Dean Stockwell and all those people. And he became an artist for 10 years and then around the time I was born he tried to get back into acting, and nobody knew who the hell he was. And it broke his heart. It broke his heart to the point where he retired because it was so painful for him.
This is an exact example of what celebrity does. I feel like fame is a really elusive beast, and it's really confusing and people who project it onto you and you projecting it onto yourself is a very confusing experience. I know I've always grappled with it and the parts of it that I'm not good at and that I've been mocked for many, many times. Like fashion stuff. I've had to learn how to be good at that. It was not something that came naturally to me and luckily had good friends like Blake Lively—I think she's taught me any kind of fashion sense that I have. I would always text her pictures of me. She's like a sister. Those are learned things for me. And all I ever wanted to do was act and write. But there's so much more that comes with that."
Is it true that you wrote a lot of this book at Tilda Swinton's house? That sounds so magical.
[Laughs] "I mean, whatever you're imagining, it was more so. She's a unicorn. You know she's not a real human being, right? She's a literal unicorn."
"I've known Tilda since we did a movie together in 2006 called Stephanie Daley, and it was a very intense shooting experience and we remained close. And her partner, Sandro Kopp, his art is in the book.
Tilda has been always supportive. Many people only want to support you based on your status in the business. 'Are you nominated for something? Are you on a hit show? Are you important? Are you not important?' And Tilda's not one of those people. So I've written many things there. It's way, way up in Northern Scotland. It's a beautiful home on a massive body of water. Everything you would imagine: fireplaces and she's a phenomenal cook. Friendships like that are to be cherished."
You've been quoted saying writing this book was akin to an exorcism. How so?
"I talk about it in the epilogue a lot about becoming severely obsessed with death and admiring death. Which was scaring me. I actually had to take a year off from writing it because of that, because it was very confusing to me and it was during a time when I was getting married and there was a lot of change happening and I had been acting since I was 11 years old. And I remember reading this interview with Winona Ryder in Interview magazine where she talks about how she never thought she could ask herself the question of whether she was allowed to stop acting. And it just like blew me away, because I felt the same way. Like this is just what you do. This is what you're known for, and not only that but you're not allowed to do anything else."
Were you depressed?
"I mean, that's not an easy answer. Like I can't say that it was simply that. I think I wanted to die, and when I say that to you, I don't want you to think literally. It was not a sense of suicide, there was a sense of needing a rebirth. A part of me desperately wanted change in a really fundamental, big way. I was scared that maybe I did want death as a literal fact. But in reality there was a part of me that felt helpless. These women had all died, and things had happened to them because either they were killed by stalkers or because they drank or did drugs 'til they died because they felt like they didn't matter. And all of us, whether or not you're an actor, has felt iterations of that. And so I guess what I meant in that interview was that yeah, the death that I had been seeking was truly just my way of having a rebirth, of shedding a skin. Of shedding an attitude that everything was happening to me and I wasn't happening to anything. That I couldn't affect any kind of change in my life."
What pulled you back into writing the book?
"A couple friends had said to me, 'Why don't you start another project?' I'm not that kind of person—I'm not a multi-tasker. I do well when I hone in on something. That's where I succeed. And I think it was that thought of like, I may never write a book again if I don't finish this. That's how serious it is, so I better get back to it."
Dark Sparkler (opens in new tab) is on bookshelves now.
You should also check out:
Blake Lively Makes Amber Tamblyn Godmother to Her New Baby (opens in new tab)
How an Ancient Poetry Tradition Gives Afghan Women a Voice (opens in new tab)
The Best (Modern) Poems for Any Stage of a Love Affair (opens in new tab)