Vanessa Hudgens: A Whole New World
She made her name as a wholesome, singing-and-dancing teen queen on a Disney high school musical stage set. But for Vanessa Hudgens, happily ever after means taking on riskier and more risqué roles — as she proves in this month's action movie Machete Kills. Don't miss all of the photos from our October cover shoot with Vanessa!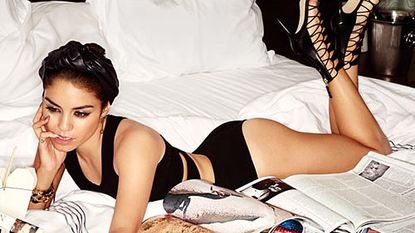 (Image credit: Marie Claire)
Marie Claire Newsletter
Celebrity news, beauty, fashion advice, and fascinating features, delivered straight to your inbox!
Thank you for signing up to Marie Claire. You will receive a verification email shortly.
There was a problem. Please refresh the page and try again.
Vanessa Hudgens is not checking her iPhone. She doesn't check e-mail when she goes away, and the longest she's gone off the grid is five days. "If you're always worried about being on your phone, then you really are missing out on everything that's happening in front of you," Hudgens says, leaning against the railing of a chartered yacht bouncing up and down over choppy water.
We are headed out to Nusa Lembongan, a small island southeast of Bali, Indonesia, so that the 24-year-old actress, here to watch the Oakley Pro Bali surf contest, can take surf lessons at a location ominously called "Lacerations Reef." She takes a seat on the front deck next to her boyfriend, 22-year-old actor Austin Butler (The Carrie Diaries), and serenely faces out, cross-legged, mesmerized by the expanse of crystal-blue ocean. "Nothing is real except the present. If you're worrying about the future, it's completely irrelevant because it hasn't happened yet. And the past — there's no need to dwell on that, either."
Her determination to focus on the positive is almost pathological. One of her favorite books is Eckhart Tolle's A New Earth, a spiritual guide on transcending ego. Hudgens gravitates toward self-improvement and self-help books and defines her spirituality as "perspective." (Raised Catholic, she was atheist for a time and now considers herself Christian.) A tattoo of the symbol for om, the ancient Hindu mantra representing the universe, is split between her pinkie fingers, and when she puts her hands together as if praying, it makes a whole. (She and friend Ashley Tisdale got inked together in New York; Hudgens also has a butterfly tattoo on the back of her neck.) She took a test once that revealed she is both an introvert and an extrovert. "I can be in a big crowd and get along, but I'm totally fine being by myself as well," she says. Butler confirms, "Yeah, she's in the middle, for sure. I'm more of an introvert."
"A sense of knowing I'm a part of something bigger than myself has allowed me to enjoy life more," she says thoughtfully. "And not worry about the little things." She pauses. "Like paparazzi." There is, in fact, very little that frustrates her. People who can't enjoy what life has given them or who don't move on can get to her, but she has to think for a while before coming up with something that actually bothers her. Finally, she says, "When people fight. That gives me really bad anxiety. When people can't resolve things, it really upsets me."
The boat has anchored and Hudgens' mood has shifted from contemplative to hyped up. "I'm on a bow-oat! I'm gonna sur-urf!" Her arms are up, palms facing the sky, and she repeats this chant in a singsong voice, her rhinestone belly-button ring — between a knotted T-shirt and cut-off jean shorts — swaying to and fro as she does a happy dance.
"She's not jaded at all," says Selena Gomez, Hudgens' close friend and costar in Harmony Korine's debauchery-fueled Spring Breakers, a massive departure from the wholesome Disney fare Hudgens built her career on as a musically gifted high schooler. "The person you see and talk to is the same person I talk to." While filming, the actresses were besieged by photographers. "She was very protective," Gomez recalls. "I was distracted, and she took me aside and talked to me about who I am and what I represent. I felt safer after that."
"She's very mature for her age," agrees John Cusack, who plays '80s serial killer Robert Hansen in the recent thriller The Frozen Ground, in which Hudgens' character, Cindy Paulson, escapes becoming another Hansen murder victim. "She was chained up and most of her clothes were off and [her char- acter] had just been raped," says Cusack, who was impressed at her willingness to be so vulnerable. "She wasn't concerned about her ability as an actress. She was just on top of it."
Her fearlessness on-screen is evident in the surf. She gracefully rides the waves like someone who's done it all her life. A few surfboards away, Butler calls out to her, "That was awesome!" She smiles widely at him and playfully sticks out her tongue. She catches 10 waves before paddling back to the boat. "This was the first time I got a total high from it!" she enthuses. "I wish I could surf all the time."
If Vanessa Anne Hudgens' life were a Disney movie, part one would be about the humble upbringing of a determined protagonist with parents who moved four times so that she could have the chance to do what she wanted. "My parents gave up so much," she says, during a post-surf lunch at a private villa overlooking the Badung Strait. Her Irish and Native American father, Greg, kept his firefighter job in San Diego, despite the family moving closer and closer to Los Angeles so that she could go on auditions. "He would keep driving back to the same place that he worked every time we moved. By the end, the commute was not fun." Her Filipina mother, Gina, gave up various jobs to accommodate the relocations. The family, which included younger sister Stella (now 18 and also an actress), worried about finances, and the girls' clothes were bought from thrift shops. "Money was a big thing. My parents drove me up to L.A., which cost a lot because of gas, and took out loans so that we could move from location to location to be close to L.A. The family definitely struggled." Her voice gets quiet. "They were very supportive of me. They gave up a lot so that I could get to where I am."
As a child, Hudgens thought being in front of an audience would help her overcome her shyness. Her first public performance was as Mary in a preschool play. "I sang 'Away in a Manger.' My parents saw that I had a knack for entertainment." They enrolled her in dance classes at age 4, and when she did her first community theater play at age 9, she felt she "was letting go, and that ignited an artistic aspect of myself." It was her idea to become an actress despite her parents' reservations. "It's tough," she says. "You don't want to see your child get hurt or hear someone tell your child she's not good enough. But I would say, 'If this role doesn't happen, the next thing that comes along will be even bigger and better.' You have to have that mentality."
The Second part of this V.H.-as-Disney movie would be about her landing the role of Gabriella Montez in Disney Channel's High School Musical at 16. This was followed by HSM 2 in 2007, the channel's highest-rated movie, with 17 million viewers; and HSM 3: Senior Year, which was released in theaters in 2008 and eventually grossed more than $250 million worldwide. The attention was "full-on in the beginning," she says. "I'm a private person. Nothing can prepare you for that." On a press tour in London, "there were so many fans flocking our car, it was rocking back and forth — like we were the Beatles or something. It was bananas."
When Hudgens began dating HSM costar Zac Efron, media attention went into overdrive. There was even a scandal in 2007, when nude pictures of Hudgens were leaked from her phone. More recently, she was spotted at Coachella indulging in a substance she insisted was white chocolate and not cocaine. "I couldn't do anything but laugh. It's amazing how people like to create something out of absolutely nothing," she says. "I am human like everyone else. I am aware that there are people who look up to me. When mistakes are made, they aren't intentional, and I constantly push myself to be a better person." The lessons learned are implicit in her attitude toward protecting herself. "It's one thing to have a chat with someone, it's another to have them know your deepest, darkest secrets. Just because people enjoy watching you in films doesn't mean they have to know everything about your entire life."
And just as she was at the peak of her fame, being offered roles that would secure her place in the pantheon of beloved singing-and-dancing heroines, the Disney movie abruptly ends. A considered decision to take chances drew Hudgens to edgier, less mainstream material. From 2009 to 2012, she played Mimi in Rent, directed by Neil Patrick Harris, at the Hollywood Bowl, and took parts in the movies Bandslam, Beastly, Sucker Punch, and Journey 2: Mysterious Island, biding her time until the right opportunity presented itself. "I love finding things that scare me and doing them," she says. "That's how you grow."
In the sequel to Hudgens' narrative, those opportunities came in roles as a sociopath (Spring Breakers), an unwed pregnant teenager (Gimme Shelter, in post-production), and a 17-year-old prostitute (The Frozen Ground). They might seem out of character, but these are the parts she's always wanted to play. "At maybe 14, I got my first guest-starring spot on a crime show [Robbery Homicide Division]. In it, my father got shot in front of me, and I was crying and freaking out," she says, eyes widening. "I loved it. I was like, 'I want to play the really heavy parts.' It's so far from who I am. There's complete freedom within it."
"She was so bold," says director Korine, who cast her in Spring Breakers. "It was hard to take my eyes off her. She was radical." Director Robert Rodriguez had a similar response, adding Hudgens as brothel worker Cereza to the cast (which includes Michelle Rodriguez, Jessica Alba, and Lady Gaga) of his action movie Machete Kills, out this month. "She's now on my go-to list," says Rodriguez. "It's really how someone affects you in a room. I knew that I could toss her the ball and she could pull off whatever I threw at her." Indeed, there isn't a trace of insecurity in Hudgens about these darker roles. "I'm so comfortable with myself — honing in on what I love and what makes me powerful," she says. "Things I've been doing lately, I'm super-proud of. So I don't really care if someone doesn't like it, because I love it."
It's late afternoon, and we're headed back to Bali. Something about being on the water brings out Hudgens' philosophical side. "You have a choice whether you want to be happy or not," she says. "I choose to be happy. And it's been working out pretty well. I mean, I'm here in Bali, sitting on a boat. Things can't get any better." Her eyes fixate on the horizon, and she is, fittingly, gazing ahead.
Pick up the October issue of Marie Claire when it hits newsstands on September 17.
Celebrity news, beauty, fashion advice, and fascinating features, delivered straight to your inbox!