Kim Kardashian Regrets Rebounding With Pete Davidson So Soon After Kanye West Split
"It got my mind away from stuff."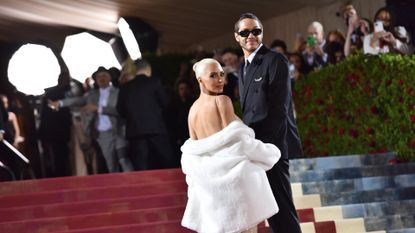 (Image credit: Sean Zanni/Getty)
Even Kim Kardashian has regrets. The reality show star recently admitted to sisters Kylie and Kendall Jenner that she "jumped into another relationship so fast" with Pete Davidson following her 2021 divorce from Kanye West.
During a recent episode of The Kardashians, Kim explained, "It got my mind away from stuff, and that's not a way to run from things. It's better to deal. Heal… Deal, heal, and then feel."
Kim and Kanye's split was difficult for both of them. The exes divorced in March 2022 after six years of marriage. The parents share four children: North, 10, Saint, 7, Chicago, 5, and Psalm, 4.
Despite Kanye's controversial outbursts, Kim doesn't want to look at their relationship "negatively." "I'm not going to take every experience and bad thing that happened to me and carry that into my life," she added. "What am I supposed to be learning from this? How is this going to make me a better person?"
During last week's episode, the Skims founder cried in front of sister Khloé Kardashian because of Kanye's actions.
"It sucks when someone doesn't see how different they are," she explained in a confessional. "I always will [keep looking for that person]. You'll always hope you'll see a glimpse of them, and I hope I do."
She continued, "It's really confusing for me, it's so different from the person that I married. That's who I loved and that's who I remember. I'll do anything to get that person back."
Celebrity news, beauty, fashion advice, and fascinating features, delivered straight to your inbox!
Paulina is the Weekend Editor at Cosmopolitan.com. When she isn't covering celeb and pop culture news, she can be found listening to Taylor Swift, watching a teen drama (One Tree Hill is her favorite), or perfecting her skincare routine.