Beyoncé Performs at the United Nations
Marie Claire was one of the lucky few to witness the fabulous Beyoncé's private performance at the United Nations last week.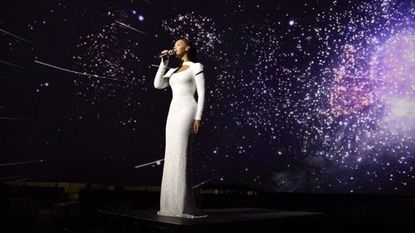 (Image credit: Cliff Watts)
Last Friday, Marie Claire's assistant fashion editor, Ashley Afriyie, got to experience the concert of a lifetime — a private performance by Beyoncé at the United Nations. Raising awareness for World Humanitarian Day (opens in new tab), the night was one that Afriyie won't soon forget. Read her rundown, here:
Marie Claire was among a few lucky members of the press who were invited to a private performance by Beyoncé. I got the chance to see the amazing Beyoncé give a stunning performance of "I Was Here" at the the United Nations. "Is this what happens at the U.N. every Friday night?" joked Anderson Cooper, who played host throughout the evening while interviewing humanitarians, such as Harvey Weinstein, Kenneth Cole, and Lauren Bush.
Beyoncé's performance was part of a campaign to bring global awareness to "World Humanitarian Day" on August 19. Dressed in a beautiful white sequined gown, Beyoncé had the entire audience in awe, including the very charismatic Cooper. The performance was taped as part of the new video off her album 4. The audience was included in the video, too. That's right — I am in Beyoncé's new music video, though sadly you won't get to see any of my amazing dance skills!
The event was a very moving and eye-opening experience, giving us, the audience, a chance to really appreciate those who have sacrificed their lives to help others. With the closing remarks, we were reminded again of how we can help bring awareness to this global campaign. Please visit whd-iwashere.org (opens in new tab) to see how you can help those less fortunate in your community.