America Ferrera Has Either the Best or the Worst Date Movie for You
You'll see what we mean.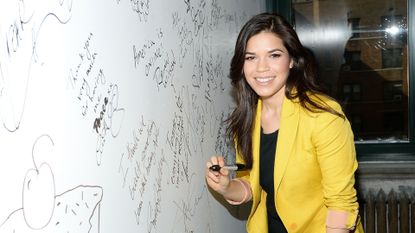 (Image credit: Getty Images)
Marie Claire Newsletter
Celebrity news, beauty, fashion advice, and fascinating features, delivered straight to your inbox!
Thank you for signing up to Marie Claire. You will receive a verification email shortly.
There was a problem. Please refresh the page and try again.
On screen, they fight, cheat, and make each other cry while chugging some sympathetic booze—but in real life, America Ferrera and her husband Ryan Piers Williams (happily) made a movie that totally gets you: X/Y. The kind of movie in which you wholly understand every single character on screen because you already know them, or have already made their mistakes, in real life.
The indie drama centers on four twentysomething New Yorkers, starring Ferrera and Williams (who also wrote and directed the film) as a miserably unhappy couple that you still sort of hope will make it in the end. In real life, spoiler alert, they do. We talked to Ferrera about finding intimacy, figuring out how to communicate, and watching X/Y on a date.
Marie Claire: I expected X/Y to be only about romantic relationships—but it hits on our friendships, too.

America Ferrera: "Yeah, at its core, it's about connection and relationships, and how and where we find the ones that are meaningful and lasting. These are four young New Yorkers in a time when things are increasingly faster paced and we make more connections that aren't necessarily deep or meaningful. That's a thread that ties all four stories together: loneliness."
All of the characters are constantly talking or yelling or texting, but no one is actually, really communicating—what does that say about how we communicate in real life?

"The key to all relationships is communication but the whole definition of communication has changed so much, so quickly. All relationships, whether they're romantic, or familial, or personal, require work and they all require time and vulnerability and they all have ups and downs. We have more distractions than ever before from ever having to do the real work of being in a relationship. We 'share' so much about ourselves but we don't really share the stuff that creates intimacy. Sex plays a big part in this movie too, but most of the sex in this film is distracting from intimacy. These are what these characters are simultaneously yearning for and running from, and distracting themselves from—and that may just be intimacy with oneself. To sit for a moment in your own feelings. And learning to not find the next distraction. What's the next thing that will keep me from having to feel the things that I don't want to feel?"
Tell us about working with your husband Ryan Piers Williams!

"We really, really enjoy working together. It works for us. Whether we're working in an official or unofficial capacity, we're partners, creatively, and we're always running things by each other and that's just kind of inherent in our relationship. Making movies is hard no matter who you're making movies with, but doing it with your partner presents so many challenges but it also presents an opportunity to be supported by the person who knows you."
Do you think the film is optimistic?

"I do! Because victories in life are extremely small and extremely personal, and extremely uneventful to the outside world. When we make different choices in the moment to be the person we want to be when no one is watching—those are the biggest victories. And you watch every single one of these characters come to that place where they get to the opportunity to make a different choice and whether that's just sitting in the moment and not finding the next distraction, or showing up and actually listening to a friend or a partner, just being with what is, being with your feelings, being with discomfort, being with what's between you and another person, that's the hardest thing for all these characters to do. Ultimately, they each get there in their way and that is hopeful because we all have the power to make a difference. To make ourselves feel a little less disconnected to one another."
But is it a good date movie?

"I don't know if it's a good date movie! It would definitely spawn conversation. That's the hope, ultimately, that it strikes a chord and sparks conversation about the experience of being in a relationship, whether that's with a girlfriend or, you know, the unique experience of male relationships. Because there are such stigmas and stereotypes about how men are meant to interact with one another, and the feelings men get to have for each other, and the way they get to express those things. Male relationships in this movie definitely strike a chord in that conversation about what's allowable, what's acceptable. Because ultimately, people want labels, right? Well, what does that mean? Are you boyfriend and girlfriend? Are you gay? Are you straight? I think the film manages to make those questions unimportant. Because ultimately it's about connection and feeling intimacy with someone."
You should also check out:
This Is the Weirdest and Most Amazing Movie Kristen Wiig Has Ever Done
Gillian Flynn's 'Dark Places' Looks Just as Twisty and Heart-Pounding as 'Gone Girl'
Cara Delevingne Shows Off More Acting Chops in the Trailer for This Amanda Knox-Inspired Movie
Celebrity news, beauty, fashion advice, and fascinating features, delivered straight to your inbox!
As deputy editor, Jen oversees Cosmopolitan's daily digital editorial operations, editing and writing features, essays, news, and other content, in addition to editing the magazine's cover stories, astrology pages, and more. Previously, Jen was a senior editor at Marie Claire. Before that, she worked at GQ.