You Will Never Be as Successful as Karl Lagerfeld's Cat
Choupette makes $4 million a year. Happy Monday!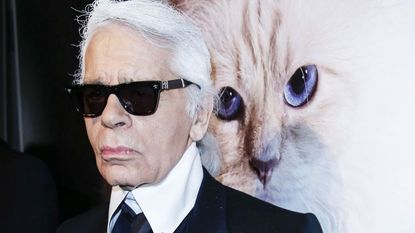 (Image credit: Getty Images)
In life, it's important to acknowledge that some people will always be more successful than we are. Beyoncé is one of them. Sheryl Sandberg is another. And somewhere on that list, perhaps most depressingly, is Choupette, Karl Lagerfeld's uber-bourgeoise cat.
Choupette Lagerfeld, as she is officially known to the peasant masses, already has two maids who serve her every feline wish, not to mention an Instagram account with a legion of adoring fans over 58,000 strong.
But this is no stay-at-home kitten; Choupette is a savvy and independent business-cat. As Lagerfeld recently told The Cut, she made 3 million euro (roughly 4 million American dollars) last year alone by modeling for a Vauxhall Corsa car calendar and for cosmetics brand Shu Uemura.
And she has standards to match. Lagerfeld said he won't let her debase herself by starring in something as basic as a cat food commercial because she's "too sophisticated for that."
Of course, like many icy fashion icons, she "hates children and other animals," and needs to be catered to 24/7.
"She is the center of the world. If you saw her, you would understand. She is kind of Greta Garbo. There is something unforgettable about her, the way she moves, the way she plays. She's an inspiration for elegance. For attitude." Fancy, non?
You should also check out:
Chanel Creates a Full-On French Brasserie for Their Fashion Show, Continues to Be the Coolest
Cara Delevingne and Pharrell Sang Together at the Chanel Show
My writing has regularly appeared in The New York Times, The Paris Review, Salon, VICE, Guernica, The New York Observer, BuzzFeed, Cosmopolitan, Seventeen, Esquire, Elle, Harper's Bazaar, and many more publications.

I was previously the Senior News Editor at Best Life Online and the Viral Content Editor in the Newsroom of Hearst Digital Media. My portfolio consists of a vast and diverse body of work that includes personal essays, lifestyle articles, breaking news posts, and viral content. My areas of expertise, however, are Russia, sex and relationships, and mental wellness.