Don't Worry Guys, Nicki Minaj and Taylor Swift Are Cool Again
Race, feminism, twitter feuds—it's been a big week.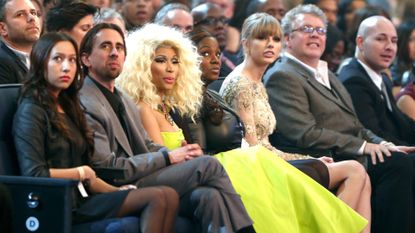 (Image credit: Getty Images)
Marie Claire Newsletter
Celebrity news, beauty, fashion advice, and fascinating features, delivered straight to your inbox!
Thank you for signing up to Marie Claire. You will receive a verification email shortly.
There was a problem. Please refresh the page and try again.
Update, 7/24: Taylor Swift graciously apologized, then Nicki Minaj graciously accepted. After that, they joked about it like two peas in a pod, says Nicki Minaj.
"I'm sure we can [collaborate in the future]," Minaj said during her appearance today on Good Morning America. "You know why? Because it takes a big person to do what Taylor did. Everyone sometimes speaks out of turn. I've been there. Sometimes we do things and we don't think right away. We don't investigate and then we just talk. It was big of her to come out and say that. So yes, we spoke for a long time. We were cracking up laughing on the phone. It's over, you guys."
And thus, Friday, July 24 went down in history as Swift-Minaj Armistice Day.
Update, 7/23: A few days ago, Nicki Minaj took to Twitter to air her grievances about the MTV VMA nominations. She made smart, searing points about the racial imbalance in the music industry—a video like hers ("Anaconda" is unabashedly graphic, sexual, and fun—and as a result it was all anyone talked about for weeks) was destined to be dismissed as something silly simply because she's black, while similar videos by other artists are taken seriously enough to get award nominations.
One of those other artists, Taylor Swift, jumped in to respond, defending herself against what she perceived as an attack, and at the same time claiming that Minaj was pitting women against other women. (See the chain of tweets below).
It's resulted in a fascinating few days on the internet. Swift's reaction only served to amplify Minaj's point—by turning Minaj's valid racial argument into a pseudo-feminist one, she ignited a maelstrom of conversation online about what the real issues are.
And, today, she wanted to apologize. In a tweet addressed to Minaj, Swift spoke out:
And Minaj responded in kind:
That means so much Taylor, thank you. @taylorswift13 ❤️❤️❤️July 23, 2015
See more
I've always loved her. Everyone makes mistakes. She gained so much more respect from me. Let's move on. https://t.co/mx9pfIdnzTJuly 23, 2015
See more
In a way, we hope this isn't the end of the story. There's a lot more to be said about race in music, and Minaj has sparked what we hope becomes a bigger conversation. And, eventually, change.
Original story, 7/21: The MTV VMA nominations were announced today, and Nicki Minaj is—very publicly—taking issue with how they shook out.
"Anaconda" was not nominated, despite being a cultural sensation. Minaj felt she was being swept under the rug, and largely for racial reasons:
When the "other" girls drop a video that breaks records and impacts culture they get that nomination. 😊😊😊😊😊😊😊😊😊😊😊😊😊😊😊😊😊😊😊😊😊😊😊😊😊😊😊😊😊😊😊😊😊😊😊😊😊😊July 21, 2015
See more
If your video celebrates women with very slim bodies, you will be nominated for vid of the year 😊😊😊😊😊😊😊😊😊😊😊😊😊July 21, 2015
See more
Oh but trust me. I'll be on that stage to collect my awards for vid of the year. Feeling Myself & Anaconda. 😊😊😊😊😊😊😊😊😊😊😊😊😊😊😊😊😊😊😊😊😊😊😊😊😊😊😊😊😊😊😊😊July 21, 2015
See more
I'm not always confident. Just tired. Black women influence pop culture so much but are rarely rewarded for it. https://t.co/2xOvJzBXJXJuly 21, 2015
See more
Taylor Swift, who was nominated for video of the year for "Bad Blood," took the "slim" thing to heart—and shot back:
Huh? U must not be reading my tweets. Didn't say a word about u. I love u just as much. But u should speak on this. @taylorswift13July 21, 2015
See more
@taylorswift13 I'm still confused as to why u just tweeted me when I made it abundantly clear... pic.twitter.com/A5kJyi6fQCJuly 21, 2015
See more
And then Taylor extends the olive branch:
So maybe Nicki will join her squad, and then maybe *we* can join her squad, and we can all be one big happy family?
Celebrity news, beauty, fashion advice, and fascinating features, delivered straight to your inbox!
As the editor of Cosmopolitan, Jess oversees the editorial for all of Cosmo's efforts across print, digital, video, and emerging platforms. Previously she served as the digital director of Marie Claire, where she tripled the readership, and she's held print and hybrid posts at Glamour and Teen Vogue. In 2013 she launched an interactive e-commerce platform for a fashion-tech startup, and in a former life she was a ballet dancer and NYU film student. She lives in Manhattan with her scruffy dog George.