'Black-ish' Star Tracee Ellis Ross Is Redefining What a Smart, Beautiful, Successful Working Woman Really Looks Like on TV
*Finally*.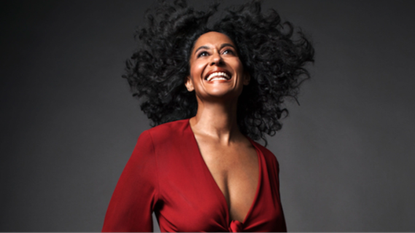 (Image credit: Future)
On TV these days, working moms are in startlingly short supply—one more reason why Black-ish, ABC's sitcom about an upper-middle-class black family, is easily one of the most important (and funny!) shows on the small screen today, tackling not just all-too-relevant conversations about race, but also about feminism, class, and careers. We caught up with Tracee Ellis Ross, whose take on matriarch and physician Rainbow "Bow" Johnson, with its shades of modern-day Lucille Ball, earned her her very first Emmy nod this year.
Marie Claire: Your mother is music legend Diana Ross. Did growing up around that kind of stardom inform your career choices?
Tracee Ellis Ross: I don't know that the stereotypical idea of what it is to be a child of somebody hugely famous necessarily comes into play in my life. My mom didn't adhere to any of those typical rules. She woke us up for school every morning, and was there at dinner or would call at bedtime. She never left for longer than a week. She recorded while we were sleeping. I never heard my mom say, "Not now, I'm busy." But I did have extraordinary experiences that I'm very aware were extraordinary. I mean, I traveled Europe before I was 12 years old, had been to the White House numerous times. Andy Warhol photographed me; Michael Jackson called our house. My mom would leave her job, and there would be throngs of people screaming and banging on our car. I come from a very private family, but I was born into a public family.
MC: Did you always want to be an actress?
TER: Throughout high school, I was obsessed with magazines. I used to just comb through them and plaster things on my wall. The clothing, the makeup, the freedom of expression in [the models'] bodies. It was Linda and Christy and Naomi at the time. So I modeled before college. My mom helped me. I was very shy growing up, but my shyness sort of manifested in a big personality. It would drive the photographers crazy because I would giggle and tell jokes. I was gregarious, and looking back, I realize I had a captive audience. One of the photographers was like, "Can you stop talking and try to look sexy for a minute?"
MC: How did you transition to acting?
TER: Sometime in my second year at Brown [University], I took an acting class. And the lightbulb went off for me. I fell in love with it. I realized that everything I was afraid of about myself, all my fears, could be used in that world. And it was exciting to me. And scary. After college, I shot a pilot for a show on Lifetime, which was basically House of Style for a TV lover. I think I got paid $1,500, and I was like, "Mom, I'm moving out! I made it!" I did two seasons of that, but I felt like a talking head and wanted to do more. Then I was cast in a movie [originally] called Mr. Spreckman's Boat, starring Marcia Gay Harden and Jennifer Connelly. I felt like an "actress." Both of them have won Oscars—maybe that means I might one day.
MC: A lot of your fans on Black-ish may not realize that you're a veteran of TV—you played the lead role on Girlfriends, a comedy that ran on UPN and The CW for eight seasons.
TER: I have logged a lot of hours. I am seasoned. We did over 170 half-hour episodes on Girlfriends. Was I the actor that I am today in Mr. Spreckman's Boat? Fuck, no! I didn't know what I was doing! I was still learning how to bring the me out! I was in my early 20s. I was recently watching Rihanna on the Billboard awards, and I was like, My God, she's incredible! And then I looked up her age [28]. She's always been talented. She's always been a star. But when you see her, she's becoming herself. It's age that happens. That's what I respond to.
MC: How did you land the role of Bow on Black-ish?
TER:[Black-ish creator] Kenya Bariss wrote on Girlfriends. We've been friendly since then. He sent me [the pilot] and said, "I wrote it for you." But I know what that means in this industry.
MC: You doubted him?
TER: I doubted it, and I'll tell you why. Because it doesn't matter if a writer wrote it for you. He could've written it with you in mind. But TV is a collaborative art. It involves producers, networks, studios, and many people signing off on you. And a lot of times there are deals in place—actors with studios that they're looking for shows for. You might be someone's favorite, but you might not be someone else's favorite. I will tell you that there was a [casting notice] that said "Tracee Ellis Ross type," but [the producers] didn't want to see me. I've been in this industry long enough to know that even if someone wants to promise me something, it doesn't mean that it's going to happen. There are so many things at play. But it was flattering and exciting.
MC: Did you know that this was an "important" show, so to speak? That it broke with a lot of TV conventions?
TER: I felt like it was a courageous show from the beginning. We are a black family—we're not a family that happens to be black. But the show is not even about us being black. The show is about us being a family. That is groundbreaking—on TV, the black characters either happen to be black or they're the "black character," where everything they say is about being black. I think that's the genius. And I was drawn to exploring the idea of being mixed [race]. Somehow [Kenya] has figured out how to explore these very weighty, sticky, sharp topics, and still be funny and not make fun of the topic.
MC: Bow is a very modern character—a working mom with a busy career, surprisingly rare for TV in 2016!
TER: The two things that I thought were really interesting about this character for me were that she actually loved her husband, and he loved her. The comedy was not coming from the fact that they hated each other. Which is what television couples are usually based on. Also, this woman was not simply a reflection of who her husband was. She was her own whole self. And even if we weren't exploring life through her eyes, when we did see her it was clear that she had a full life.
MC: Even her look is interesting and realistic. We see her in hospital scrubs; her hair is up when she's working.
TER: I wanted her hair and makeup and clothing to look like a woman who has four children, a career, and a full life. For example, she won't wear eyeshadow unless she's going out. Because it takes a lot of time to put eyeshadow on. She's a woman who has style, but it's all about functionality—she grabs stuff from her closet. Even her lipstick is a conscious choice. It's easy to put on, and it stays on. That's something that she would have time to do. Putting on mascara takes a long time.
MC: You're outspoken on issues of beauty, for all women, but specifically for women of color. Why is that important to you?
TER: Someone asked me recently, "Do you get sick of people asking you about your hair?" And the reason I don't is because I actually feel like you could chronicle my journey of self-acceptance through my journey with my hair. It's a badge of something bigger. Why am I beating my hair up? Because I want it to look like something that it isn't? These are questions that I've been pondering my whole life. I've always been a curious thinker. And now, as an adult, I can articulate it. I like to choose compassion over judgment and curiosity over fear. I think our culture promotes fear and shame. My generation is one of the first generations of "choiceful" women—women who have actually had the choice of how they architect their lives—and I don't think shame should have any place in that. But as that generation, you get cuts and bruises.
MC: Not many actresses are as outspoken as you are about beauty and self-esteem.
TER: Getting to a place where I am comfortable saying things was hard-earned for me. I've chewed on the ground glass of my own experience. I saw Gloria Steinem speak, and I was just like, Shut the front door. She was saying that she didn't come into her own until her 40s, and she was asking herself the question, Why should she have to get married? And I just thank God someone asked that question, right? I think we're the first generation of women asking ourselves certain questions and deciding for ourselves. Do you know how long it takes to find a good pair of jeans? Do you know how many stores you have to go to, to buy a pair of fuckin' jeans? You might shop for months and not get a good pair you like. But you think it's easy to find a husband? We shouldn't be shaming women who haven't found their match. We should say, "Honey, you haven't found him yet? [You have] adventures ahead of you." Why can't it be framed that way?
This article appears in the October issue of Marie Claire, on newsstands September 20.
Celebrity news, beauty, fashion advice, and fascinating features, delivered straight to your inbox!