'Scream Queens' Actress Keke Palmer Shares Your Astrology Addiction
Let her explain.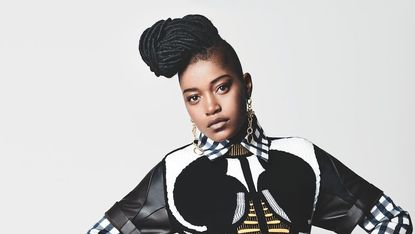 (Image credit: Daemian Smith + Christine Suarez)
The 23-year-old performer has no time for nonsense on Scream Queens. (Catch season two now!) IRL, well, her head is in the stars.
I Saw the Sign: My rising sign (which is what you present to the world) is Cancer, my sun sign (who you're supposed to grow into) is Virgo, and my moon sign (the sign that really knows you) is Sagittarius. All of my signs make a lot of sense. Cancer rising is on-point because I'm close to my home, very sensitive, in tune with my family. My sun sign comes into the forefront in terms of my career; I take on Virgo traits when going after what I want. I can be a stickler. But because of my moon sign, I'm not as serious as some Virgos. It adds a bit of frenetic energy into all of that.
Off the Charts: I love that astrology—I did my birth chart on the site alabe.com—is just another way to figure myself out. And there are some things I buy and others I don't, but it's fun nonetheless.
Star-Crossed Lovers: Supposedly, I'm most compatible with Capricorns. But Capricorns have brought me through some shit, I tell you!
Horror-Scopes: I'm not crazy about horoscopes. This is the thing: Everything is your choice in life. You choose the end game. People assume if you're into astrology, you'd also be into, like, getting your palm read or your future told. I'm not interested in any of that stuff. I have control of my future.
Sun Screen: My Scream Queens character, Zayday Williams, might be a Libra. She's balanced. She speaks her mind in a direct, but not necessarily insensitive, way. She's very fashionable. Those are all specific traits to Libras. Libras never get too crazy. Zayday keeps the balance.
Come Here Often? Has anyone ever used the pickup line "What's your sign?" on me? Oh, shit, I've used it! That's my opening line everywhere I go.
Follow her: @KekePalmer
Fashion editor: Alicia Lombardini. This article appears in the October issue of Marie Claire, on newsstands September 20.
Marie Claire email subscribers get intel on fashion and beauty trends, hot-off-the-press celebrity news, and more. Sign up here.
As deputy editor, Jen oversees Cosmopolitan's daily digital editorial operations, editing and writing features, essays, news, and other content, in addition to editing the magazine's cover stories, astrology pages, and more. Previously, Jen was a senior editor at Marie Claire. Before that, she worked at GQ.