Kylie Jenner Did a Snapchat Q&A and It Was Actually Pretty Interesting
This is what Kylie does when her friends cancel their plans.
There's a reason why Kylie Jenner is the Queen King of Snapchat. The reality star turned cosmetics mogul has a knack for connecting with her fans in real time and giving them a peek inside her life through the snippets she shares on the app.
On Saturday evening, Kylie's night suddenly freed up after friends cancelled on her, which she joked about with a pretty great meme:
So Kylie decided to hang with her Snapchat squad instead, inviting everyone to send her questions for a little 'ask me anything' session.
Here's what we learned from her impromptu Q&A:
1. Her Halloween costume for this year is all planned out.
2. Her first phone was a white LG Chocolate.
3. She is TERRIBLE at doing accents.
4. She loves to eat pomegranate seeds.
5. She does want to have kids... someday.
6. Her high school nickname was 'Candy'.
Which was the inspiration for her Candy K lip kit.
7. She changed her Kyshadow palette six times before she was finally satisfied.
And this was after it had already gone into production.
8. She had been preparing to go blonde for a year.
9. But going platinum was a total accident.
10. She thinks the memes of her and her family are funny.
11. She's a very vocal person—but only in her private life.
12. Sometimes she wants to go off on all the tabloids that post false rumors about her.
But media gossip is not worth her time or energy.
13. Her first dog, Norman, was a Christmas gift from Tyga.
14. Kendall named her dog Bambi—and she hates it.
15. Her new puppy Penny has trouble jumping down from things and it's adorable.
Couches and stairs are scary.
16. And yes, she picks up her dogs' poop herself.
Night, Kylie! Thanks for hangin' out.
Follow Marie Claire on Facebook for the latest celeb news, beauty tips, fascinating reads, livestream video, and more.
Celebrity news, beauty, fashion advice, and fascinating features, delivered straight to your inbox!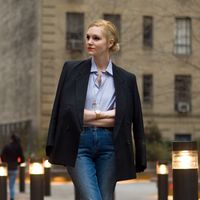 I am an experienced editor, writer, and creative strategist, specializing in fashion, beauty, and lifestyle content for digital media outlets, as well as video and social platforms. While I currently operate as a freelance contributor/consultant, with such clients as The Zoe Report, my 10+-year background in the industry was cultivated at the dot-coms of elite publications, including Harper's BAZAAR, ELLE, and Marie Claire.