Chris Pratt Is on a Strict Diet and It's Making Him Go Insane, Naturally
The chronicles of "What's My Snack" are both hilarious and relatable.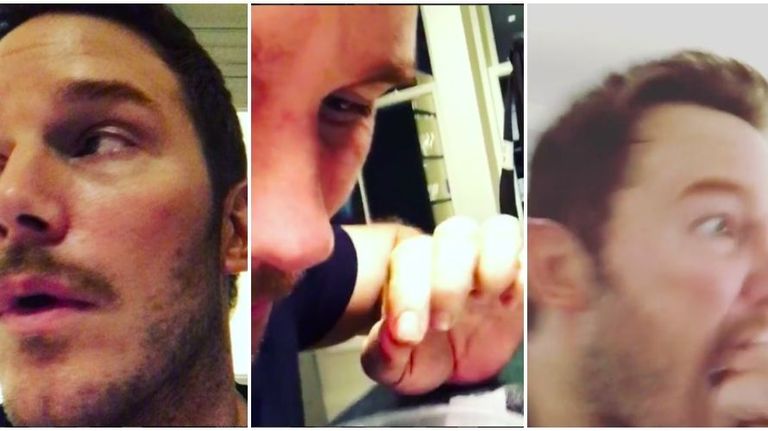 (Image credit: Archives)
He's brought us pranks on Jennifer Lawrence (opens in new tab) and adorable red carpet moments (opens in new tab) with his wife Anna Faris, and now Chris Pratt is gifting the world a delightful Instagram series called "What's My Snack?"
Pratt is currently sticking to a pretty strict diet for his upcoming role in Jurassic World 2—but that doesn't mean he likes it. Below, an outline of Chris Pratt's snacks, and Chris Pratt's feelings about said snacks. Enjoy.
Snack 1: Cacao Baobab Banana Chia Shake.
Subject eyes his new food tentatively, but with excitement. Energy levels seem high.
Snack 2: Sashimi with Seaweed Salad.
Subject reacts to appetizer portion of food with great enthusiasm. The hunger, however, is becoming visible in his eyes.
Snack 3: Tomorrow's Olive Oil Pistachio Cake.
At 10:53 p.m., subject begins to break. Whimpering, he tries and fails to eat a snack that is reserved for the following day.
Snack 4: A Makeup Apple.
Subject is tired and embarrassed for giving into his weakness. He devours an apple, promising "not be all weird about it." Subject is very weird about it. Subject is losing his sh*t.
Final episode of #WhatsMySnack ends with a self-portrait posted by subject:
BE STRONG, CHRIS. WE KNOW IT'S HARD BUT THINK OF THE ABS!
And you need those pecs for fighting dinosaurs and then carrying Bryce Howard Dallas into your bungalow!
You got this.
Follow Marie Claire on F (opens in new tab)acebook (opens in new tab) for the latest celeb news, beauty tips, fascinating reads, livestream video, and more.