Celebrity Feuds Aren't Anti-Feminist, and Neither Is Obsessing Over Them
No one ever tells men to "support each other" more.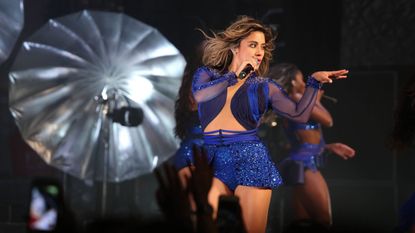 (Image credit: Getty Images)
Marie Claire Newsletter
Celebrity news, beauty, fashion advice, and fascinating features, delivered straight to your inbox!
Thank you for signing up to Marie Claire. You will receive a verification email shortly.
There was a problem. Please refresh the page and try again.
This week, Fifth Harmony will release a self-titled album. It's a big deal because this is the first time the girl group have co-written their own songs. It's a bigger deal because this is the first album they've dropped since founding member Camila Cabello left—at which point they became embroiled in a truly spectacular pop-culture feud.
Word has it that Cabello exited Fifth Harmony mere hours after a performance, while the group itself claim they learned she'd left via her reps. "We're all artists—we're not here for stupid back-and-forth drama," Lauren Jauregui said in a recent interview. "We said our piece, it's in the past and we're moving forward, that's the narrative we want to give."
The thing is, that's not necessarily the narrative that the band—or Camila—have been sticking to. Remember when the group maintained that they were "happy" without her after she unfollowed them on Instagram? The two sides have been laying the foundation for a feud for months—and there's nothing wrong with that. Feuding isn't unfounded, and it isn't anti-feminist. And neither is "living for" your feuding faves.
At some point, the misplaced belief that being feminist means "supporting" all women took hold of pop culture. We can arguably chalk it up to celebrity influence, and trace its circa 2016-17 origins to Taylor Swift. After launching a career with songs that framed certain women (ahem, Katy Perry) as villains, Swift began publicly subscribing to a #squad-centric rhetoric and used her own female friendships as proof of her feminist ideals. It was a genius move, and made her brand of digestible non-political feminism easily sellable: To be a feminist meant to embrace all women, and to feud with one distracted from The Cause—even if Swift's own feud with Katy Perry continued smoldering.
It's easy to forget that when welcoming the likes of Joan Baez to the stage, Swift was also performing anthems like "Bad Blood," a song written about her ongoing feud with Perry, which was answered with this year's "Swish Swish." Both singles are the culmination of five full years of shade, and—despite Perry recently going on-record about wanting to end the feud—Swift's relative silence continues. The feuding festers.
RELATED STORY
The thing is, to feud is to be human. And while it'd be great for all women to get along, it's also an impossible, unrealistic, and offensive ask—especially since it's one we don't ask of men. Yes, we've seen feuds between pop stars like Zayn Malik and Louis Tomlinson, between Justin Bieber and The Weeknd, and between Drake and Meek Mill. And yes, they're reported on and dug into in a general sense—but we don't tend to actively urge peace between parties, nor do we use animosity as interview fuel. With the rare exception, men are asked about their careers, while feuding female pop stars either have fuel poured on their feud fire, or are labeled anti-feminist for engaging in feuds altogether.
I'm not sure how trying to avoid answering probing questions meant to start drama b/w women is being "diva"..but thanks for the support😘 https://t.co/rSt9LM40aMAugust 16, 2017
See more
Again, fighting with and disliking another woman isn't anti-feminist, it's being alive. Animosity doesn't discriminate based on gender, so to force women to get along with each other isn't just offensive—it's actually anti-feminist. By the same note, loving a feud as a consumer of pop culture doesn't make you a bad person. You're simply being entertained.
Why shouldn't women have the chance to engage their enemies? Or in the case of Katy Perry and Taylor Swift, why shouldn't they have the opportunity to draw their drama out for literal years in an attempt to add complexity to their public personas? And why shouldn't fans have a chance to revel in that pop culture moment?
Of course, if Fifth Harmony wants to opt out of a feud-centric narrative, that's their prerogative. And if Cabello wants to do the same, that's also her call. Because the thing about feuds is that we—as non-participants—don't get to dictate the terms of them. Nor do we get to label them anti-feminist if they don't line up with the notion that all famous women must be friends. But we do get to obsess over them. On that note: *grabs popcorn, watches "Bad Blood"*
Follow Marie Claire on Facebook for the latest celeb news, beauty tips, fascinating reads, livestream video, and more.
Celebrity news, beauty, fashion advice, and fascinating features, delivered straight to your inbox!
Anne T Donahue is a writer and person originally from Cambridge, Ontario, and is the author of the essay collection, Nobody Cares.