10 Things You Didn't Know About Blake Lively
She'll always be Serena van der Woodsen to us.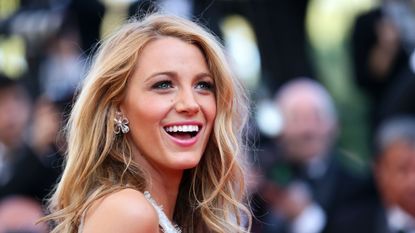 (Image credit: Archives)
The red-hot actress may be known for turning heads in couture and never leaving home without her adorable pooch, Penny, but we've channeled our inner Gossip Girl and dug up ten extra-juicy facts about MC's July cover girl. XOXO.
1. She likes to eat cookies, ahem, for breakfast. Her favorites come from Southampton-based Tate's Bake Shop.
2. Move over, Tim Gunn! Blake is hooked on Project Runway, and wants to advise future contestants. Just picture her exclaiming, "Make it work!"
3. She has varying styles dedicated to different parts of the world. "I'll have ostrich feather skirts that I'll wear only when I'm in Paris," Blake explains. "Or high-waisted beaded shorts, that are mint green, that I would never wear in New York City."
4. Her favorite French phrase is "ou le vent me port," which translates to "wherever the wind takes me."
5. During breaks on the Gossip Girl set, she whips out her iPad and peruses boards on Pinterest. A recent favorite find is this watermelon porcupine.
6. A Blake Lively fashion line could be on the horizon, and she'd actually design it herself. "I have such respect for [fashion] that I don't just want to hire someone to do a line and put my name on it," she says.
7. Like everyone else, she has embarrassing high school photos. "I just saw my homecoming photo, and I thought, 'That is the worst thing I've ever seen in my life,'" admits Blake.
8. Adventurous and independent, Blake has ventured on a South African Safari solo.
9. Her enviable fashion isn't just reserved for the red carpet. "I'll literally be home alone and put on a pair of Louboutins, and just cook a yummy meal," Blake confesses.
10. If she weren't famous, Blake would actually skip through Disneyland, sans her disguise hat. When she visits the amusement park, she claims to be like a "dog with his tongue out the window."
This article originally appeared in the July 2012 issue of Marie Claire.