Tina Fey and Amy Poehler's Best Globes One-Liners
The co-hosts brought their comedic A-game to the awards show, and we're all the better for it.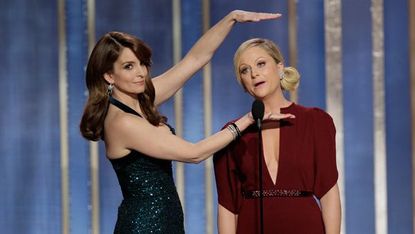 (Image credit: Archives)
We knew there was reason to be excited to watch Tina Fey and Amy Poehler co-host the Golden Globe Awards last night. It was the first time two women shared the hosting gig, and after their amazing opening and oddball moments throughout the three-hour ceremony, we don't want to go back to just some suit anytime soon. Below, the five spit-take-worthy zingers from our favorite funny ladies:
"When it comes to torture, I trust the lady who was married for three years to James Cameron."
— when introducing Zero Dark Thirty director Kathryn Bigelow
"You gave a stunning performance in Les Miserables. I have not seen someone so totally alone and abandoned like that since you were on stage with James Franco at the Oscars."
— when introducing former Academy Awards host Anne Hathaway
"That was Hillary Clinton's husband!"
— after former President Bill Clinton made a surprise appearance to present the nominated film, Lincoln
"Congratulations, Lena. I'm glad we got you through middle school."
— after Girls creator and star Lena Dunham thanked them in her acceptance speech
"You know what, Taylor Swift, you stay away from Michael J. Fox's son."
— after a break, referring to Sam Michael Fox, who served as the evening's Mr. Golden Globe
Seth MacFarlane, consider yourself warned: You better bring your A-game to the Oscars. This duo is officially the toughest awards show act to follow.