Exclusive: Q&A with "It" Model Ieva Laguna
Our Associate Market Editor, Jessica Minkoff, sat down with the "it" model to discuss her career highlights, fashion inspirations, and her favorite item in her closet.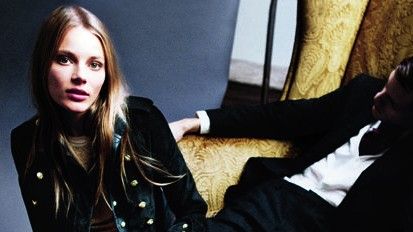 (Image credit: Marie Claire)
Ieva Laguna is one of those models who, once you start recognizing her face, you see absolutely everywhere, and for good reason. The 22-year-old Latvian beauty, who has been in the modeling business since 2007, has been featured on the cover of five hugely successful international fashion magazines (including Marie Claire Italy!), walked in shows of nearly every major designer, and participated in the Victoria's Secret Fashion Show for the last two years. And now, she's featured in our May issue. Our Associate Market Editor, Jessica Minkoff, sat down with the "it" model to discuss her career highlights, fashion inspirations, and her favorite item in her closet.
MC: Let's start with the basics! How were you discovered?
IL: I was 17 and I had just come from a holiday in Greece. I was at a concert for MTV with my friend and my agent came up to me. He asked if I wanted to be a model. I never thought about modeling, because I was a complete nerd and a tomboy. I told him no, that I wanted to be a doctor. He asked me if he could have my mother's number and he kept calling her and calling her. She suggested that I go to a few appointments while in Germany — I was going there to be a doctor. I did my first few jobs there and I really liked it. I liked the traveling.
MC: What was your first runway show?
IL: I did 60 shows in London my first season. The first show was Burberry, then I opened Stella McCartney. I love her — not only as a designer, but the way she is with her kids. You can really be yourself around her and the show has such a good vibe.
MC: What about your first editorial?
IL: It was in Latvia for the cover of a Latvian magazine.
MC: What is your most memorable modeling moment?
IL: Walking in the Victoria's Secret show! The second time was great, but the first time was something I will never forget. I had too much emotion and I was so nervous. I thought my agent was joking when I went for the casting. I don't have curves and I wasn't very feminine at the time. But when I was confirmed, I was so happy! It's one show that is not really about the clothes, it's more about the girls. For me it was like winning an Oscar.
MC: Do you have a favorite photographer or one with whom you like working?
IL: Greg Kadel. I worked with him on a shoot for Vogue Germany and it was so beautiful. I also really like Camilla Akrans. We have a special connection. I adore Mario Testino, too, and Patrick Demarchelier is great. He is so easy to work with and he is able to capture a natural beauty with almost no effort. I also really love working with Jenny Gage and Tom Betterton. They are a great couple and a strong team. It's so fun to work with them.
MC: Who are some of your favorite designers?
IL: I love Rag & Bone, Dior, and Valentino; I like feminine, sexy things. Dolce & Gabbana and Chanel, too.
MC: Who is your style icon?
IL: I like Victoria Beckham — she has really good taste. Also, Natasha Poly, Miranda Kerr, and Alessandra Ambrosio. They know how to dress effortlessly sexy, but still cool.
MC: Do you have a favorite model?
IL: Natasha Poly.
MC: How would you describe your personal style?
IL: I like to think of myself as classy. I like beautiful things that are feminine and comfortable. I like wearing hats a lot and high heels. I also like to be a little hippie, but my style changes with my mood.
MC: What are your favorite stores to shop at?
IL: I love Intermix, Scoop, Barneys in L.A., and I like going from store-to-store in Soho. I just discovered The Webster in Miami — they have great accessories. But New York and Paris are still my favorite places to shop.
MC: What was the last thing that you purchased?
IL: My Fendi bag. I got it in Paris. I also just got a Burberry trench coat with lace on it.
MC: If you could, what five items would you buy right now?
IL: A beautiful Birkin bag, another Alaïa dress like the one I wore to the Victoria's Secret after-party, a sexy bikini or an Agent Provacateur one-piece, a nice leather jacket. I am crazy about leather jackets. IRO does a great one for a good price. I live in Helmut Lang leather leggings and ALC sweaters with open backs. My boyfriend really likes those. But my biggest obsession is probably lingerie. I like Kiki de Montparnasse. I think they have the most beautiful pieces, they are like art for the body.
MC: What is your favorite item in your closet?
IL: Probably this Chloe snakeskin jacket. I have another jacket with fur sleeves that I got at Curve that I also love. I like finding things that nobody else has.
MC: If you weren't a model, what would you like to do?
IL: I would want to be a doctor probably, but I really want to open my own hotel or resort. I like interior design, too. I really want to work for myself and build a business from nowhere.
MC: If you could travel anywhere right now, where would it be?
IL: Thailand. I haven't been there and everyone says it's really beautiful. When I end my modeling career, I am going to take a 4- to 6-month vacation with no phone, and I will write a book while I am there. I have written diaries since I was a kid, and I think a book would be a great gift for my kids.
Photo from Marie Claire's May fashion shoot, "The Addiction Jane."