Cara Delevingne Pets Michelle Rodriguez's Face, Makes Out (PHOTOS)
Girls just want to get boozy and get their smooch on, apparently.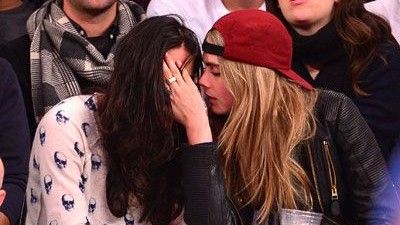 (Image credit: Marie Claire)
First she had a lick-fest with Miley Cyrus, and now she's canoodling courtside with Michelle Rodriguez. The New York Post reported that Cara Delevingne and Rodriguez were seen at Tuesday's New York Knicks game "drinking throughout the contest" and possessing a debatable (read: zero) interest in the basketball game before them. Sitting front row, the pair posed for selfies, smoked what seemed to be an electronic cigarette, and made out. Here's the step-by-step breakdown to the action:
Not even feigning interest.
Getting close.
Closer.
CLOSER.
CLOSER!!!!!
Going in for the kiss via casual face petting.