The Women's List: 15 Game-Changers You Need to Know Now
Photographer and filmmaker Timothy Greenfield-Sanders highlights their incredible stories in a documentary for PBS.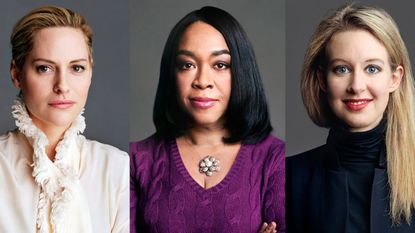 (Image credit: Timothy Greenfield-Sanders)
"I look at women as a majority who are often treated as a minority—and that's just appalling to me," says Timothy Greenfield-Sanders. That's why the acclaimed photographer/filmmaker has dedicated his newest project—the next in his list series, which also includes The Black List and The Latino List—to women.
The Women's List, Greenfield-Sanders' most recent documentary, airing on PBS' American Masters on September 25, tells the story of the American woman through the experiences of 15 history makers. Many of Greenfield-Sanders' films have been well-timed ("Maybe I see the future," he jokes): The Black List debuted in 2008, shortly before President Barack Obama was elected, and 2013's The Out List, about LGBTQ people, premiered the day after two major Supreme Court rulings on gay rights. Now, with women running for the Republican and Democratic nominations for president, and consciousness about gender equality at an all-time high, The Women's List is similarly on point. As Greenfield-Sanders says, "This is very much a moment for women."
1. Actress Edie Falco, 52
"I don't feel like I've gotten anything in my life because of the way I look," says Falco, who is best known for her roles on The Sopranos and Nurse Jackie. "I got a call to audition for a thing called The Sopranos—I thought it was about singers. I read the part [of Carmela] and thought, This is really good, I know exactly who this person is—but they'll never cast me because I don't look like an Italian wife."
2. Athlete/Model Aimee Mullins, 38
"It's an objective fact that I'm a double amputee, but it's a very subjective opinion as to whether that makes me disabled," says Mullins, who lost both her legs below the knee as a 1-year-old owing to a rare medical condition, then went on to set world records in track, and model for Alexander McQueen. "When doctors would tell me, 'You're not going to be able to do this or that,' I just knew they were wrong—and they were."
3. Comedian Margaret Cho, 46
"Throughout the process of coming up as a comedian, there is so much camaraderie and friendship that women are not privy to," says Cho, who mines her identity as a woman of color into hilarious, unfiltered stand-up routines. "Women are really looked at as outsiders, so oftentimes the women who are successful are women who do not care what men think."
4. Pilot Nia Wordlaw, 39
"My mom came home one day with an article from 1922 about Bessie Coleman. [That] was my first mentor: an article about [the first] black female pilot," says Wordlaw, a pilot for United Airlines—one of very few female African- Americans to fly for a major carrier. "It makes a difference to see someone who looks like you doing something that you want to do."
5. Producer/Writer/Director Shonda Rhimes, 45
"I'm disturbed by the fact that young women think that feminist is a bad word. As if they want guys to think they're cute— they'd rather be cute than equal," says Rhimes, who executive-produces Grey's Anatomy, Scandal, and How to Get Away with Murder. "I'm very comfortable with the word feminist. Gender equality is something we should all be for. I don't know why anyone wouldn't want that."
6. CEO Elizabeth Holmes, 31
"I consider myself an incredible believer in the unlimited power of women," says Holmes, who left Stanford University at 19 to start her blood-test company and now has a reported net worth of about $4.7 billion as CEO of Theranos. "One of the most important things I can now do with my life is to try to serve as a proof point, especially for young girls, of what you can do if you decide you want to obsess [about] science and math."
7. Former Secretary of State Madeleine Albright, 78
"No matter what message you are about to deliver somewhere, whether it is holding out a hand of friendship, or making clear that you disapprove of something, is the fact that the person sitting across the table is a human being, so the goal is to always establish common ground."
8. American Civil Rights Lawyer Gloria Allred, 74
"I'm not an elected official who puts a finger in the wind to see what the majority thinks; I represent women, whether they're popular or not."
9. Performance Artist and Musician Laurie Anderson, 68
"Performance art is about joy, about making something that's so full of kind of a wild joy that you really can't put into words."
10. Entrepreneur and Founder of Spanx Sara Blakely, 44
11. Designer Betsey Johnson, 73
"Real success is being totally indulgent about your own trip. You put your blinders on about the garbage and go full speed ahead."
12. Singer/Songwriter/Producer Alicia Keys, 34
"There's too much darkness in the world. Everywhere you turn, someone is tryin' to tear someone down in some way; everywhere you go, there's a feeling of inadequacy, or a feeling that you're not good enough. I want to bring a certain light to the world."
13. Minority Leader of the United States House of Representatives Nancy Pelosi, 75
"I really want women to know their power, to value their experience. To understand that nothing has been more wholesome in the political process than the increased involvement of women."
14. Actress Rosie Perez, 51
"The racism, the sexism, I never let it be my problem. It's their problem. If I see a door comin' my way, I'm knockin' it down. And if I can't knock down the door, I'm sliding through the window. I'll never let it stop me from what I wanna do."
15. Talk Show Host Wendy Williams, 51
"When you're an outsider or a misfit, if you play it smart, your motto should be, 'I'll show 'em. I will show you.'"
Kayla Webley Adler is the Deputy Editor of ELLE magazine. She edits cover stories, profiles, and narrative features on politics, culture, crime, and social trends. Previously, she worked as the Features Director at Marie Claire magazine and as a Staff Writer at TIME magazine.