Inside Marie Claire's First-Ever Power Trip
36 hours, 2,500 miles, and 200 awesomely powerful women.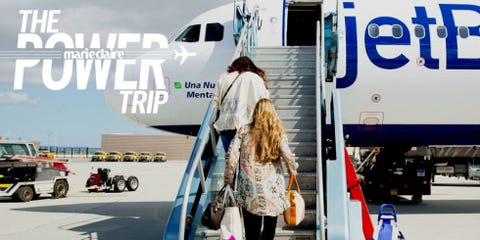 We left NYC Monday morning on a chartered plane with 100 of the most powerful women in tech, media, fashion, and policy—and when we landed in San Francisco, we were joined by 100 more. What ensued was 21 hours of networking, brainstorming, laughing, thinking, and being whisked to some *insane* bespoke experiences. Marie Claire's Power Trip redefined the women's conference. See for yourself.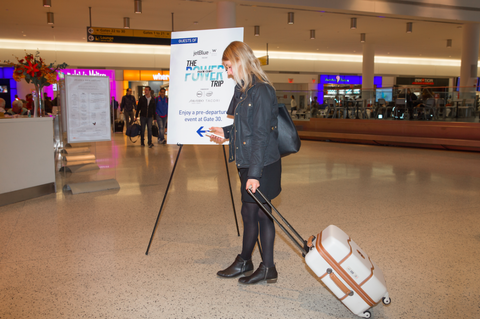 Checking in at JFK
Thank god for explicit signs, you know?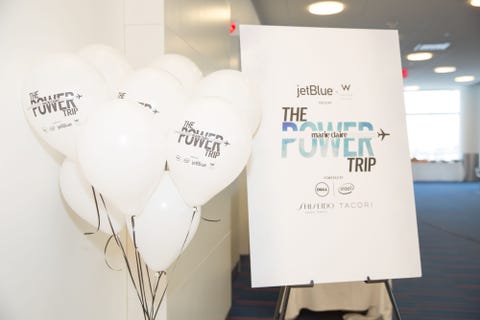 We Turned JetBlue's Terminal into a Party
Balloons make everything better—even early mornings.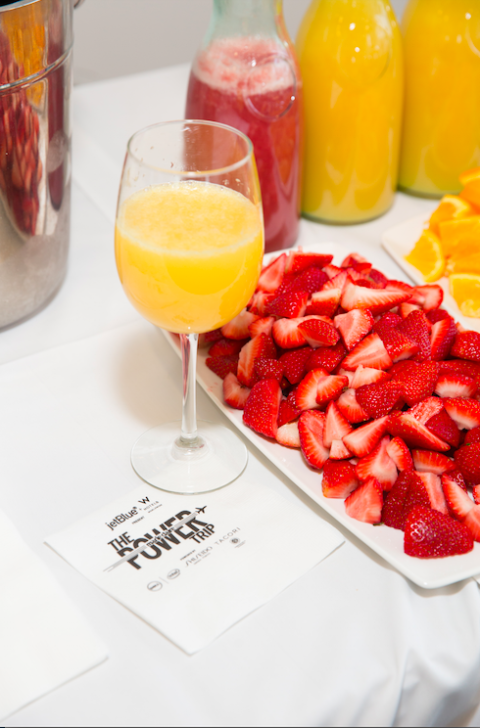 Mimosas—because it's never too early for champagne.
No #PowerTrip would be complete without a power breakfast before the flight.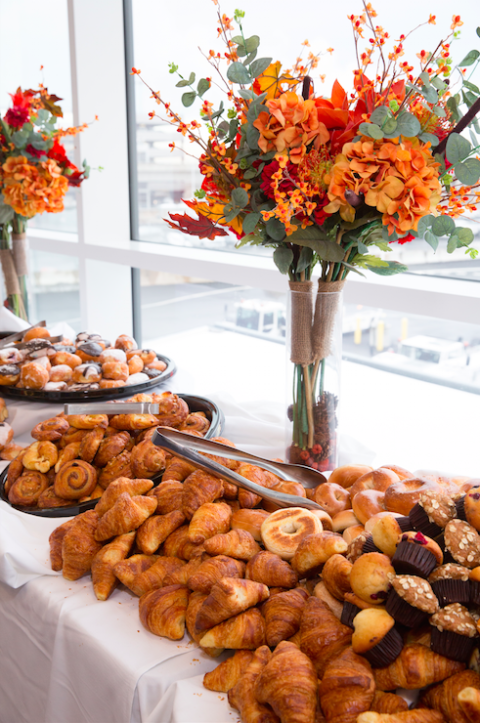 Croissants as Far as the Eye Can See
Hey, lady bosses have to eat.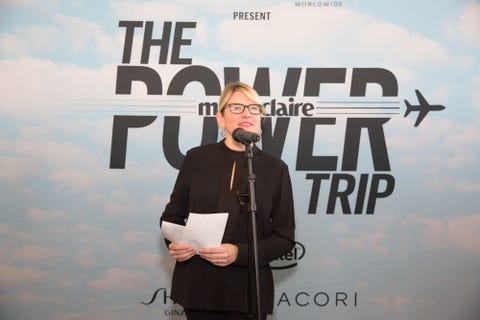 Before Boarding, a Welcome from JetBlue
"Women make up 47% of the labor force, and yet less than 3% are aviation mechanics," explains Joanna Geraghty, the EVP of Customer Experience for JetBlue. But the crew for the #PowerTrip = all women. Hell yes.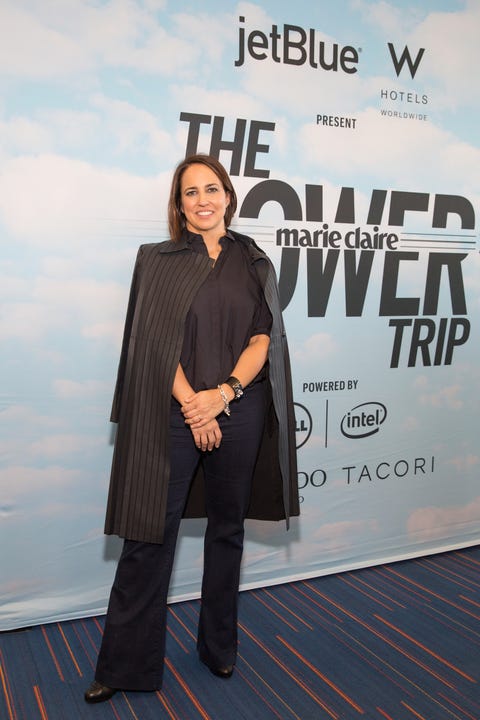 Marie Claire's Editor-in-Chief Anne Fulenwider
Only our very own lady boss could look this good so early in the a.m.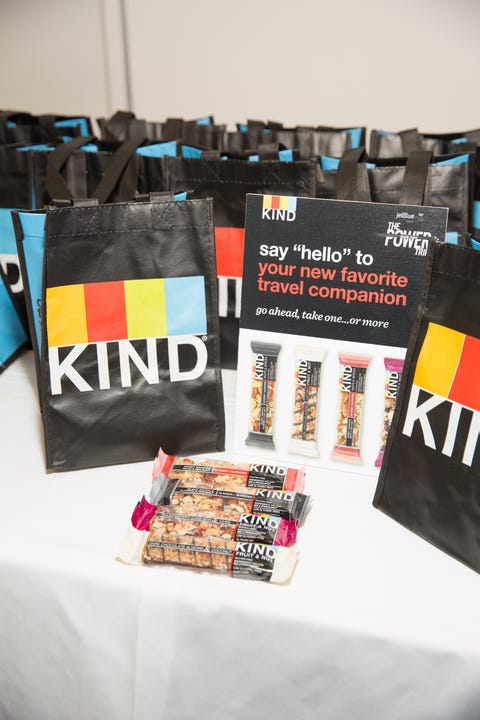 More Snacks, Just in Case
Kind Snacks making sure we would never go hungry, not even for a minute.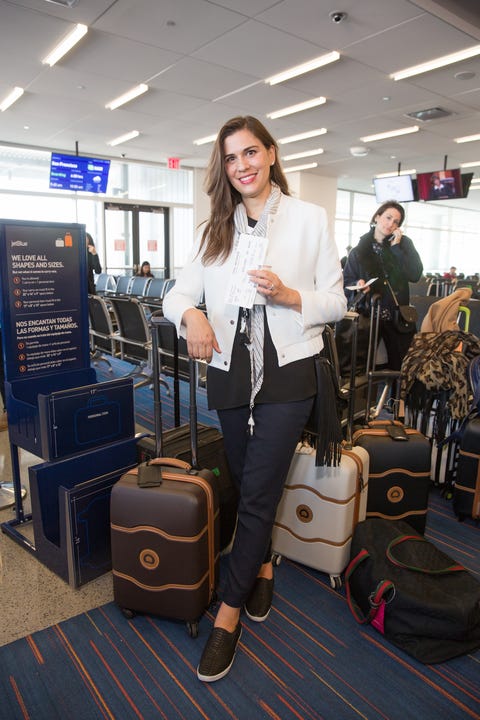 Now Boarding: All Lady Bosses
Michelle Chila, Tacori's SVP of marketing and public relations, is ready to board with her Delsey luggage in tow.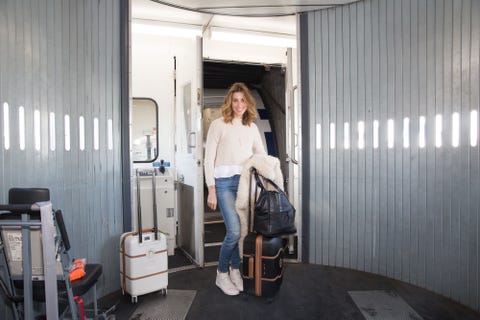 Now Boarding: All Lady Bosses
Katia Beauchamp, the co-founder and CEO of Birchbox, boards the Power Flight.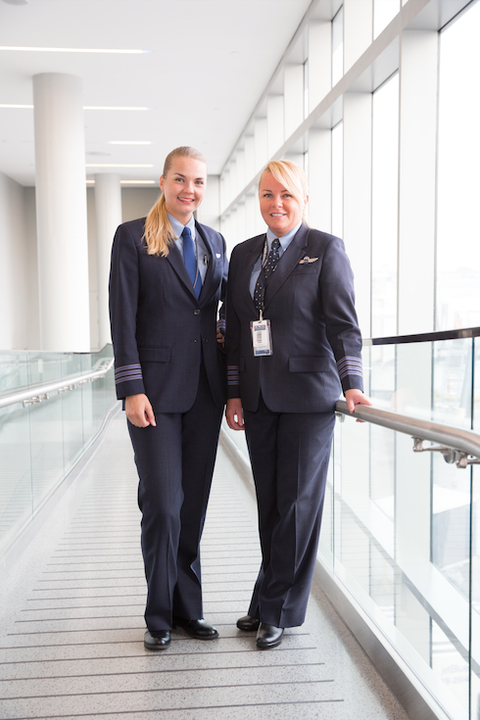 Our Badass Pilots
Part of the all-female crew JetBlue employed for this flight, our pilots were sisters Pia Kymalainen, our flight's Captain, and Anna-Maria Kymalainen, our First Officer. Every member of the team, from the ground crew to the flight attendants, was a woman. 🙋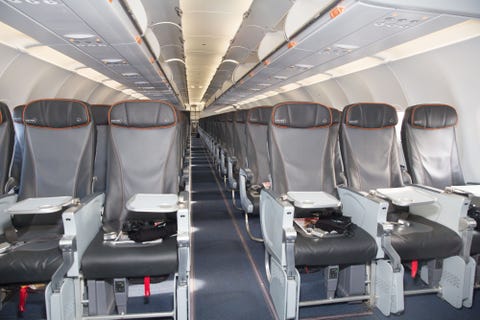 Inside Our JetBlue Flight
We had a very luxurious JetBlue A321 aircraft *all* to ourselves.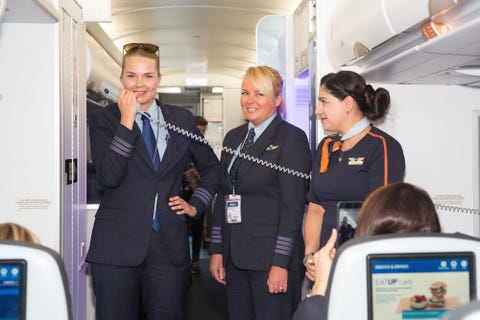 Power Trip Takes Flight
Our Captain, First Officer and crew member welcomes 100 women to the Power Trip.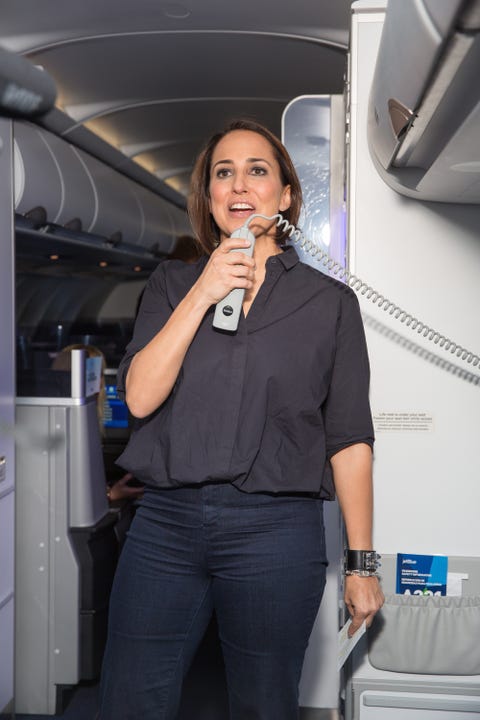 Editor in chief Anne Fulenwider Hops on the PA
And declares it the best moment of her life.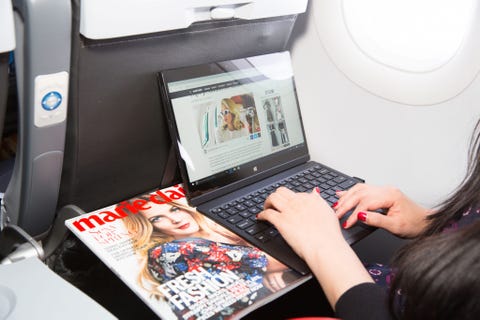 Multitasking Is Our Middle Name
Dell gifted us with brand new Latitude 12 7000 series 2-in-1s, since a true power tripper needs to be able to work on the go.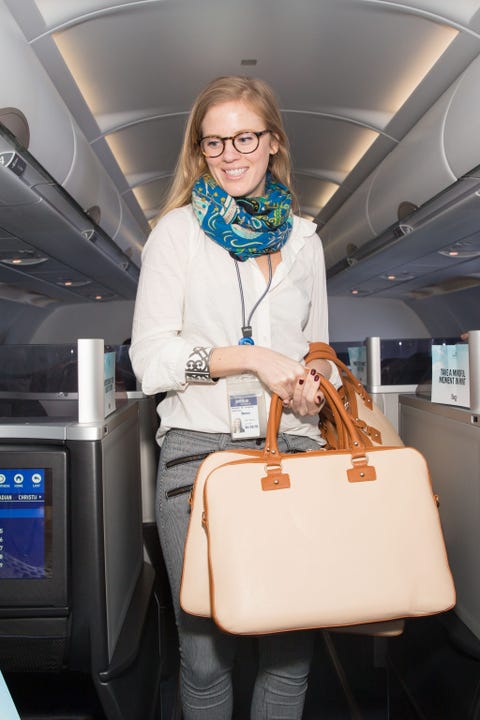 If You Couldn't Already Tell, This Was *Not* Your Typical Flight
Oh, and did we mention that the Dell Latitude came in their own cool carrier?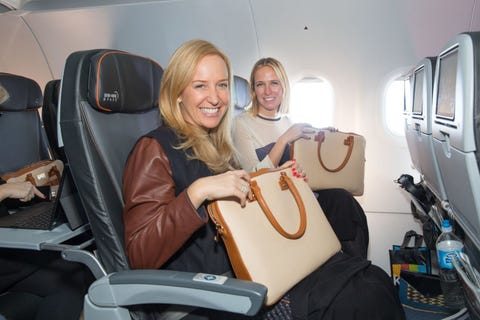 Dell and Intel Made Everyone Very Happy
Misha Nonoo and Alexandra Wilson pose with their new Sandy Lisa bags for their new Dell Latitude powerbooks.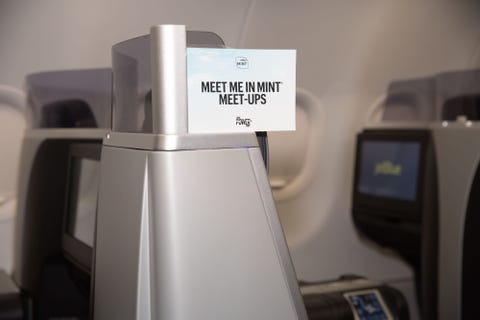 Meet Me in Mint
There was no time to waste on such a short trip, so we hosted meet-ups in the mint section of our JetBlue plane, where women could network and chat.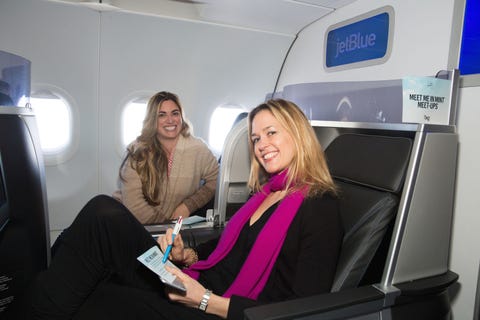 A Meeting of the Minds
Pretty sure Jennifer Blumin, the founder of the Skylight Group, and Melissa Tomkiel, the President of Fixed Wing Operations for Blade, are plotting the next big thing in aviation.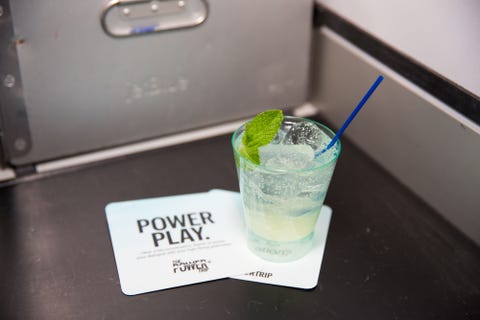 Happy Hour Somewhere Between St. Louis and Denver
A good drink = good conversation.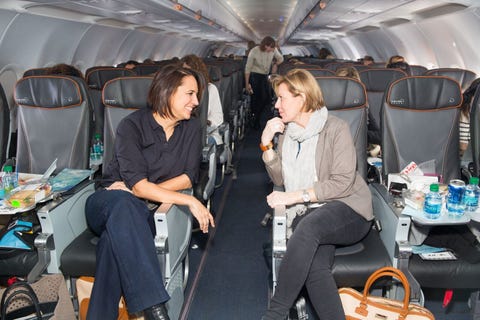 Air Force One, Essentially
Marie Claire's editor in chief Anne Fulenwider and publisher Nancy Cardone were among the 98 other women traveling on our private plane.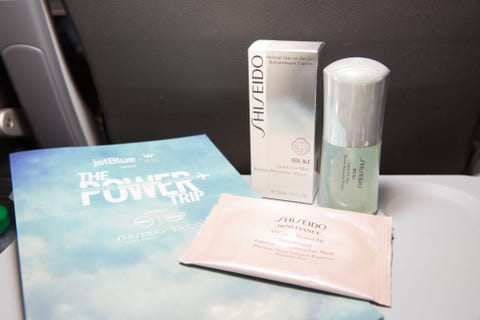 Pampered at 35,000 feet
As everyone knows, traveling can be exhausting. Shiseido came to the rescue with Ibuki Quick Fix Mist, which instantly made us look—and feel—refreshed. Why can't all travel be Power Trip travel?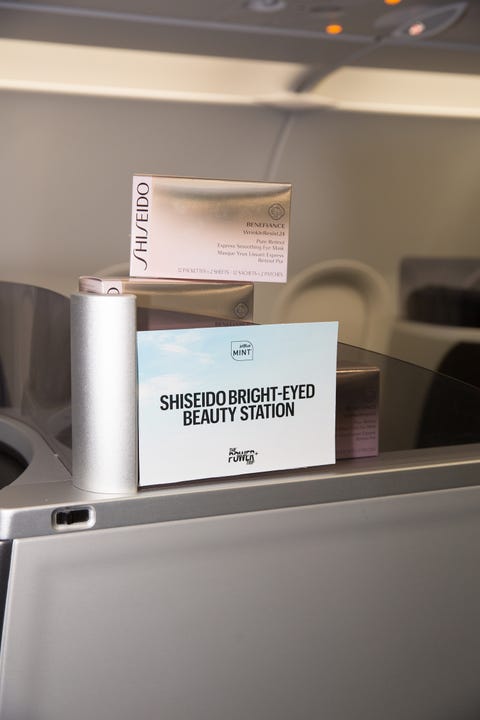 Did We Mention There Was *Also* a Beauty Station
This was so not your typical doing-makeup-in-the-airplane-bathroom situation, thanks to Shiseido.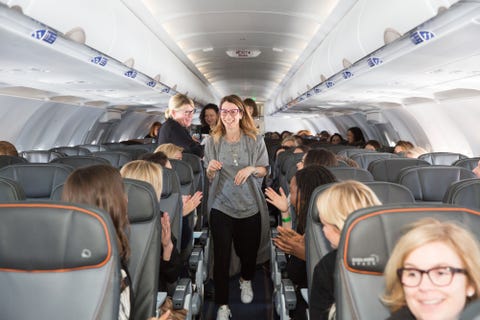 There Was Legroom for Days
No one got stuck in the middle seat! Everyone sat in either the window or the aisle.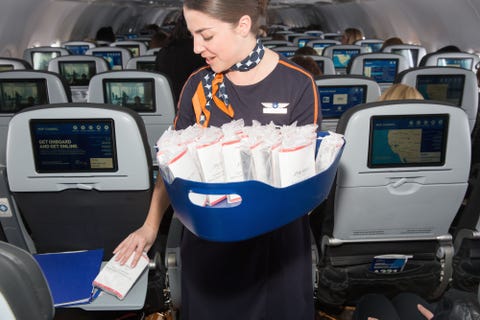 Beyond Pretzels and Peanuts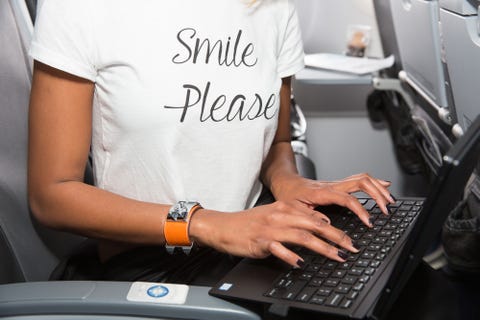 Work, work, work, work, work.
When there's in-flight wifi, it's time to channel Rihanna.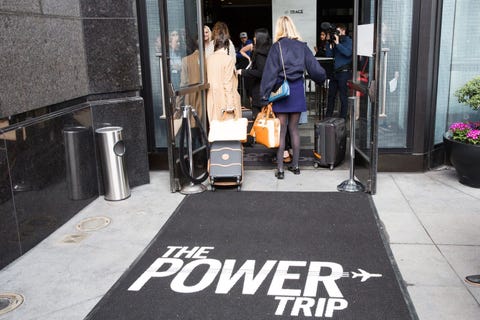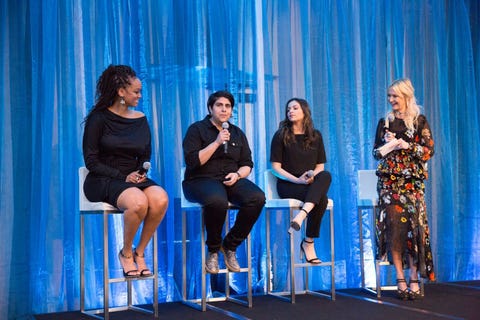 Every Woman a Brand: Own It, Market It, Sell It, Girl
Marie Claire senior fashion editor Zanna Robert Rassi moderated our first panel with Tyra Banks, Beautycon CEO Moj Mahdara, and Bethany Mota. The three brand gurus shared their road-tested practices for building cult followings. Watch the live stream here.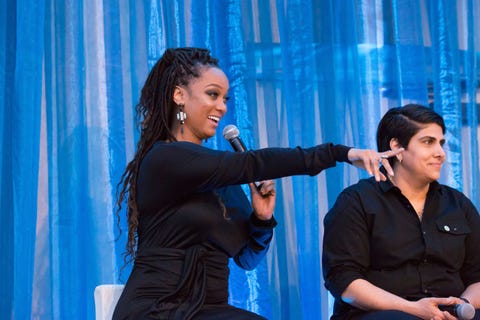 Tyra Banks
In addition to ideas about leveraging a brand, Banks taught us our new favorite word: flawsome, which means being awesome but having flaws.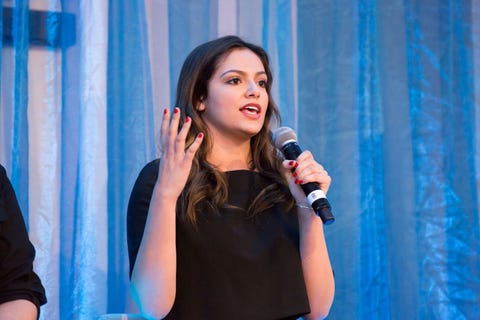 Bethany Mota
"Being on YouTube really allowed me to open up."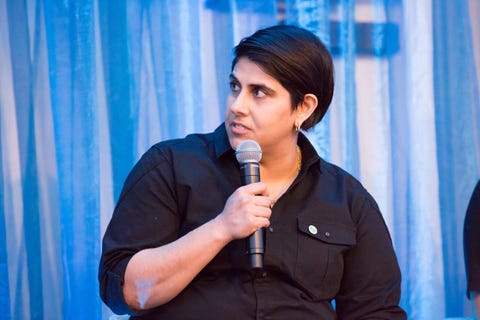 Moj Mahdara
"This generation thinks of beauty as an expression of power and creativity."
This content is created and maintained by a third party, and imported onto this page to help users provide their email addresses. You may be able to find more information about this and similar content at piano.io