Favorite Project Runway Moments
Marie Claire chooses favorite Project Runway moments from the book Project Runway: The Show That Changed Fashion.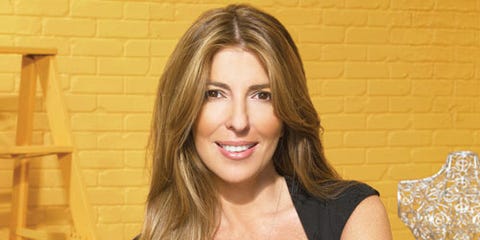 With Project Runway's release of a new book, Project Runway: The Show That Changed Fashion, highlighting it's favorite moments from the past 10 seasons, we just had to choose our favorite moments from the book.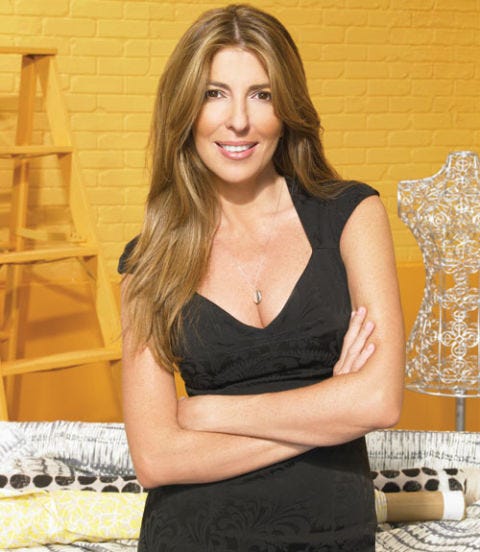 Nina Garcia
"When they asked if I wanted to be on a reality show I said, "No, I don't want to be on TV." They asked me if I thought if it was a good idea for a show and I said, "No, I think it's a terrible idea. Who's going to be interested?"" - Nina Garcia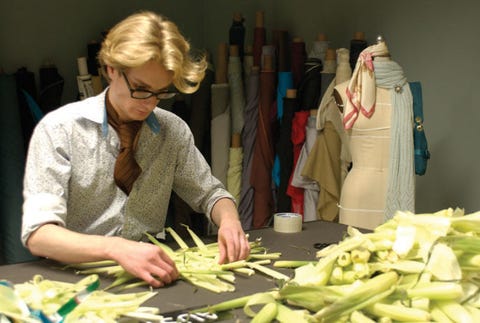 Season 1: Austin Scarlett's Corn Husks
"Visions of the husks as petals or feathers began unfolding and layering themselves in my imagination. There is also something so iconic American about the idea of corn that I think everyone responded to. I saw the potential for something chic yet playful, imaginative yet classic, humble yet luxuriant." - Austin Scarlett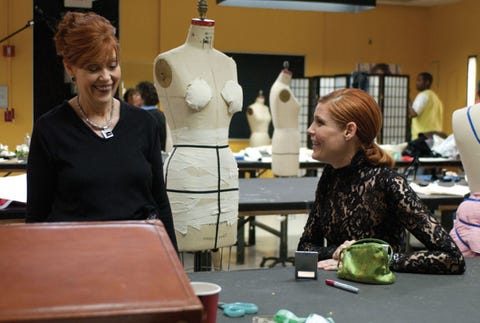 Season 3: A Joan Kors Surprise
"The designers' mothers and sisters were models for the Everyday Woman challenge. Joan Kors, Michael's mother, was on hand to talk with the designers and their family members. Laura surprised everyone, especially her mother Lorraine, by telling Joan Kors she was pregnant with her sixth child."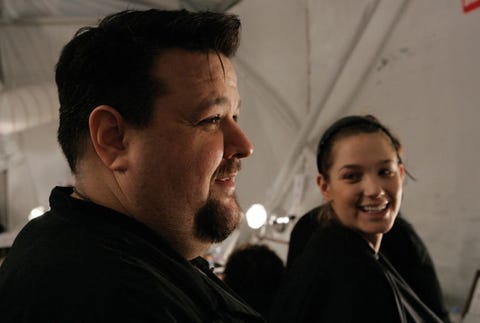 Season 4: Clothes Made From Hair
"Tim showed up at Chris's apartment to check in on how his final collection was coming along. He was quite surprised to find out that Chris was using human hair to make his clothing."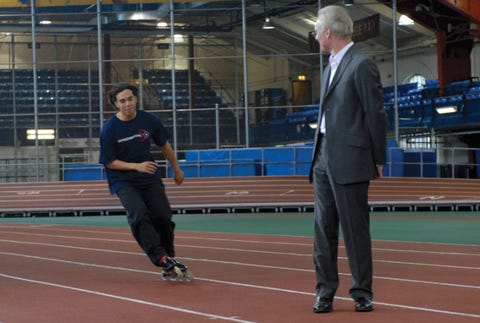 Season 5: Olympics Fever
"The designers went on a field trip to The Armory Field & Track Center. They arrived to find Olympian Apolo Ohno skating around the track inside. They learned they had to create a look for the opening ceremony for the summer Olympics. Apolo served as the episode's guest judge."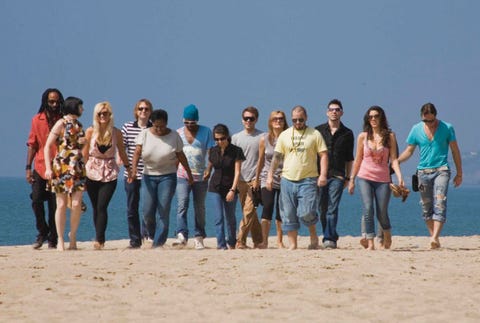 Season 6: Move to Los Angeles and Lifetime
"The show's sixth season made the move from New York to Los Angeles, and also switched TV networks, from Bravo to Lifetime."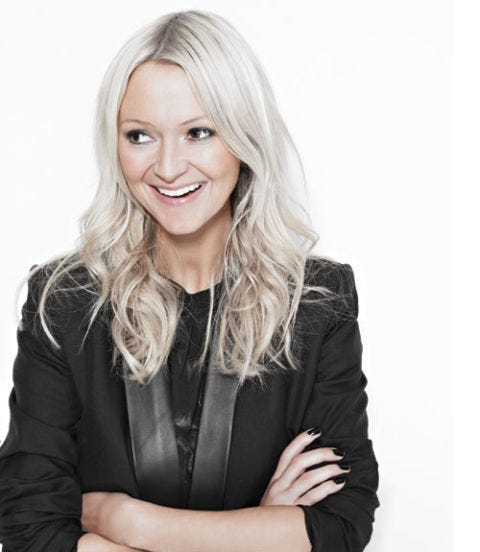 Zanna Roberts Rassi
"My first role with Project Runway was doing the castings with Tim Gunn. We went on the road, cross-country. We would see thirty to fourty people a day with a rack of clothes that we would look through. Tim was always incredibly gracious, and always gave the most mentorish advice — very constructive. He and I were never the mean judges." - Zanna Roberts Rossi
Season 7: Anthony's Dress on the Cover of MC
"The designers went on a field trip to the Hearst building to visit Joanna Coles, the editor-in-chief of Marie Claire. They were told they would be designing an outfit to be worn by Heidi Klum on the cover of the magazine. Anthony won the challenge and Heidi wore his blue dress on the cover of the April 2010 issue."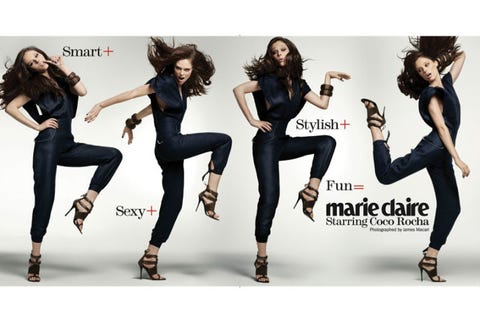 Season 8: Gretchen's Billboard
"For the Larger Than Life challenge the designers had to create a look that defines the Marie Claire woman. Gretchen won the challenge, and was awarded the incredible prize of having her look on a billboard in Times Square. As if that wasn't enough of a prize, the model used for the billboard was Coco Rocha."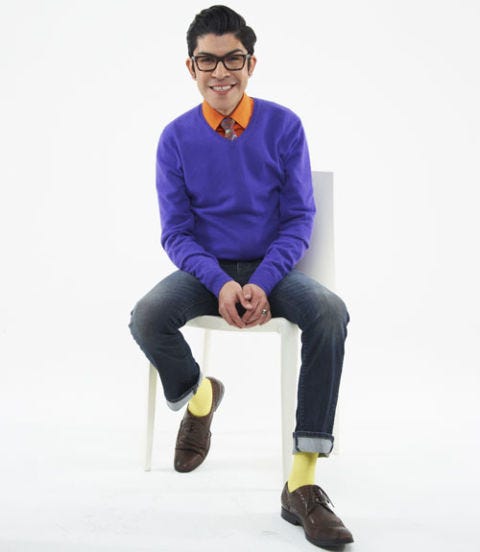 Mondo Guerra
"I woke up one day and realized this is an opportunity, and either you choose to do it to your fullest or throw in the towel. That's when I really started talking myself out of my self-doubt. As an artist you always go into something thinking that you're not good enough. With me it's always a process of getting out of that head space." - Mondo Guerra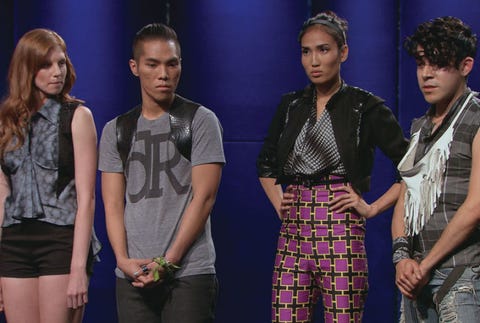 Season 8: Mondo's Emotional Pattern
"The designers had the opportunity to create their own textile for the HP challenge, There's A Pattern Here. Mondo's print was extremely personal, and was based on his HIV positive status, which the other designer and judges knew nothing about. The judges loved his pattern, but Mondo didn't tell them the origin. Nina said she was sorry she didn't know what the story was. Before leaving the runway Mondo made the decision to address Nina's comment and told everyone his story." - Mondo Guerra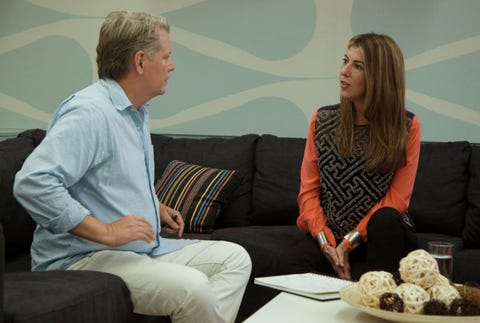 Season 9: Nina the Client
"The designers were given the task of designing an outfit for Nina Garica. The winning look would be featured in a Marie Claire ad, and would also be on a New York City taxicab."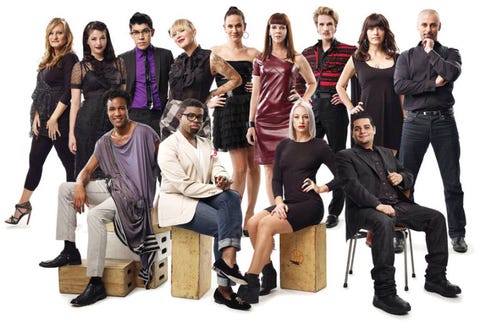 Project Runway: All Stars
"This series featured thirteen designers from Seasons 1-8. Angela Lindvall was the host, while Joanna Coles was the mentor. Georgina Chapman and Isaac Mizrahi rounded out the cast as the judges."
This content is created and maintained by a third party, and imported onto this page to help users provide their email addresses. You may be able to find more information about this and similar content at piano.io